Apne Aap & A Chat with Gloria Steinem
Last night I not only met one of my personal heroes, but was able to cross off a top item on my journalist bucket list: I met and interviewed Gloria Steinem!!!  Let me back up a little.  I was LAST MINUTE (literally with about 3 hours to go!) extended an invite to a huge dinner reception and award ceremony for Apne Aap. A grassroots movement to end human trafficking. Apne aap means "self-empowerment" in Hindi and this organization, founded in 2002, provides legal support, education, and resources to both at-risk and prostituted women, primarily in India and Nepal.  So far, they've helped over 21,000 women!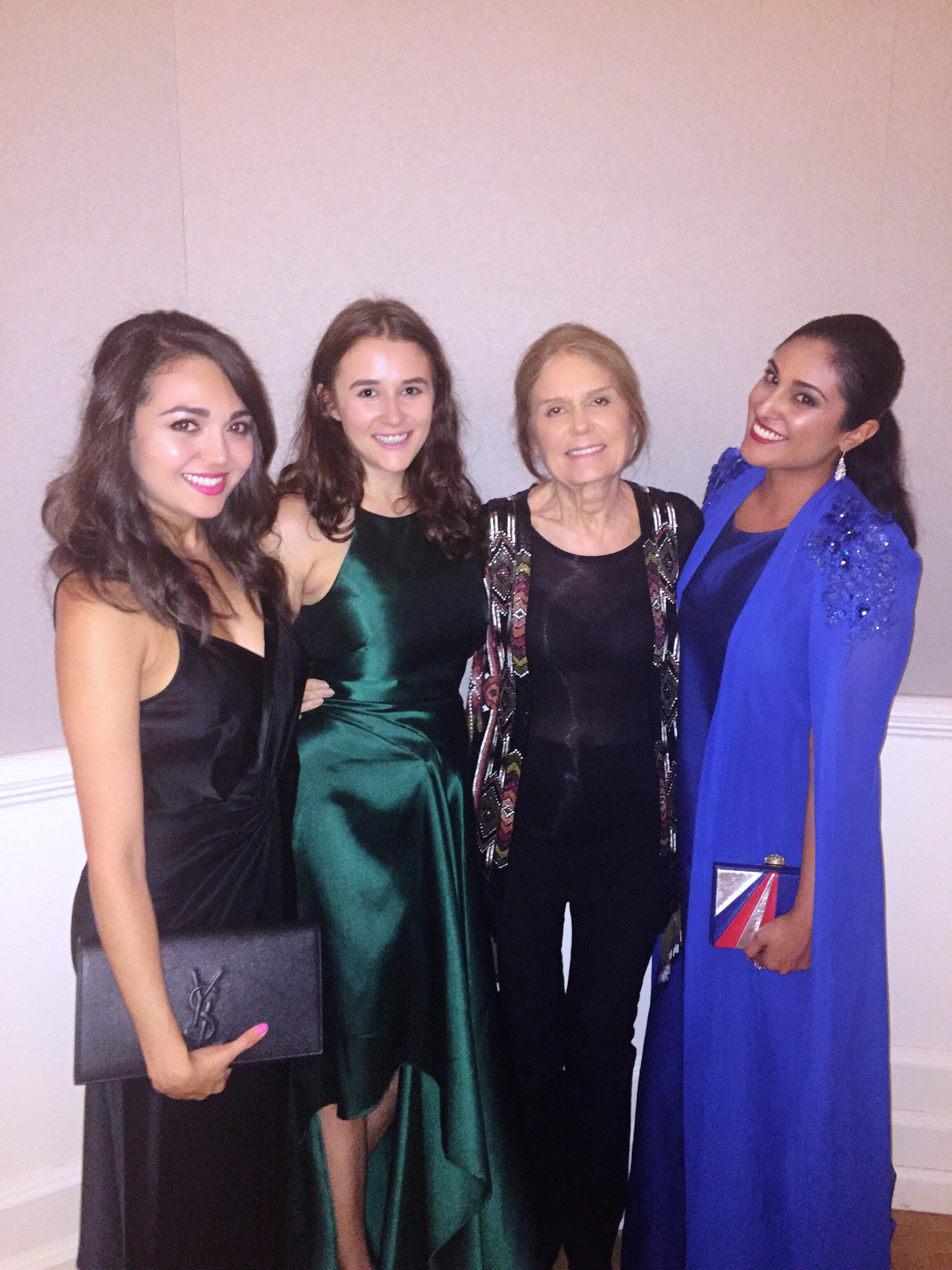 There were so many inspiring women recognized.  Actress Ashley Judd and badass abolitionist attorney Dorchen Leidhodlt were both awarded for their efforts in women's rights—specifically for combatting violence against women.  Then, five HIGH SCHOOLERS who recently started an organization, Girls for the Last Girl, were given the stage.  These young women are only 16 years old were so touched by Apne Aap's work they started their own charity to support Apne Aap.  They even have a safe space in Dehli for women and young girls to seek refuge and resources!  Talk about inspiring!  What were you doing at 16?!  After their presentation, Ms. Steinem came back on stage and said, "People ask me if I'm worried about the future. The answer is no." 🙂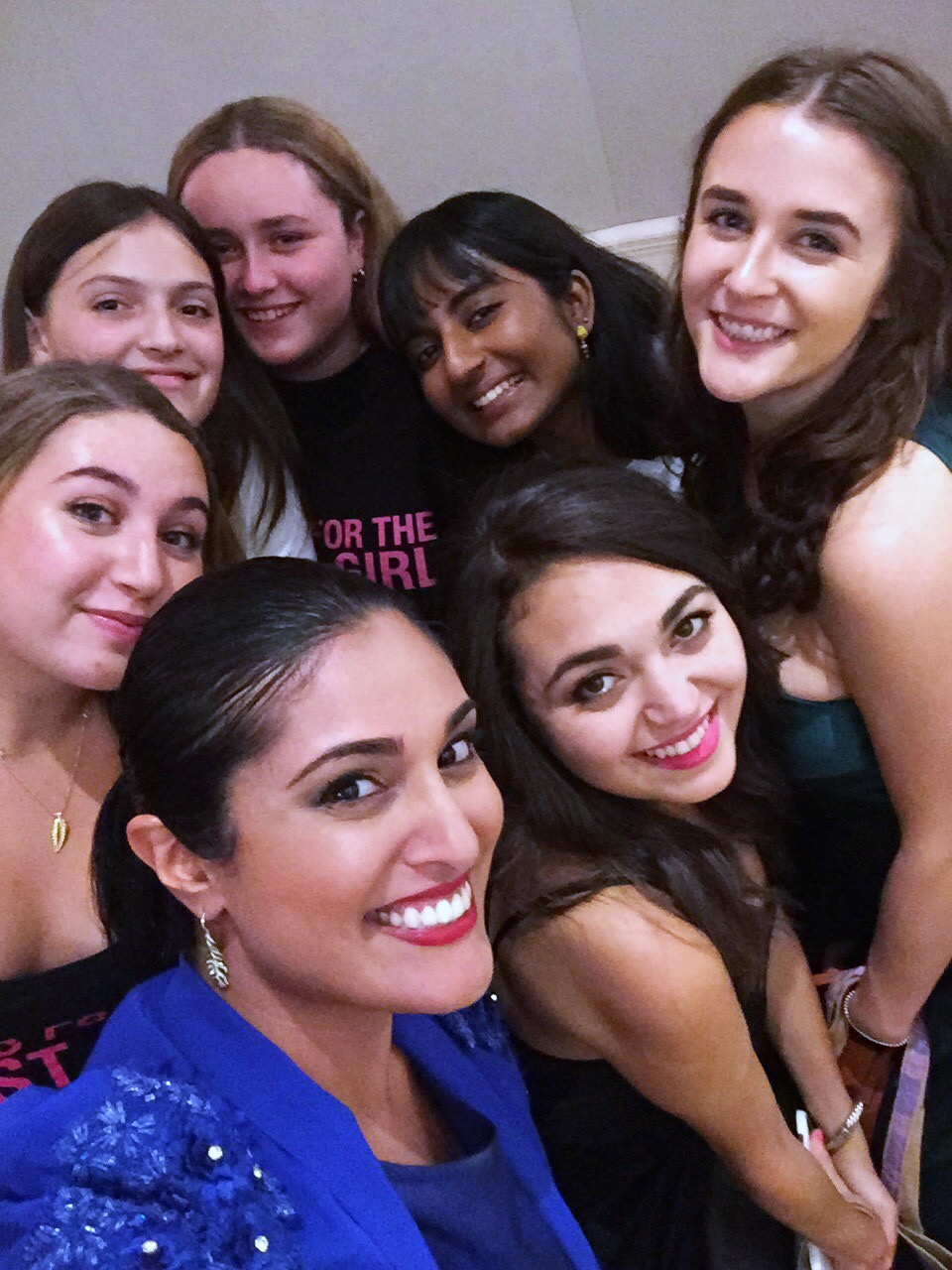 After the reception, press was given the opportunity to speak with Gloria Steinem. (!!!)  The best part of the night was that I was able to share it with two of my equally inspiring, girl boss babes Gina and Clara (also journalists and bloggers!).  We approached Ms. Steinem collectively because there was a TON of press and we didn't want to take up too much time.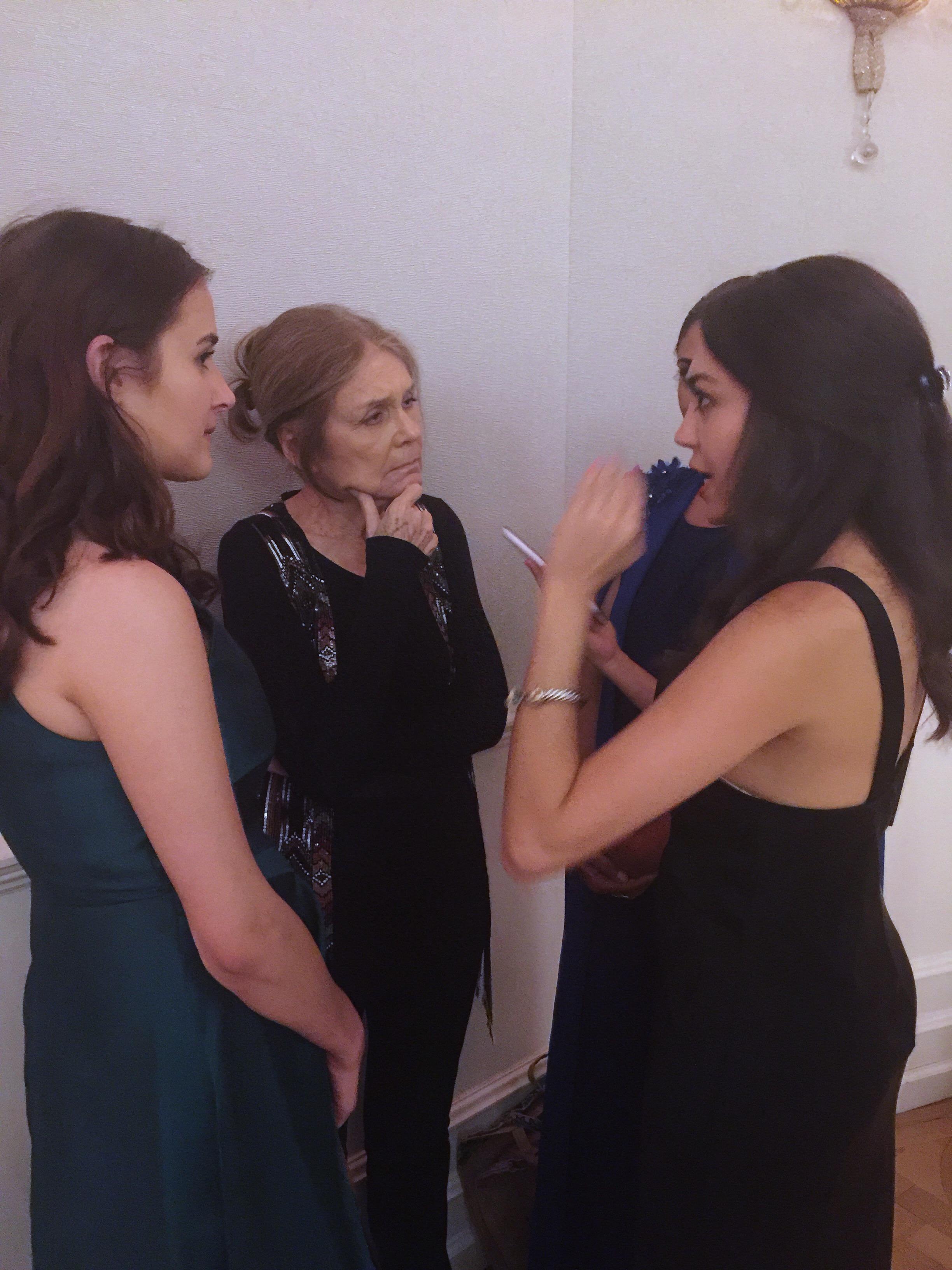 When it was my chance to speak I thanked her for everything she's done (don't forget she began as a groundbreaking investigative journalist! 🙂 ) and asked her what she wishes everyone knew about human trafficking.
"It's important to know the scale of it because it is rivaling drugs and arms globally. And it's important to know it's not inevitable.  People think that there has always been prostitution, but that's not true . . ."  She went on to mention how prostitution and sex slavery didn't even exist on this continent until Columbus (ugh) came here and wrote about how confused he was by the egalitarian society.  I brought up the Persian Empire under Cyrus the Great and how in the first ever human rights doctrine in history, men and women were equal.  She was SO excited to learn about this and then mentioned how in Farsi (Persian language) there is no male or female distinction because older cultures WERE in fact much more advanced than now, and saw everyone as equal.
THIS CONVERSATION REALLY HAPPENED!  We were discussing human rights and learning from each other!  What is life right now?!  I'm still on a high from this!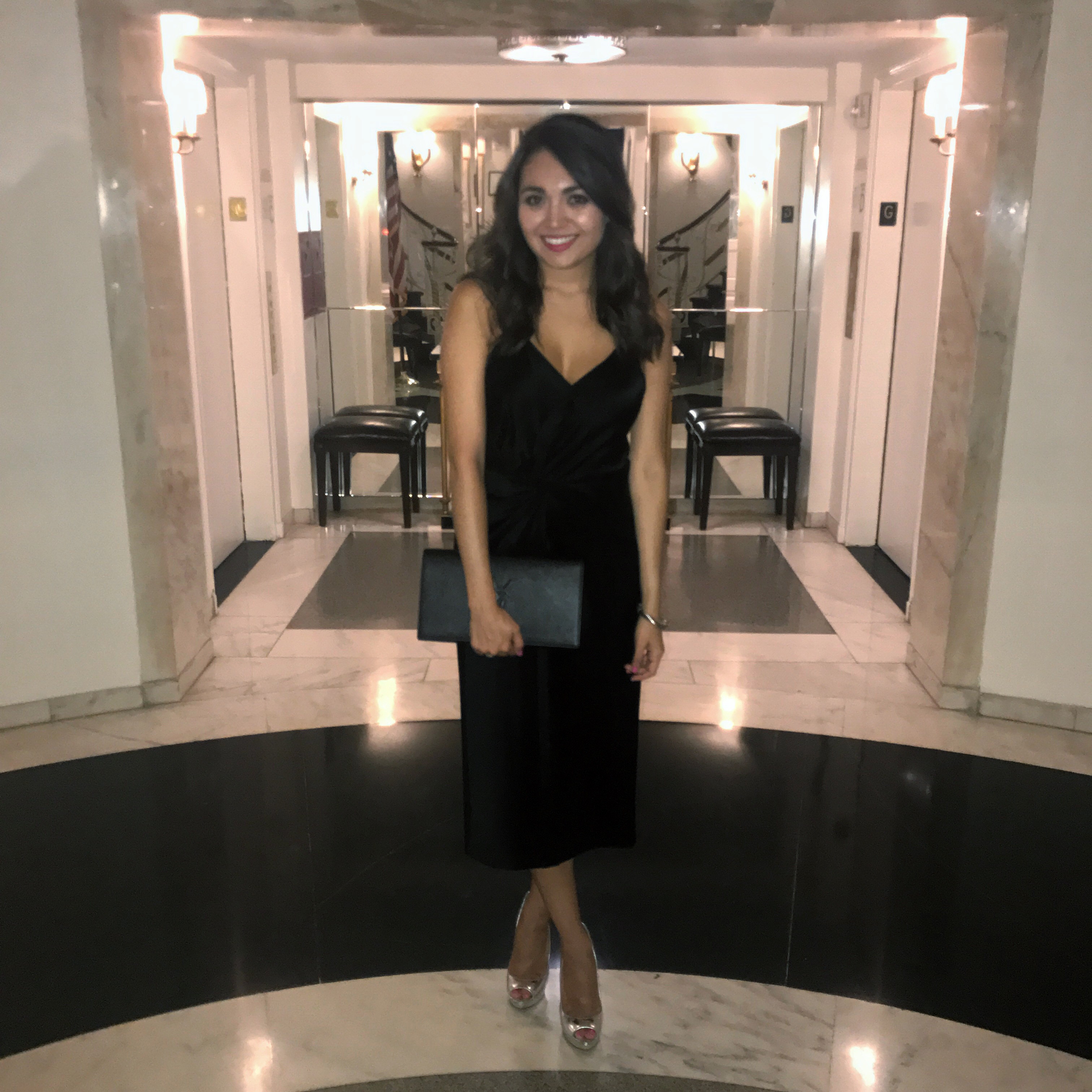 I had to include at least one picture of my look because of the STRUGGLE your girl here went through to get ready!  Since my RSVP was sooo last minute, I ran across the street to Saks after work (thank God it's so close!) and said to them, "I have 20 minutes to find a dress for a black tie dinner!!!"  It was so dramatic, stressful, but kind of funny!  They quickly assigned me a shopper who literally went around the store just plucking things off the racks then set me up in a dressing room.  I didn't even go through all the dresses before selecting this gorgeous Alexander Wang number.  It has a MAJOR hidden slit!  I wish I had the opportunity to take better photos in it!  Maybe I should for a future style post?  I've never done a FULL face of makeup so fast before in my life—but I got there JUST in time before they gave my seat up!
I still can't believe times like this, when I am recognized and invited through AzArAm to support causes I care about.  I don't have nearly the time I wish I did to dedicate myself to my blog, but even if it's one person reading this, I hope you're becoming inspired.  Maybe you will click the links to learn about Apne Aap and Girls for the Last Girl.  Maybe you'll take it a step further and volunteer with organizations to help combat human trafficking.  It's a LOT more prevalent than you think.  There's SO much dirty trafficking happening in our backyards.
Ms. Steinem said last night, "The human race is a bird with two wings, and when one is broken, no one can fly."
XoXo,