One of my favorite parts about being a pseudo-beauty blogger is learning about brands and products I never would have known about otherwise.  I also do not ever advertise anything that hasn't worked for me before.  I've always cared about my skin, but being in my upper 20s I'm definitely more aware of what I put on my face.  Enter this microdermabrasion peel by Exuviance I was recently gifted with . . .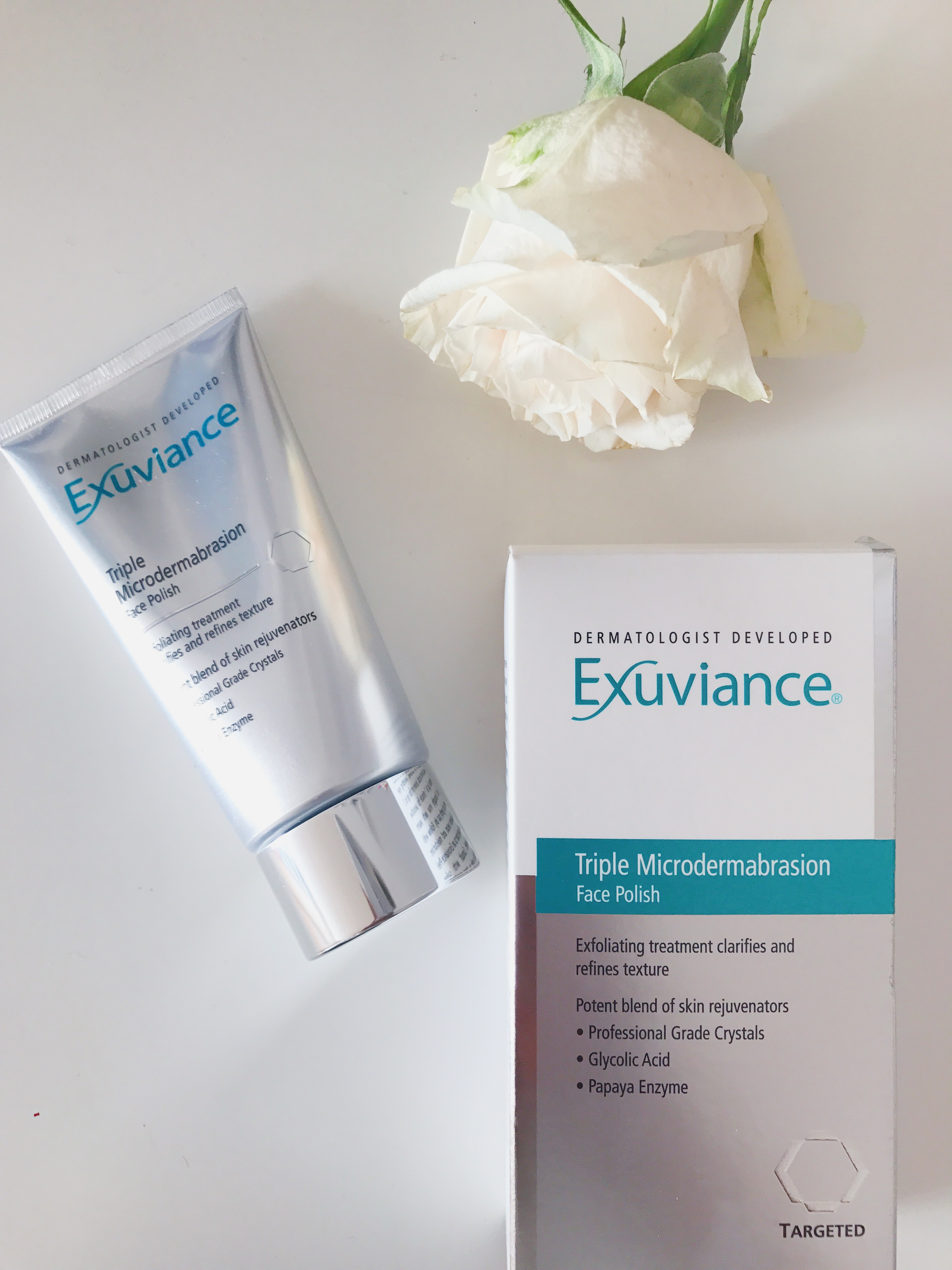 WHAT IS IT
It's an intensive exfoliating microdermabrasion cream (try saying that three times fast!) that after ONE USE shows a significant difference.  It's gentle, leaves your skin feeling clean, and it's gentle for sensitive breakout-prone skin.  The cream is a blend of physical, chemical and enzyme rejuvenators and instantly delivers skin resurfacing.  What's not to love? Plus I #GotItFree!
The cream the same professional grade crystals dermatologists use to smooth skin.  Ingredients include a Papaya Enzyme and Glycolic Acid that work together to help dissolve impurities including congested pores, dry patches, and loosening dead skin cells.  You will be left with a gorgeous, silky glow!
MY EXPERIENCE
Of all skincare regimens, my favorites are exfoliators and peels and this one is like a combination between the two.  It has done WONDERS in renewing my skin!  At 27, I still sometimes get breakouts (WHY?!) and I first used my sample when I sensed a breakout coming along.  The result was seriously instantaneous!  So much so that I felt comfortable enough to be make up free during my summer vacation in France.   I was only wearing tinted moisturizer and mascara, and now that I'm back in polluted New York City I'm still going with the minimal make up!
HOW TO USE
I recommend using this product about once or twice a week.  Clean your face and apply a thin, even layer to wet skin, lightly massaging in a circular motion.  Avoid your eye area, and don't scrub it in.  You only need to leave it on for about two minutes before rinsing with warm water and patting your face dry.  PRO TIP: always pat your face dry to avoid stretching you skin!
WHERE TO BUY
It's a little pricey, with a 2.6 oz bottle costing $72, but it's totally worth it!  There are some things in life worth taking care of and your skin (hello, it's your biggest organ) is definitely one of them, so splurge away!  You can purchase Exuviance's Triple Microdermabrasion Face Polish at www.exuviance.com.
Thank you Exuviance for the wonderful gift!  I can't wait to invest more into this skincare line!
XoXo,

Post sponsored by BrandBacker.