Everything to Know About Time Blocking
A couple months ago I turned to a new method of time management, time blocking. Managing my time is a must with everything I do daily. Some of that includes running my blog, freelance gigs, and various side hustles like EnVi mag and career coaching. As a woman with a very go-getter mindset I can overwhelm myself trying to get it all done!
Sticking to a schedule helps a ton because I can become a really terrible procrastinator. I rely on a to-do list, but with time blocking I divide that list into prioritized sections. And since I started time blocking, all my chores, tasks, and deadlines are completed with less stress.
What is Time Blocking
Time blocking is truly the art of time management. The secret is focusing on one task at a time, or grouping similar tasks together in a scheduled block. To make it work, you need to prioritize your schedule in advance. I love this technique because I really maximize the hours in a day. It's effective because instead of going down a to-do list, important tasks for the day are already prioritized for you!
How to Time Block
I use time blocking for both my work related tasks and personal ones. Up until recently, work related included freelancing gigs and blog-related work, but since I'm working full-time again, my day job is now added to the mix. I use Google calendar because I love how easy it is to color code everything! Below is how I have my calendar color coded: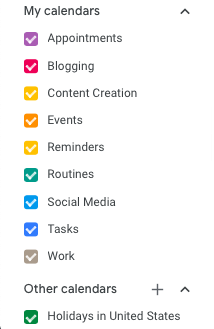 Within each color coded segment, I've included a description, for example under blogging I have everything from photo and video editing to creating Pinterest assets: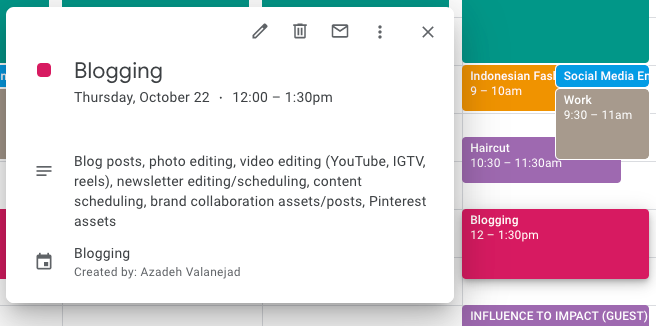 Before my full-time job, my 'work' schedule was divided into:
30 minutes social media engagement
90 minutes work (freelancing, tutoring, etc.)
90 minutes blogging
1 hour break
30 minutes social media engagement
90 minutes blogging
1 hour work
30 minutes social media engagement
Events, appointments, meetings, content creation collaborations would get added wherever needed. Now, with my full-time position, I have work from 10 am – 6 pm, and I blog, tutor, and create content in the mornings, evenings, and weekends. To ensure I have a steady flow of content on my platforms, I batch shoot heavy either early morning or on the weekends. So maybe one morning I'll film three YouTube videos all before work! Or on the weekend I shoot eight different outfits that will last about two months of content.
My tip for getting started is to brain dump and prioritize your upcoming schedule. Put pen to paper and write down a list of everything you need to do: meetings, calls, projects, appointments, etc. Begin by scheduling your fixed appointments and reoccurring daily tasks. For example, I have my morning and night routines on my calendar because it remind me those are times I should get through my daily chores and not be online. From there, fill in the rest of your blocks.
Time Blocking Tips
Set a timer! This is so important and time blocking pros all say the same thing: use a timer and hold yourself accountable to that block. I like to use the timer on my phone, but there are lots of cool table top timers you can purchase and use too.
Turn off your phone notifications. There should not be any distractions during your block: no texts, app notifications, or emails.
Track your time spent. When I first started out, I would block my tasks in 30 minute blocks before moving up to a full 90 minutes. I like to use this exact Productivity Planner that is MADE for time blocking and has been a huge help!
Block out personal time. Allow breaks for personal time to spend with your family, friends, or significant other. I have my personal time in the mornings, where I call and speak to my mom for about 15 minutes.
Give yourself breaks. Remember, you are still human, and a step forward, is a step forward. It's okay to not complete all your tasks in a day. I sure as hell don't, even though I stay on top of being as organized as possible! I allow myself long breaks to decompress and not stress myself out.
Looking for more tips on productivity? Check out THIS POST!
XoXo,