International Women's Day With The Little Market
Hello, hello, hello!  Yikes, can't believe I'm writing my first official post of 2018 in March. o_O But it's because I've been working SO HARD on transforming this blog into an ethical one that gives back.  It's kind of like starting over . . . the facelift back in the fall was the easy part compared to what I've been working on since.  I've slowly been parting ways with a majority of the "fast fashion" contacts I made over the last two years (turning down SO many collabs—even paid ones that I could really use!) and reaching out to sustainable and ethical brands and PR companies.  On top of that, I've been digging deep researching the industry, learning how it affects us all both economically and environmentally, and implementing new practices in my life to share with you.  So I promise I haven't been sitting around, I'm just more invested in producing TOP, informative quality posts for you! 🙂
With that being said, I was generously gifted the loveliest box of goodies from The Little Market last week, that gives so much back to women, I have to share it with you here.
The Little Market is an online store started by Lauren Conrad (yep- the one an only!) and her friend Hannah Skvarla.  Everything is fair trade, meaning it's part of the global movement that promotes sustainable development and helps provide jobs in developing countries.  How AMAZING is that?  Every purchase you make is going back to the woman who made it.  By supporting fair trade, and sites like The Little Market, you are encouraging jobs for women— your purchase could be saving someone from trafficking or a forced marriage.
I've been a big fan of the The Little Market for some time now, but Lauren and Hannah's PR actually reached out to me (*insert 1000 rounds of gratitude here!*) and they sent me this gift for International Women's Day.  Aside from the handwritten note (aren't those the best?!) the first thing that caught my eye was the soy blend candle because it's MONOGRAMMED WITH MY NAME ON IT!!!!!!!!!!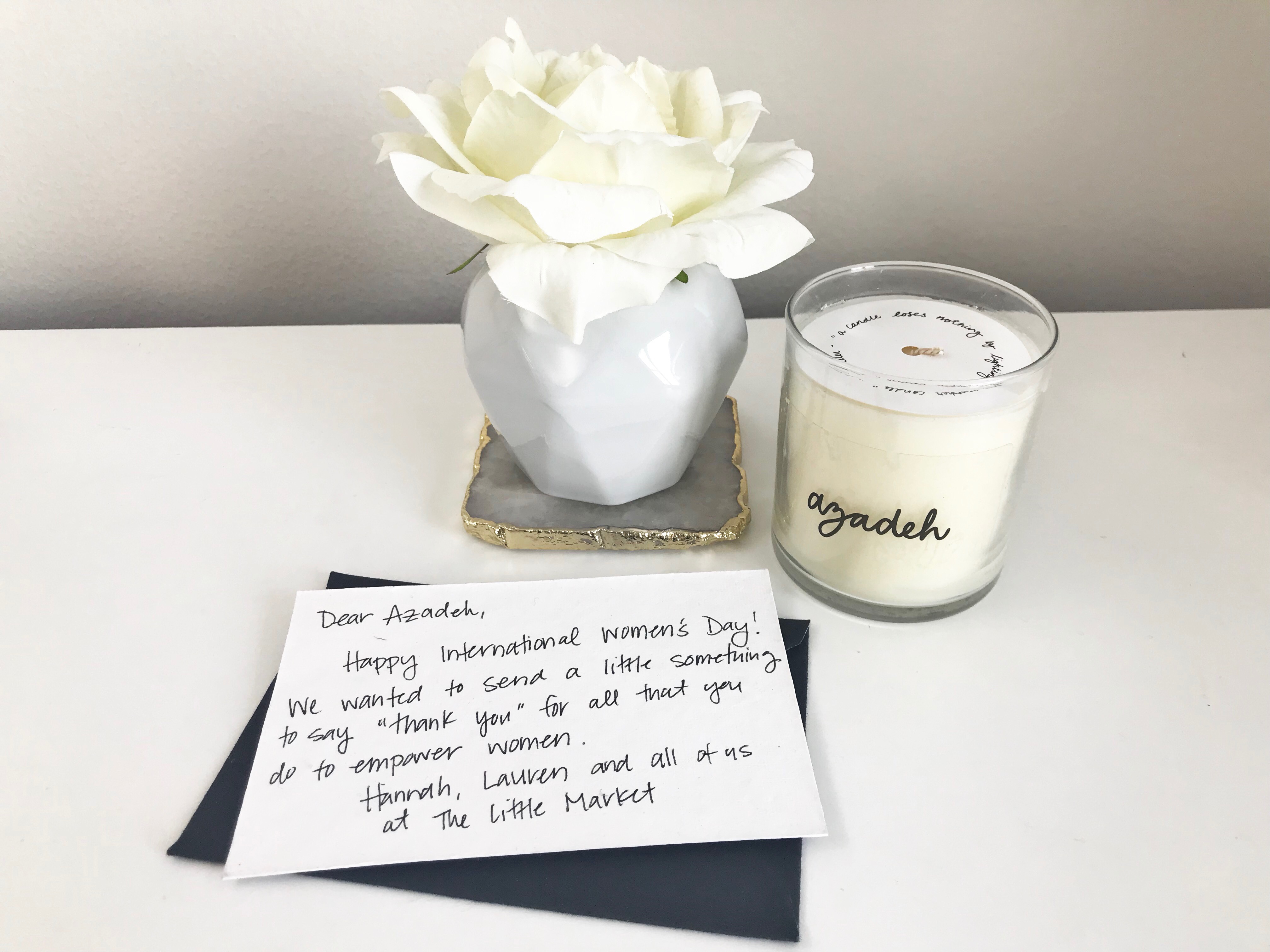 Hello!!! NOTHING is ever monogrammed with my name on it—I am keeping the jar forever, haha!  It's a coconut milk scent (it's sooo yummy-smelling!) and was made by women in Massachusetts, specifically by women resettled from refugee camps who are learning how to make candles and earn a fair wage.  Isn't your heart already so happy reading that? It just gives me such a warm feeling (no pun intended!) that this wonderful LIGHT in my home is helping refugee women.  You can learn more about Prosperity Candles here!
Next was this coconut sugar scrub, which I'm really excited to use this week to exfoliate all this dry, winter skin, and a jar of pink himalayan bath salts.  Both the all-natural sugar scrub and salt are made by young mothers in Chicago through Bright Endeavors—providing them transferable job skills so they can support their families.  You can learn more about Bright Endeavors here!
Lastly in the box was this darling pom pom key chain handmade in Mexico with preserved Mayan techniques.  Completely handmade!  No machinery used.  It was made by artisans through Macvilho, an organization that was started by seven women in the Mexican state of Chiapas.  Each purchase from Macvilho means more employment and opportunities for the artisan's families. 🙂 I can't wait for the weather to warm up so I can hang this on my woven bags and totes!  You can learn more about Macvilho here!
I'm so excited to know that my home is beginning to get filled with special products and decor that helps women around the world.  I HIGHLY encourage you to learn more about fair trade and make an effort to make conscious purchases.  You might already be buying fair trade coffee in the morning and didn't even know it!
I can't wait to show you what else is coming with AzArAm.  My dreams of turning this into a humanitarian platform are slowly, but surely coming true.
XoXo,