Azadeh: The confetti is finally out of our hair, our voices are back, and slowly, but surely our leg muscles don't hurt so much!  I also replaced my phone screen (yes… I completely shattered the screen 🙁 ) and removed the bandaid off my finger where I burned it.  If all of that does not add up to what was a fun weekend then I don't know what does!
Aryana: Because there is SO MUCH to include in our recaps from the wedding (and entire weekend itself) we've decided to type up one mega post instead!  Disclaimer… this could get seriously funny and equally emotional and definitely pretty long, so if you need to get up and stretch or grab a snack, we suggest now would be the time. 😉
GETTING THERE
Azadeh: Let's go back to the morning of Friday, June 26… last minute packing, wash/blow out/straighten hair, decide at the last minute to have an impromptu (and low quality- whoops!) shoot in front of the garage door because I was totally feelin' my travel wear (check it out HERE)… and that all around frantic feeling of excitement one gets right before heading out of town.
Aryana: We were going to our beautiful cousin's wedding!
Azadeh: Back in North Carolina!
Aryana: That's where we're actually from for our readers who don't know.  And Azadeh, I was just about to say that… it's my turn! Wait yours please.  (Bossy older sisters… am I right?!)  Anyways, so we're heading to the airport with our garment bags, suitcases, and carry ons.  After parking the car and waiting in line we were greeted by the most delightful attendant.  Just kidding, that was complete sarcasm and she was awful.  I don't like to speak badly of others, but this was the WORST customer service experience I have ever witnessed in my fourteen years.  But being the pleasant people we are, we smiled at her even after she rudely forced us to pack our garment bags into ONE (wrinkling all our dresses) and telling us we are not permitted carry-ons, charging us outrageous fees to check EVERYTHING in.  We make our way to the security check point and hand our tickets over to the agent who looks confused.  Finally he asks, "Why are you here… didn't they tell you at check-in your flight has been DELAYED 8 HOURS?!" ….??????  EIGHT HOURS!?  We had to make it to the rehearsal dinner THAT NIGHT!  Azadeh was PART OF THE WEDDING!  She had to BE at the rehearsal itself!
Azadeh: Finally, after a half hour debate amongst ourselves, we got our luggage back and hit the road… for (ironically) eight hours.  And we didn't stop!  Just once at the beginning to get gas and pretty much a box of crackers.  No bathroom breaks, no water, no food… and we had taken the tinier of the cars to the airport so no leg room.  When we finally arrived at the venue (Washington Duke Inn) the rehearsal was long over and the rehearsal dinner had been underway at least an hour.  We just grabbed our dresses and RAN up to our room (thankfully our aunt had come and checked us in earlier that day) and without looking in the mirror or brushing our hair or touching up our make up, we hurried down to the dinner.  We pretty much burst into the dinner right when the bride's brother and sister were beginning their roast and slide show.
Aryana: Long story short, we all eventually made our way down there and were luckily able to still order some food.  IT. WAS. SO. GOOD!  Then, all of the out of town guests and wedding party gathered in one of the lounge/bars of the hotel to celebrate.  There was so much excitement for the next day and we got to see all our favorite cousins. 🙂  We were exhausted, but being surrounded by so many loved ones we stayed up late… and then had to get up early for…
Wedding Morning
Azadeh: 8 am yoga with the bridal party!  But no lie, this was one of my favorite parts of the weekend.  The bridal party and all of us cousins went outside on a beautiful terrace overlooking the golf courses for yoga.  It felt good after being in a car for so many hours.  Looking back, if we had not done this I'm not sure how much I would have been able to dance that night!  Then we had the rest of the morning to get ready for the ceremonies.  Yes, plural!  This wedding was multicultural so there was a Christian Ceremony and a Persian Aghd. 🙂  (We are Persian for our readers who did not know!)
Aryana: A little background on the bride and groom!  The bride, Leila, is our cousin.  Her groom, Adam, is our new brother!  Leila just completed her PhD, so she is DOCTOR Leila! Congrats to our cousin… we are SO PROUD of her! xoxo
CHRISTIAN CEREMONY
Azadeh: I have no clear photos from this because I was crying for the most part… I have totally become that person who cries at weddings!  I can't help it though, it was SO BEAUTIFUL!
Aryana: I really enjoyed the reverend's words about love and miracles!  You could FEEL the love between the bride and groom as they exchanged their vows!
Azadeh: Oh AND… Leila was wearing her mom's wedding dress!!!  She looked like royalty!
PERSIAN AGHD 
Aryana: We will just let the pictures do all the talking here!
Azadeh: A little background information for those unfamiliar with the Persian culture.  There is a traditional sofreh (ceremonial cloth) spread out with each item representing an element of love and style for the bride and groom.  Every single item on Leila and Adam's sofreh was handmade by our aunt and uncle!  They spent the better part of this past year creating each and every piece and the end result was truly breathtaking.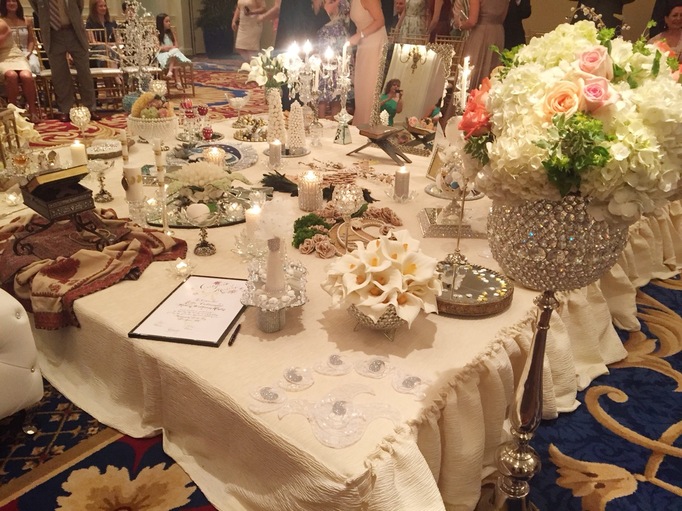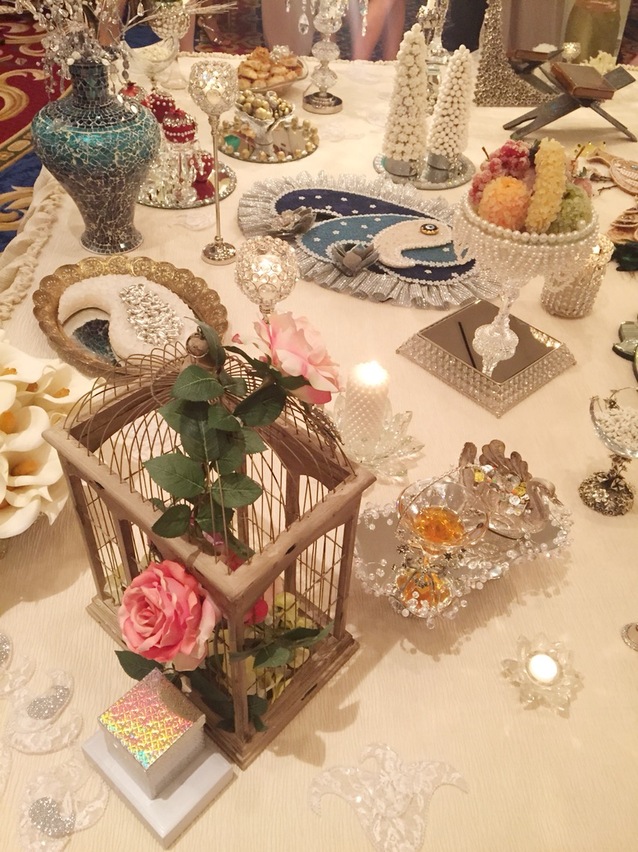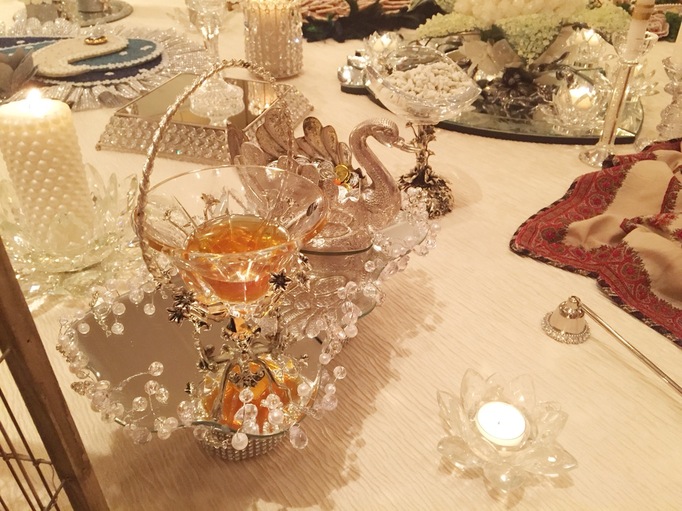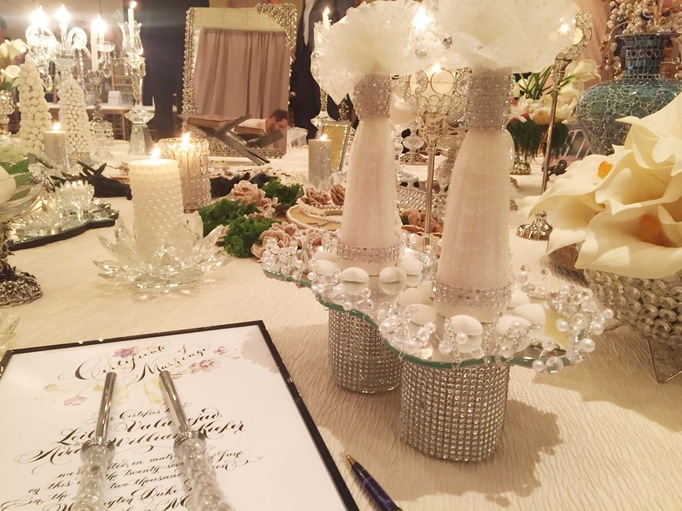 Azadeh: Bringing sweetness to each other's lives is very symbolic.  The bride and groom each dip a finger in honey and feed it to one another as a symbol of bringing sweetness in each other's lives.  Sugar canes are also circled over their heads by female guests (aunts, cousins, grandmothers, etc) as a way to shower them with sweetness.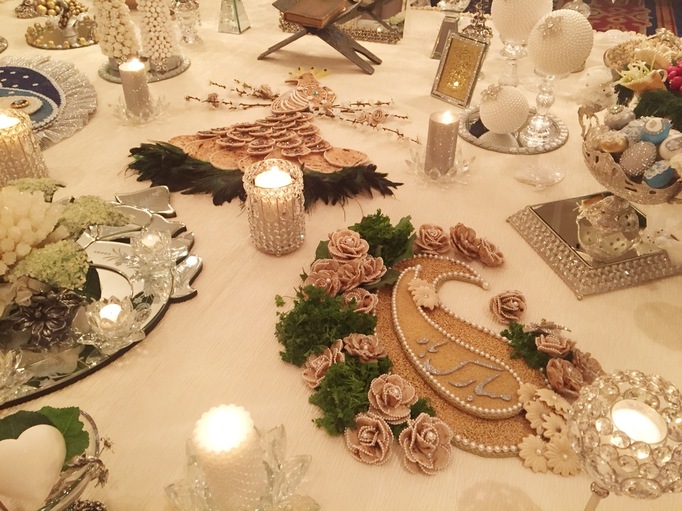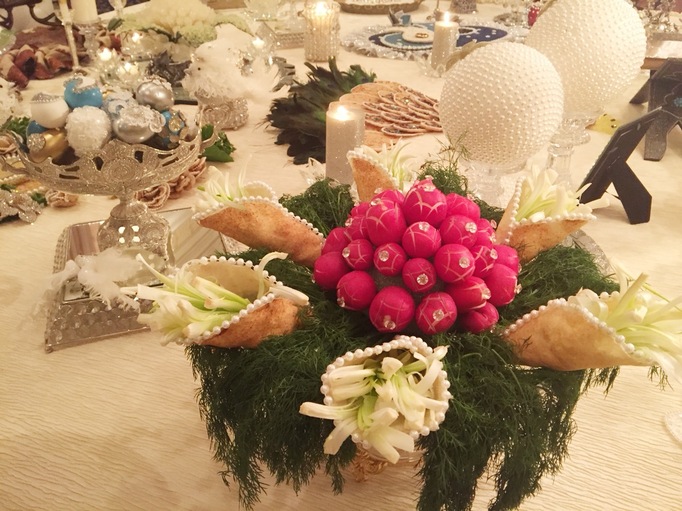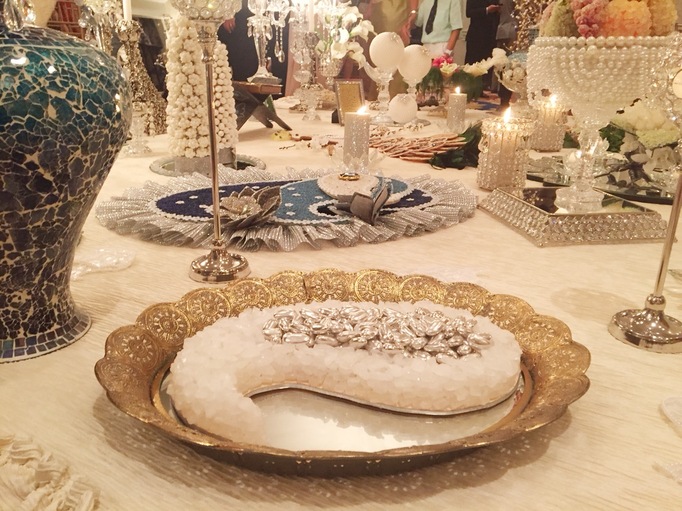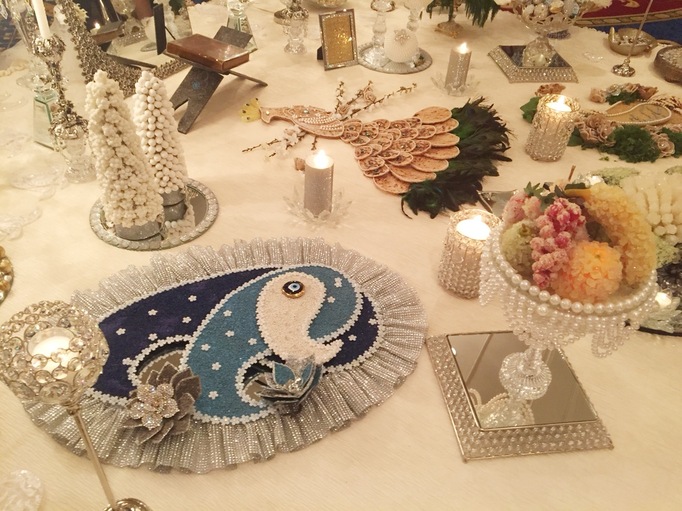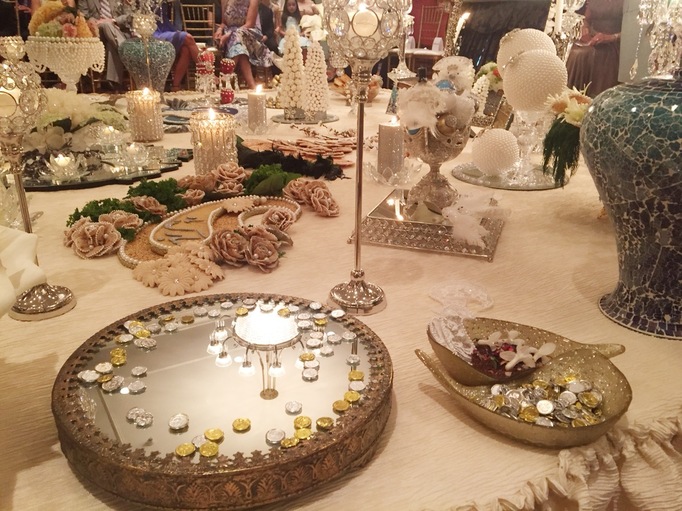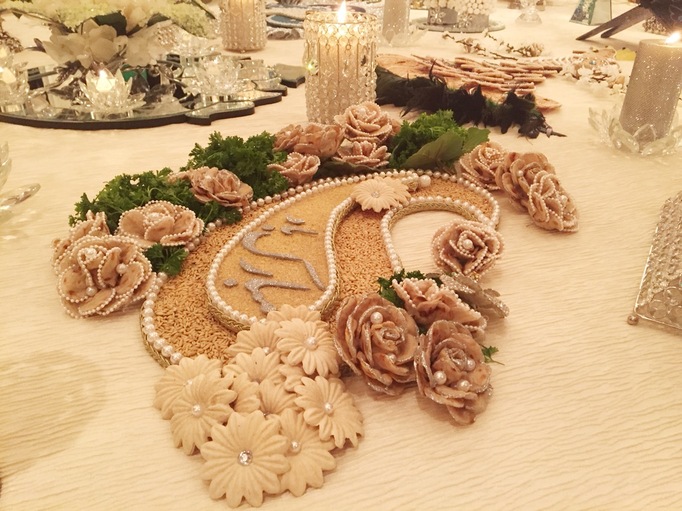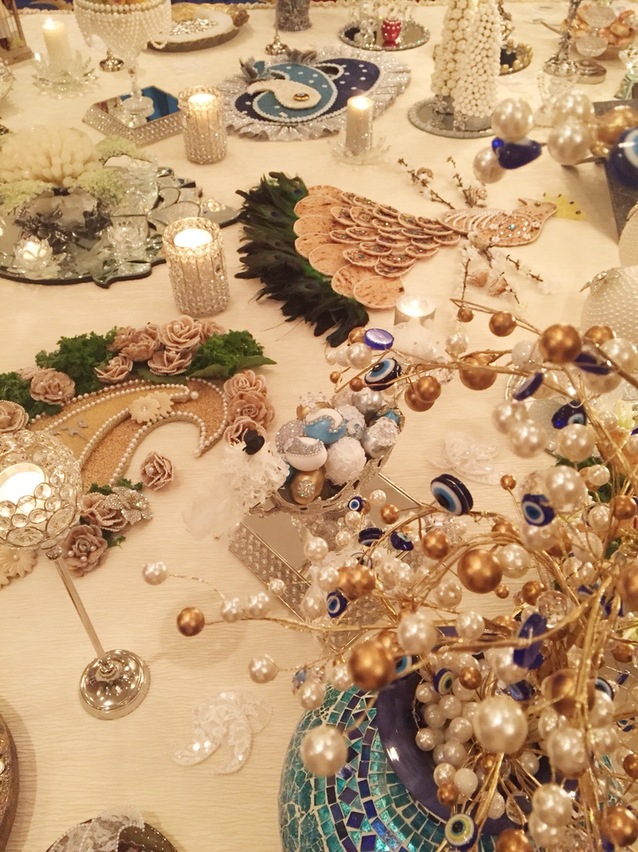 Aryana: Take a moment to notice the DETAILS in each piece!  The paisley shaped rock candy, the jewel encrusted flower petals… the flowers molded out of bread and then decorated with pearls!  And of course the true masterpiece that is the peacock in the middle!  Also cut out from bread!
Azadeh: I was very touched when Leila asked me to recite a poem during their Persian ceremony.  Thankfully I do not have a problem with public speaking, but I have only ONCE before ever given a speech in Farsi and this was much harder because I had to speak in older, more proper Farsi.  I recited a verse from Hafiz's Ghazal 152:
در ازل پرتو حسنـت ز تـجـلی دم زد 
عشـق پیدا شد و آتش به همه عالم زد 
جلوه‌ای کرد رخت دید ملک عشق نداشت 
عین آتـش شد از این غیرت و بر آدم زد 
عقل می‌خواست کز آن شعله چراغ افروزد 
برق غیرت بدرخشید و جـهان برهـم زد 
The radiance of your goodness manifested in eternity
Love appeared and set fire to the mountain, earth and sea
Your face radiated, and still saw angels were loveless
Setting this fire on man, was then your zealous decree
Mind wanted to turn this fire to its own guiding light
You set the world in chaos with your ardent, radiant glee
Fashion
Azadeh: Rent the Runway lent us almost all our jewelry for the weekend!  We LOVED working with them!  If you have never used Rent the Runway before, it is an online fashion company where you can rent dresses, jewelry, clutches, etc. for a fraction of the price!  If you live in New York, Las Vegas, DC, or Chicago, you can now go to one of their boutiques!  Because we were all over the place with family and friends most of the time, we had limited time for photos in between all the events.  I was able to get a few of my rehearsal dinner look below.
Outfit Details: Dress BCBG / Similar, Here, Here & Here // Shoes,  Christian Louboutin Pigalle Spiked // Necklace, Zara / Similar Splurge Here, Similar Steal Here // Bag // Bracelets, David Yurman Cable & David Yurman Renaissance // Ring, David Yurman
Aryana: Here is my look for the ceremonies!  I LOVED my RTR pieces!  So simple and elegant. 🙂  The chain link bracelet can match outfits for both day and night, casual and dressy.  And the earrings were so delicate and added just the right amount of sparkle to my dresses!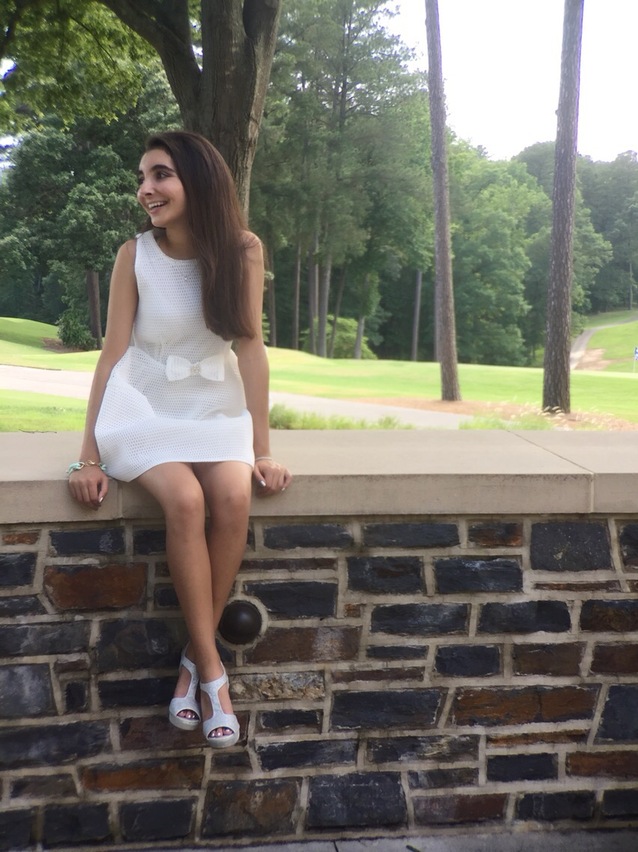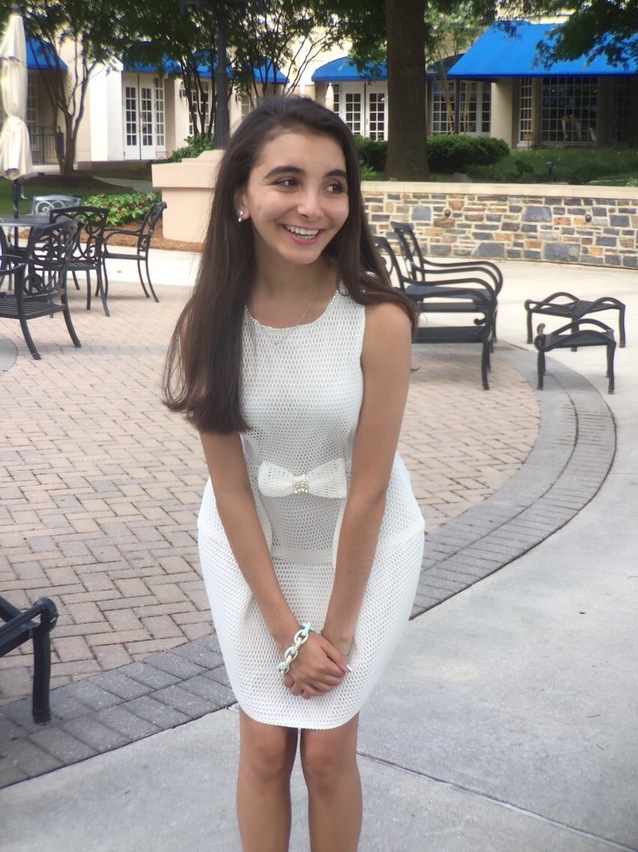 Outfit Details: Dress, gift from my sister! 🙂 // Wedges // Bracelet, Slate & Willow // Earrings, CrisLu // Clutch, Vintage Karl Lagerfeld
Azadeh: And here are some shots of my look for the ceremonies!  This was probably my favorite dress out of all three.  I found it a few months back and KNEW I had to wear it for this wedding!  I also just found out it's now on sale (linked below)!  The Rent the Runway pieces I matched with this look was more than I could have ever hoped for!  I ended up wearing the gold bracelets with white jeans and a blouse to breakfast as well, just because I loved them so much!  And the earrings were made for this dress!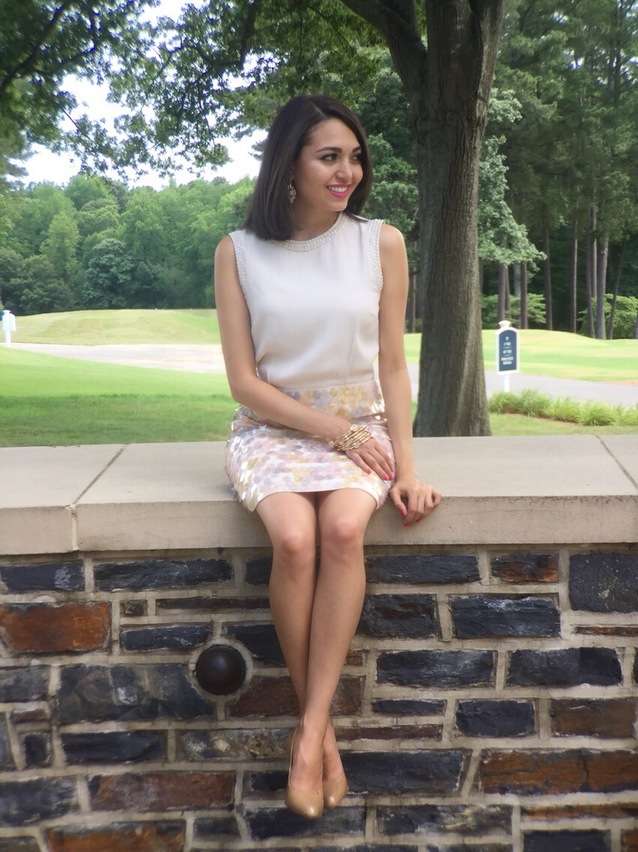 Outfit Details: Dress (now on sale!!!) French Connection // Shoes, Christian Louboutin // Bracelets, RJ Graziano // Earrings, Slate & Willow
Aryana: By the time of the reception, we were having way too much fun to stop and take detailed shots of our outfits, but you will see them during our reception pictures! 🙂
V & T PHOTOGRAPHY
Azadeh: We met another beautiful couple over the weekend, Vanessa and Thaniel.  They are a happily married couple who run their own photography business together!  And they are SO BEYOND TALENTED!  It's one thing to have wedding photographers, but V & T are a couple who know and understand exactly how to capture those special moments!  They love what they do and know exactly how to make your special day last forever!  I have been telling all my friends with upcoming weddings to book them and now I am telling you as well!  Vanessa was also very gracious to snap some pictures of both me and Aryana, which we are so excited to use as our AzArAm images! 🙂  You can find more information about Vanessa and Thaniel HERE!
RECEPTION
Aryana: I never wanted this night to end!  From each place setting to the service, the music, the goodies, and the memories… it was the most perfect night!  This was probably the most perfect, beautiful wedding I have ever been to!  Leila wore a stunning princess cut and style couture gown for the reception… I wish we had a clearer shot of it!
Azadeh: I completely agree with Aryana!  Some highlights from the reception include her younger sister, Sara (Maid of Honor), surprising Leila with a dance involving all the bridesmaids and even Adam!  Adam has been taught Persian dancing SO WELL, he was killin' it out there on the dance floor all night!  Also, I have to give a shout out to the food… oh my goodness.  Best wedding food and cake of all time ever!  I also wore my favorite RTR piece, this Janis Savitt Crystal Knot Bracelet during the reception.  It retails for $440, but the rental is just $10!  Thanks, RTR! 🙂  If you ever need one statement piece for any occasion, this bracelet is my recommendation.  It's not heavy, it is simply stunning, and where can you go wrong with the rental deal!
Aryana: I loved when after a few hours they provided flip flops to all the women!  We still wear ours all the time… I am not sure what they are, but the most comfortable pair of shoes I own for sure, LOL!  Also, we had fun light up sunglasses and they served midnight snacks!  There was a Photo Booth and tons of confetti, flower petals, and glitter!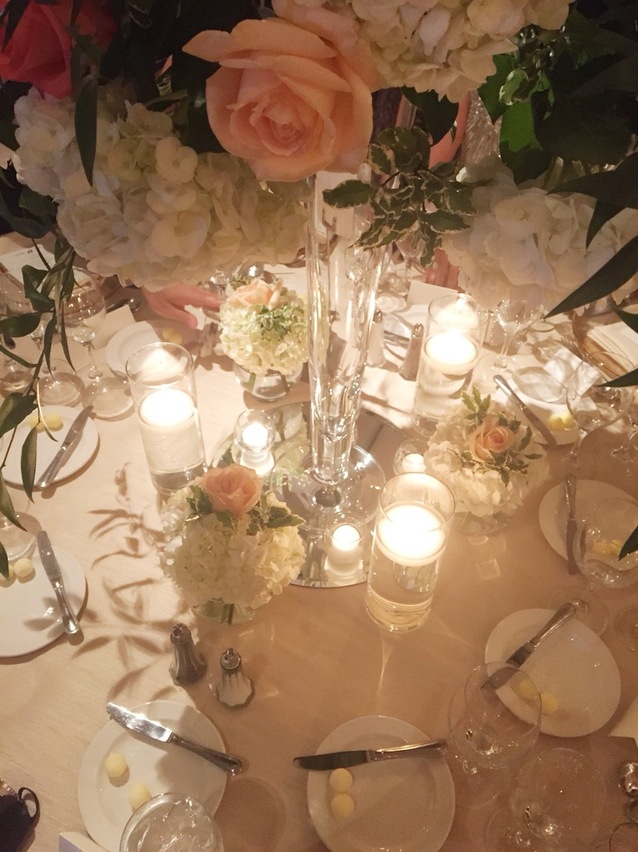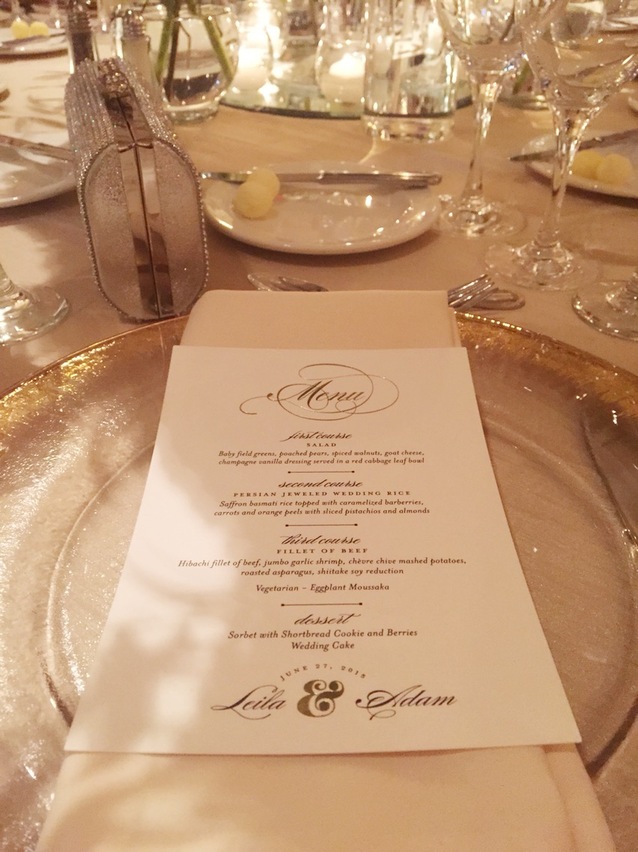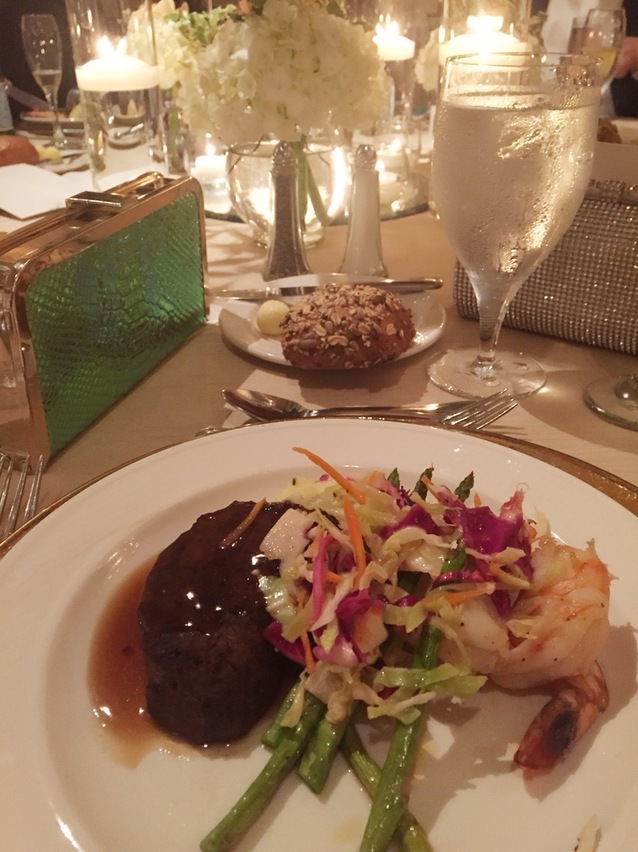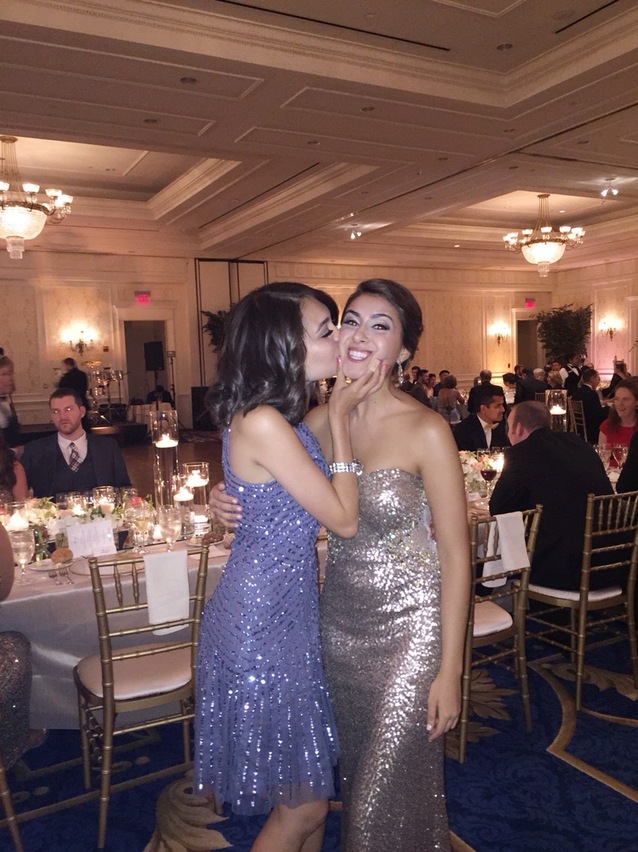 Azadeh: This last picture is probably my favorite of the whole night!  Sara and I grew up together and even though growing up we went to different schools and I moved up here, I think this picture captures us perfectly!  No matter what, we always pick up where we left off!  Isn't that the best? 🙂 <3
Aryana: I felt really loved at this wedding.  Leila called me the moment she found out about my condition last year and continuously checked up on me even after my surgery!  I am so happy I am now healthy enough to have celebrated this beautiful weekend with her and Adam. 🙂
Azadeh: For the first time in my life (and I have been to COUNTLESS weddings) this was the first time I felt love radiating among everyone.  I am not sure what it is that Leila and Adam have, but it is REAL!  They have made me truly believe a great love does in fact exist for all of us out there! :')
We hope you are having the time of your life on your honeymoon!  We love you both so much!
XoXoXo,

**This post contains affiliate links and we will be compensated if you make a purchase after clicking through our links.