3 Ways To Style Your Boyfriend's Shirt
There's no doubt that besides a blazer, button downs are one of my closet staples. But what makes them even better is when they're a men's shirt. And although I personally don't believe in gendering clothes (to me everything we wear should be gender fluid!) and I don't want to promote a heteronormative agenda on here, I'm still referring to this post as styling your boyfriend's shirt only because it's Valentine's Day this week, and I thought this would be a cute post! 🙂
I don't have a boyfriend, but I do have men's shirts hanging in my closet I love to wear on repeat. What are the benefits of wearing your boyfriend's shirts? Well first of all, a men's shirt is SUPER versatile (sustainability anyone?) and they've been the men's fashion norm for centuries. You don't have to worry about them going out of style. There are endless ways to turn a simple men's shirt into a dress or skirt or cover up.
The shirt I'm styling for you today is from Korean brand Wai Kei. I wanted a Wai Kei blouse for so long, but I could never find the ones I wanted in stock. Then I found this little number that just happens to be a combination of my closet color palette. It's become such a unique staple piece for me, and I love discovering new ways to wear it. I mean black and nude, come on—made for me, haha!
DRESS
The first time I wore this baby out in public, I wore it as a dress to a New York Fashion Week party! I threw on my favorite pair of Alexandre Vauthier boots, an industrial belt, and I opened the buttons on the sleeves (my favorite part of a Wei Kai shirt!) that added a little extra drama and cape effect.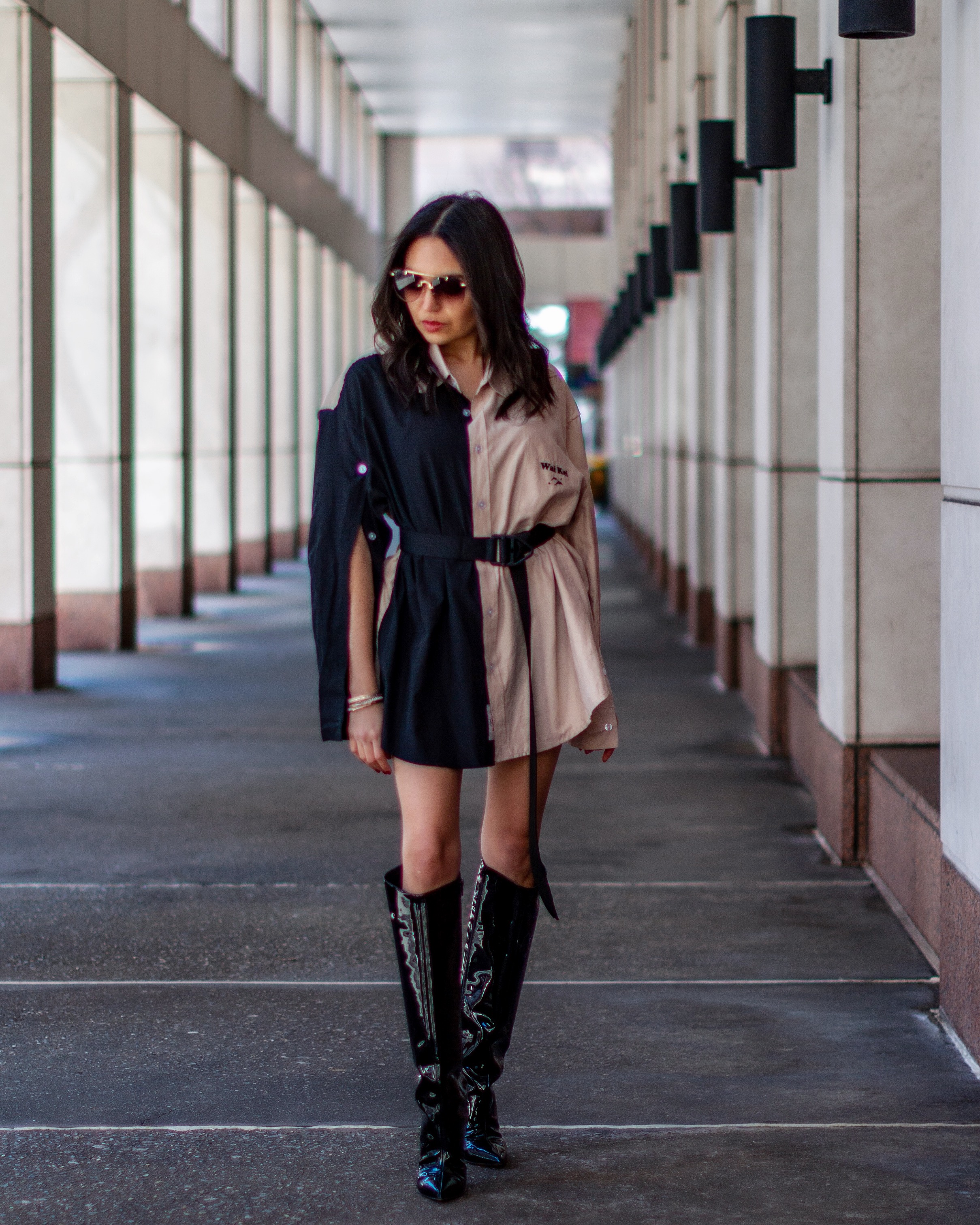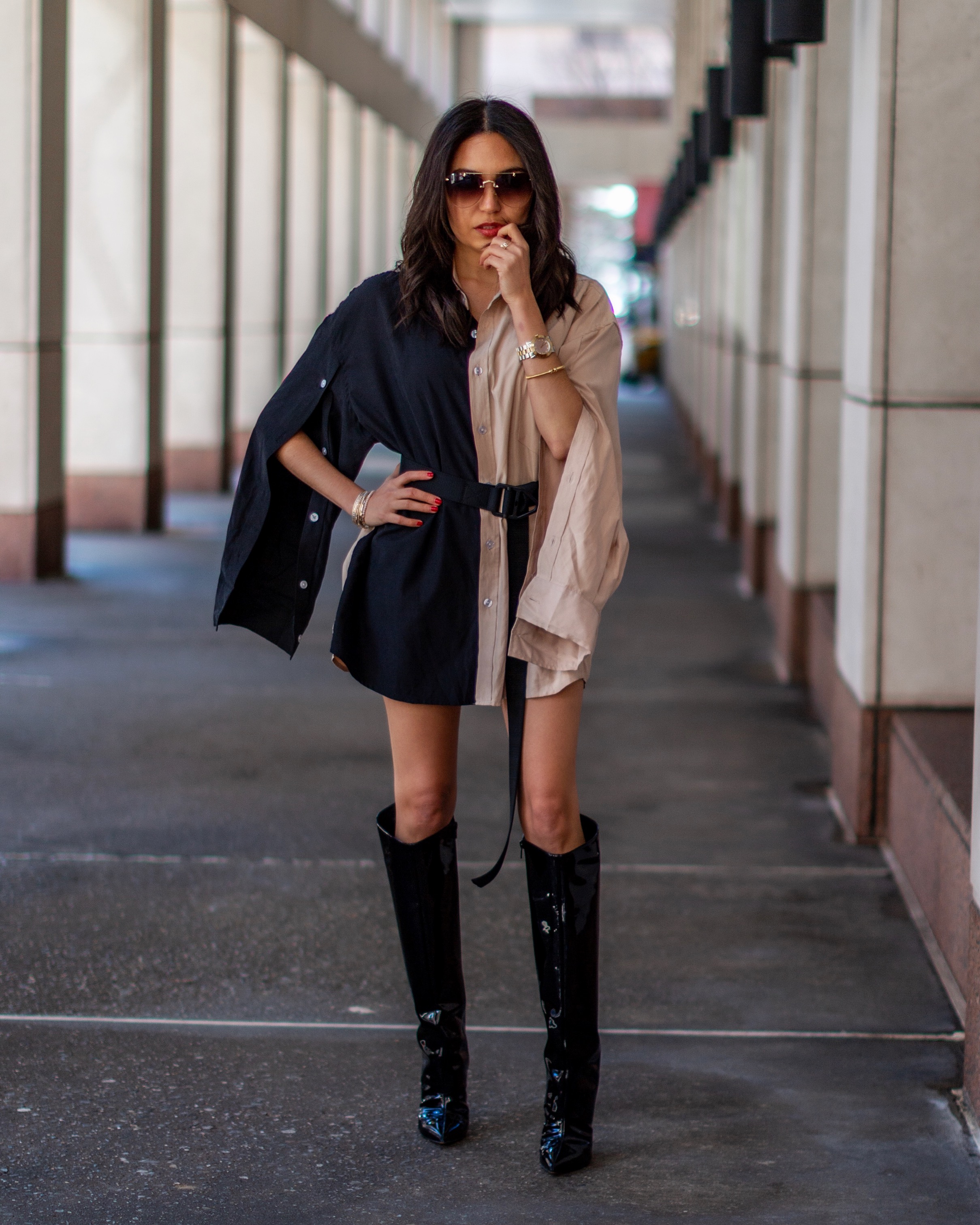 https://www.instagram.com/p/B2MisVdg8ff/
SKIRT
If you've never worn an oversize shirt as a skirt, I highly recommend trying it out. It's just so unique and cool! For this look I kept the top half of the buttons open and stepped inside the shirt. I rolled the collar down a couple times and tucked the sleeves in around my waist. Voila! You can make the skirt as short or long as you like depending on how many times you roll it. I kept mine right above the knee and paired it with a black button down and black pumps.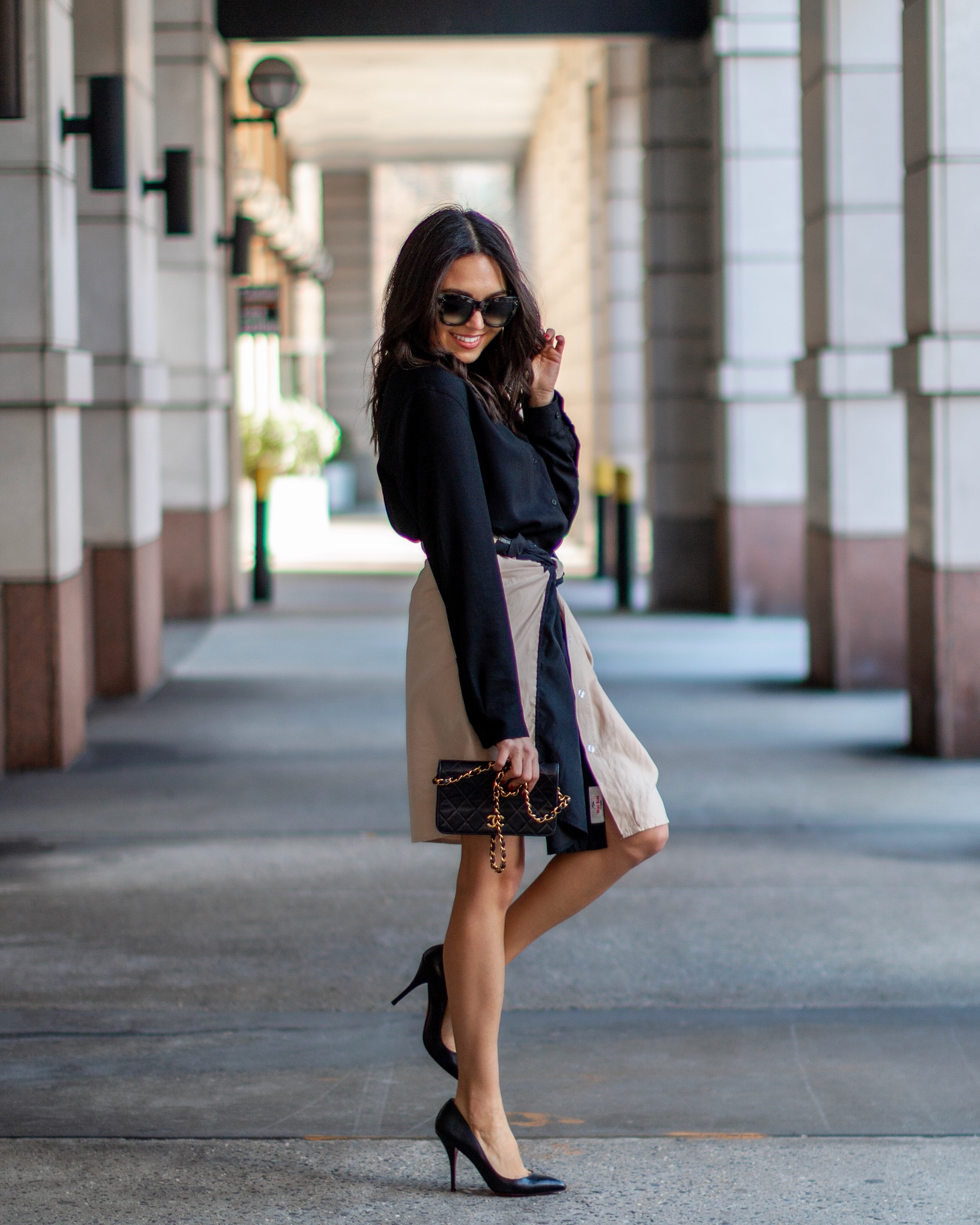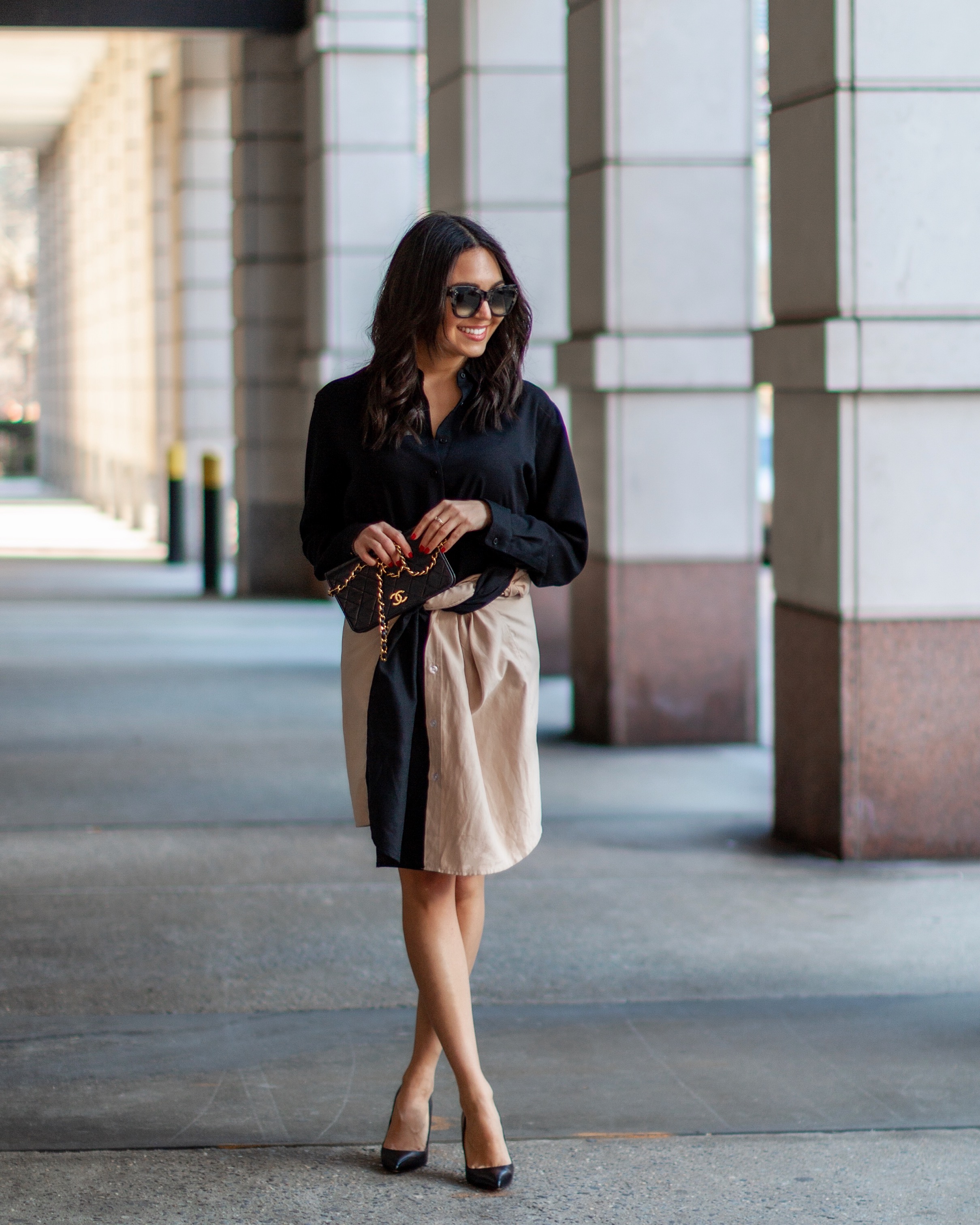 BLOUSE
This is my signature look (minus a blazer). Even though I wear this particular shirt a lot, I still find different ways to style it. Sometimes tucked in, sometimes not. One day I'll do a french tuck, then another I'll tie the front in a knot. For this look, I went with my ultimate favorite style: a quarter tuck with cuffed sleeves. Threw on a pair of black skinny jeans, my go-to Chelsea boots, and of course, my signature oversized sunnies.
Another reason this happens to be my favorite shirt because my closet twin and NCT bias Jaehyun has the same one! I'm always channeling #Jaenergy when wearing it!
So go forth ladies! If you have access to a man's closet, borrow one of his shirts and go to town styling it. Or you can do it my way and invest in a few men's shirts for your own closet. 🙂
XoXo,