Break Up With Fast Fashion… & Be My Valentine
Happy Valentine's Day lovers!  Love it or hate it, the most Hallmark holiday of them all is here.  Normally, today is way off my radar, but this year I have a lot to celebrate for love day because I've fallen in love.  Before you get too excited, it's not a guy (lol, sorry mom!).  I've fallen in love with my passion project, AzaArAm Productions, that officially launched last month!  I'm in love with the person it's molded me to become, the lessons I've learned throughout the process, the late nights, the early mornings, the sacrificed social life… all of it.  I've always had a strong work ethic, but the past few months have been a real testament to how committed I become when I truly love, believe in, and care about something.
What I'm really excited about though, is that the application to become an AP global impact influencer is officially up and running!  In the last few weeks, I've received numerous requests asking how to join and participate in upcoming events and it truly makes my heart burst reading all your messages asking to get involved.  If you're interested in learning more, check out the AP page and sign up HERE to stay up to date on our next events.
I know this day can be a trigger for many people, myself included in the past, but I hope you choose to love yourself and fall in life with all the blessings in your life.  I may not be in love the commercially emphasized way, but I'm so in love with this current moment in my journey, I can't help but want to celebrate Valentine's Day!  And I want YOU to be my Valentine this year!
Be My Valentine?
In the wise (remixed) words of Ariana Grande, all you have to do is break up with fast fashion. 🙂  And I've made it really easy for you here!  Today I'm talking about two brands super on brand for Saint Valentine—one lingerie, one flowers—and how they contribute to conscious fashion and lifestyle.  This is probably one of my favorite photo series I've ever shot.  And it's the first time I've shot in my apartment!  It was a completely spontaneous shoot, and I can't get over how well these photos turned out in my tiny nest.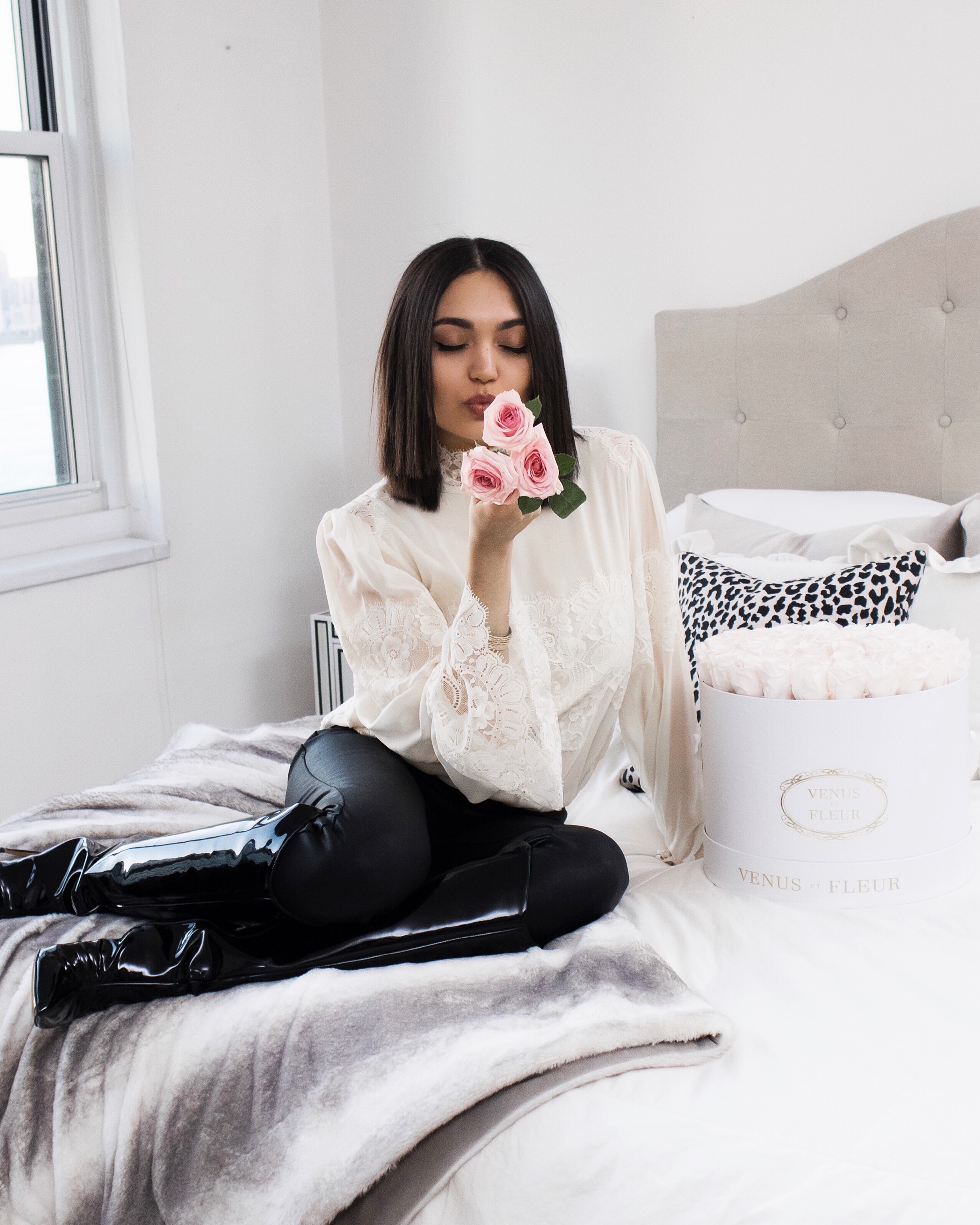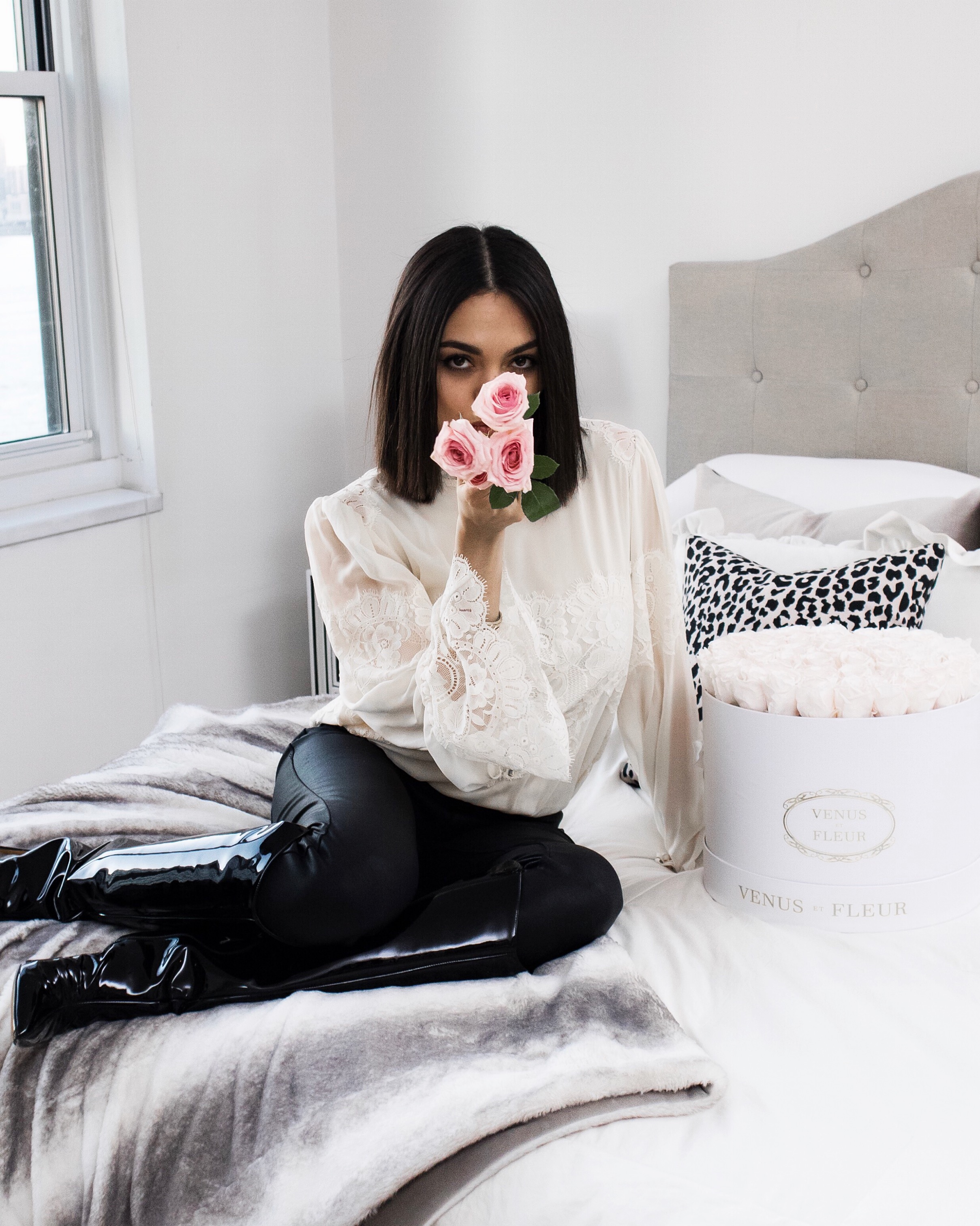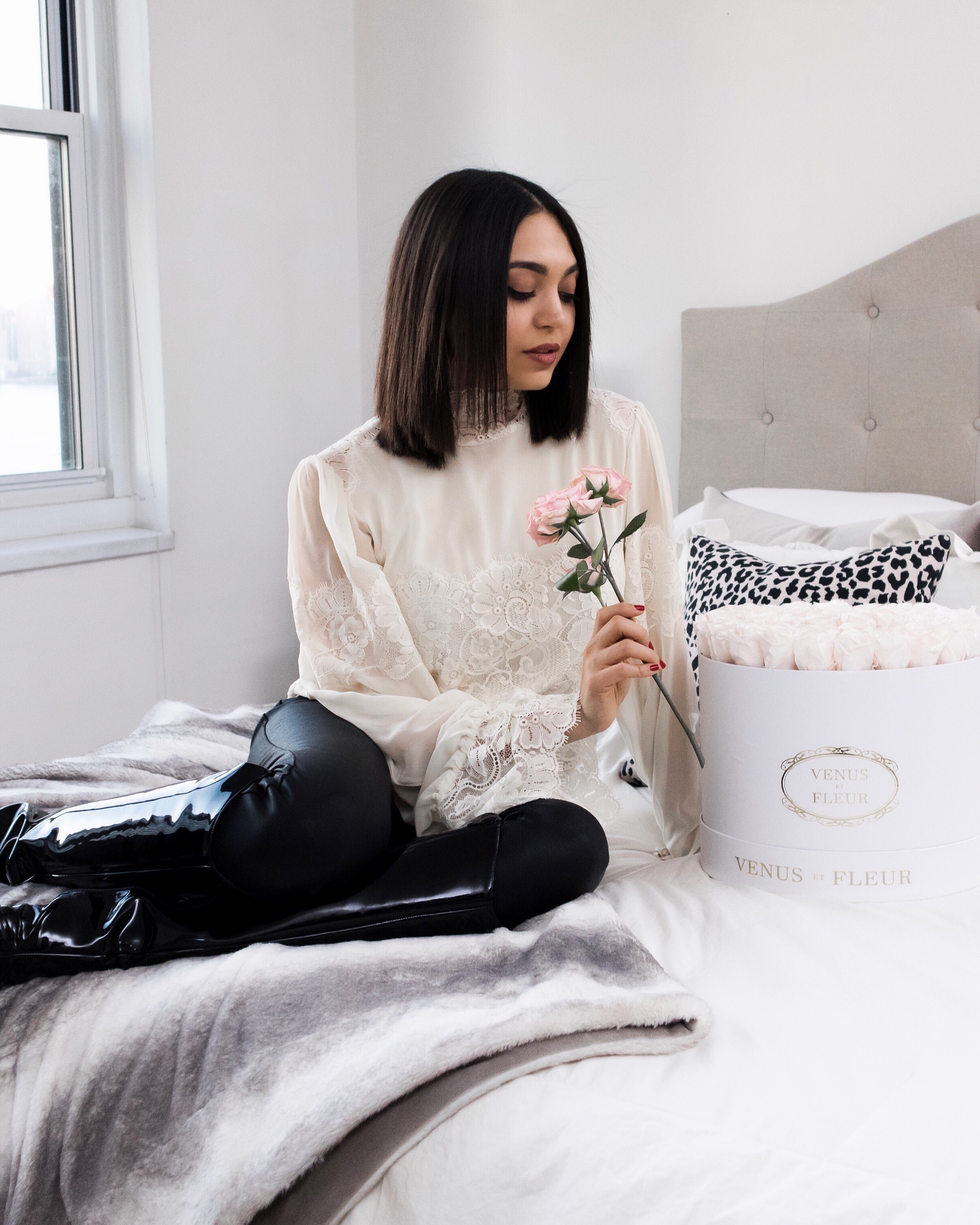 We Are HAH
My good friend Alyssa recently introduced me to the brand We Are HAH and I am in EL-OH-VEE-EE with them!  They're a sustainable lingerie, swimwear, and apparel brand and every piece is so feminine, delicate and beautiful, I can't get enough of it!  I wore this bodysuit (yep, this is a bodysuit!) to a WWD party last week and knew I had to take photos in it for a post.  HAH stands for Hot-As-Hell and their pieces will definitely have you feeling like hotstuff.  If you prefer some lacey lace intimates, I highly suggest checking out We Are HAH.  Their quality is top notch, and I love how versatile all their pieces are!  I paired this delicate, cream top with leather pants and the Alexandre Vauthier Alex boots (thanks, The Real Real!) for some extra drama.  And can we just take a moment appreciate these sleeves?!
Venus et Fleur
Venus et Fleur needs no introduction!  They are the original makers of the eternity roses in Parisian hat boxes.  I always have fresh flowers in my apartment.  It's something I continuously treat myself to, but it can become a pretty expensive hobby.  Luckily, over the last year and a half, I've collected about half a dozen Venus et Fleur boxes and not only does my home permanently smell like a field of Ecuadorian roses, but I've saved money, and they are so BEAUTIFUL!  My favorites are the black roses on my nightstand.  If you're looking for a quality gift for your significant other, mom, or any other important person in your life, I highly suggest investing in a box of eternity roses.
Initially, I was helping out my friend Diego take some pictures for his collaboration with Venus et Fleur, and while he was framing the shot, I got a little silly with his roses.  But the photos turned out so good, I couldn't not share them on here!
I will admit, I'm not completely sure about their sustainability factor (cannot find the research anywhere!), but here's how I see it.  The import and export of flowers is so ridiculously demanding that the carbon dioxide emission from fields to florists itself is staggering.  I believe investing in eternity roses is like investing in slow fashion: less is more, quality over quantity.  And if that doesn't fall into conscious living, I don't know what does!  Do I still have questions about the working questions of the people in the fields?  Yes, and if they don't comply with fair trade practices, I'll hold myself accountable and rethink my stance on what I'm calling the slow flower movement.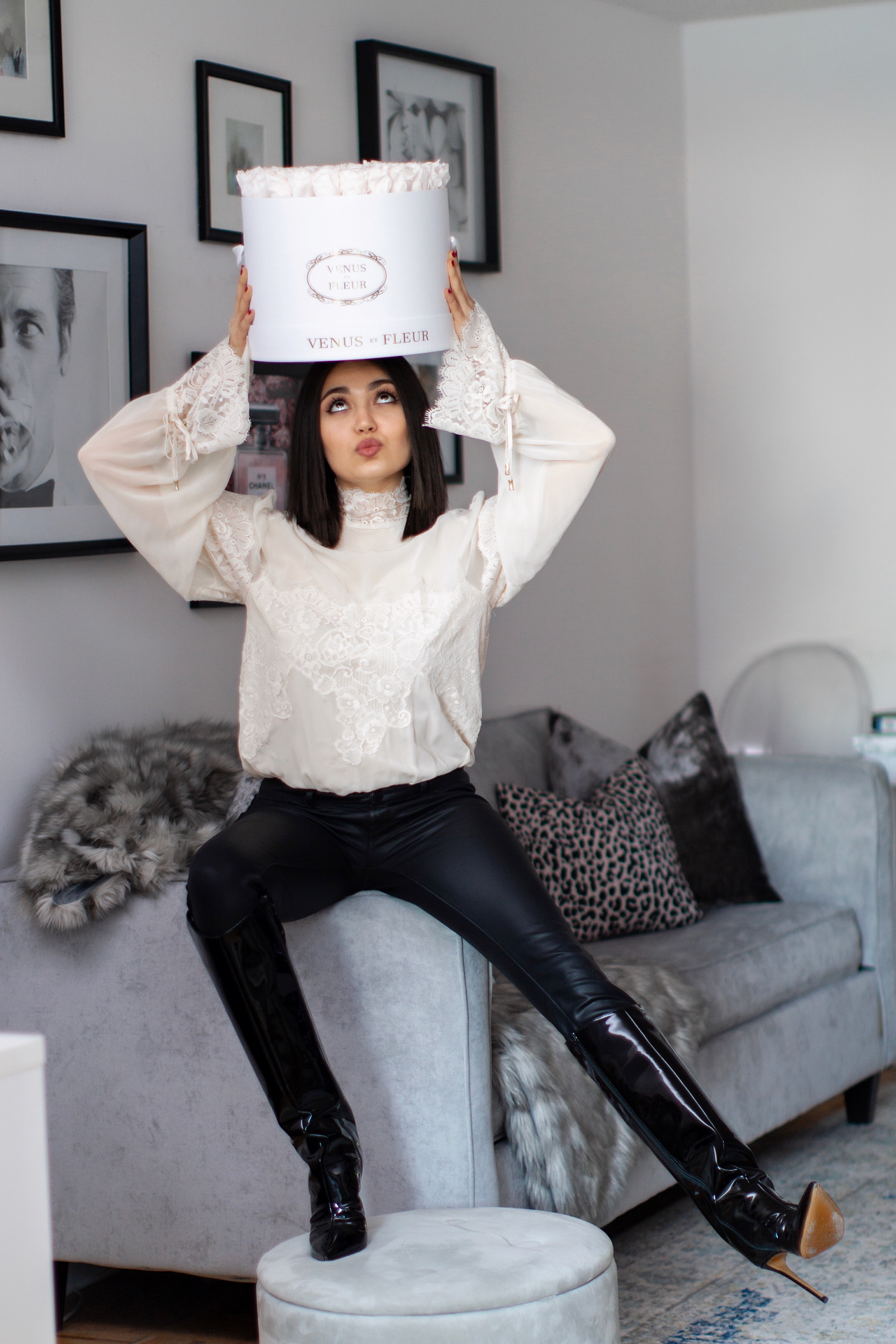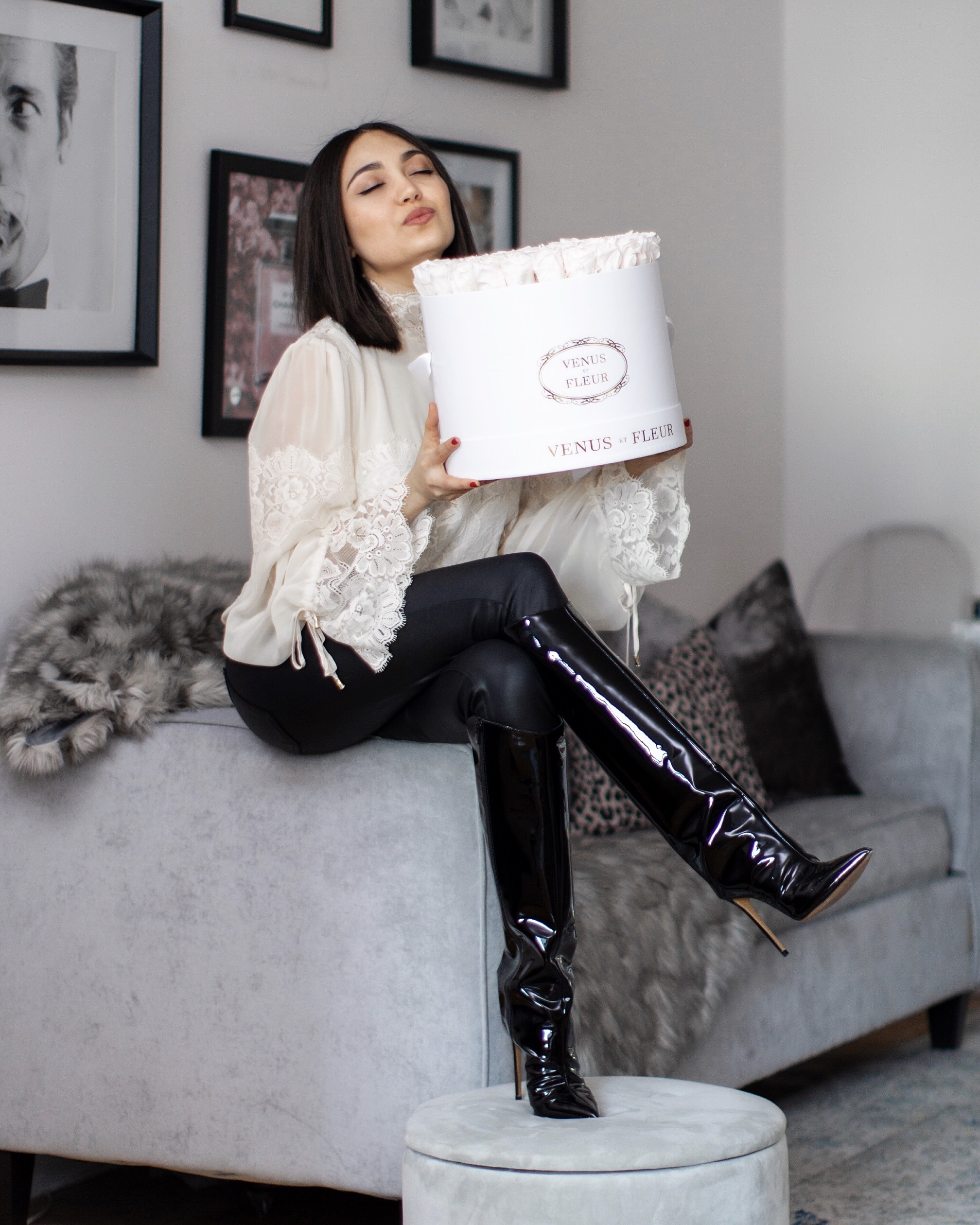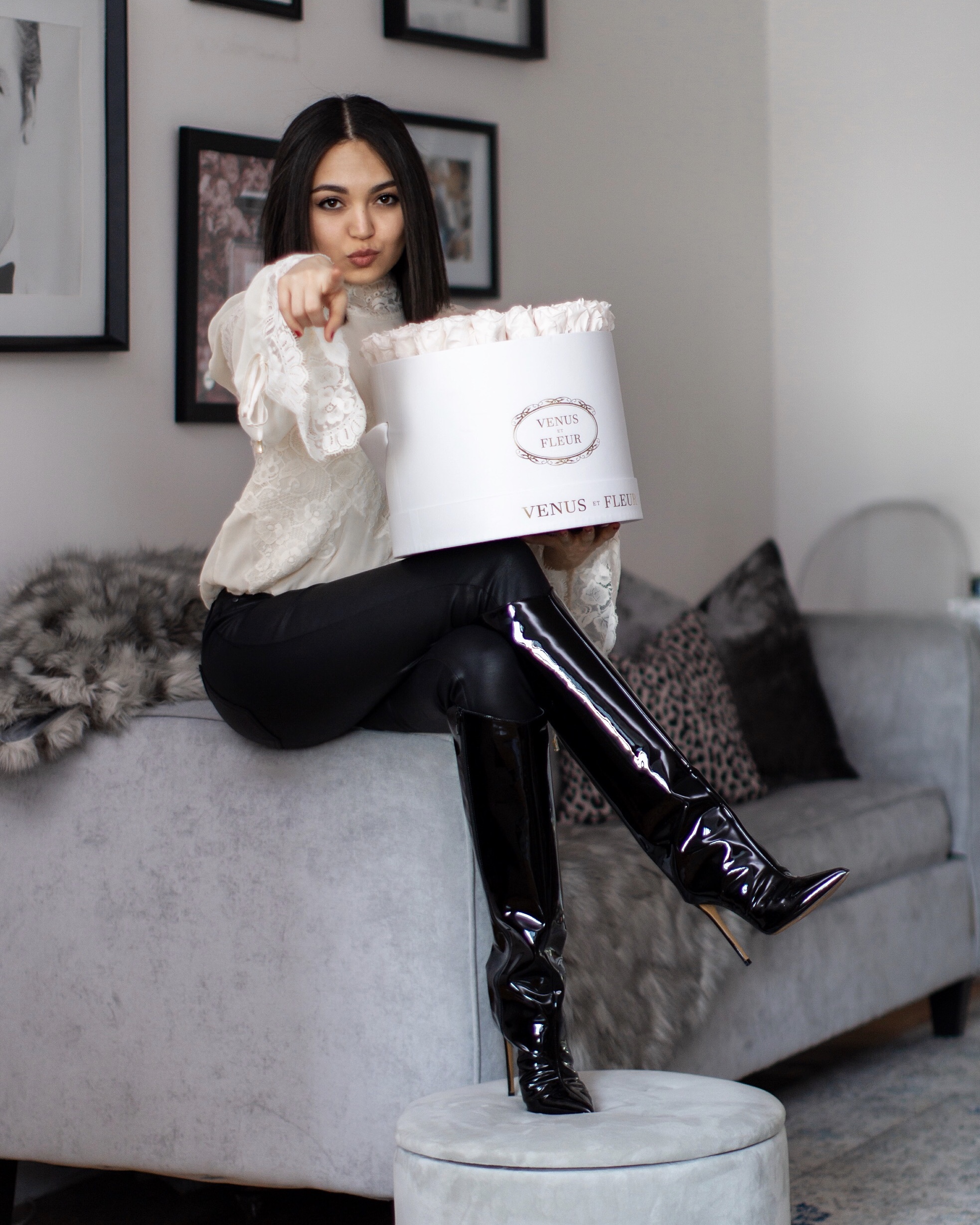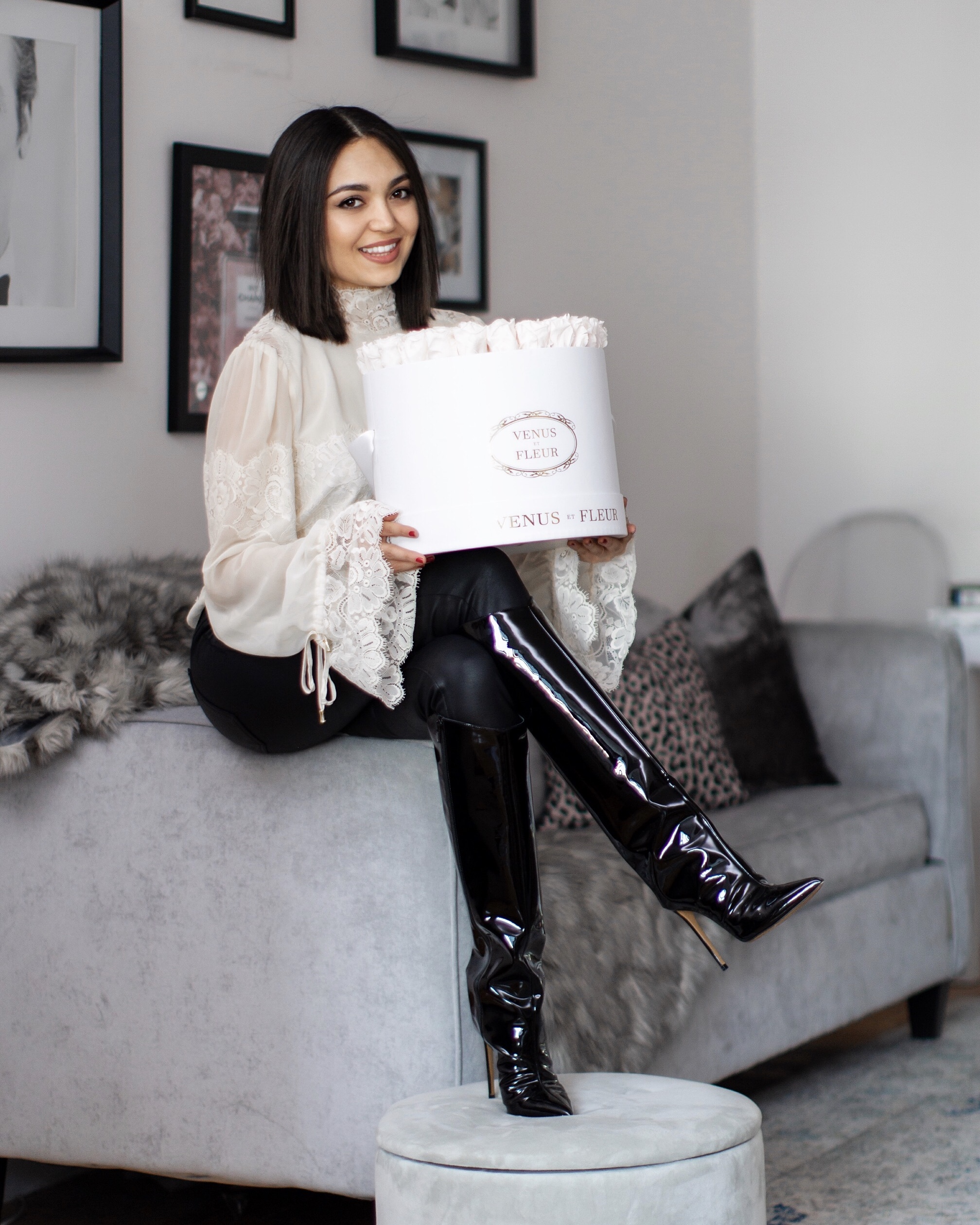 So are you ready to break up with fast fashion and be my Valentine?  Let me know!
Kisses,