NYC Blogger's Guide to the City
It's finally here!  THIS POST!  I've been working on this for the last few weeks because I could not decide how to organize and recap everything!  But let me back up and start from the beginning here…
I've been wanting to create a guide to New York City forever now.  It's a huge part of my blog and AzArAm brand I hope to grow in the future.  A couple months ago I thought, "Well why not do it with other local bloggers?"  I've met so many fun, trendy, fabulous bloggers who all bring something unique to their audiences.  So I started reaching out to influencers, friends in PR companies, various brands, venues, salons, and restaurants.  The response was GREAT!  Slowly everything started to fall into place and it even got to a point I couldn't fit all the fun activities into the weekend!  And honestly, every single company we worked with was so FABULOUS I couldn't just throw them all together into one post.  Editorially, my AzArAm calendar is FULL and if I were to type an individual post for every single brand, it would take months to fit them all in!  But I'm really excited to share THIS post with you now!  I hope if you're ever visiting my beautiful city, you'll hit up some of these places!  I've divided this post up into sections: shopping, fitness, food, beauty, and nightlife.  Ready?!
SHOPPING
So this isn't really a physical shopping guide as much as it a big shout out to all the AMAZING brands who collaborated with us and sent us gifts and goodies! 🙂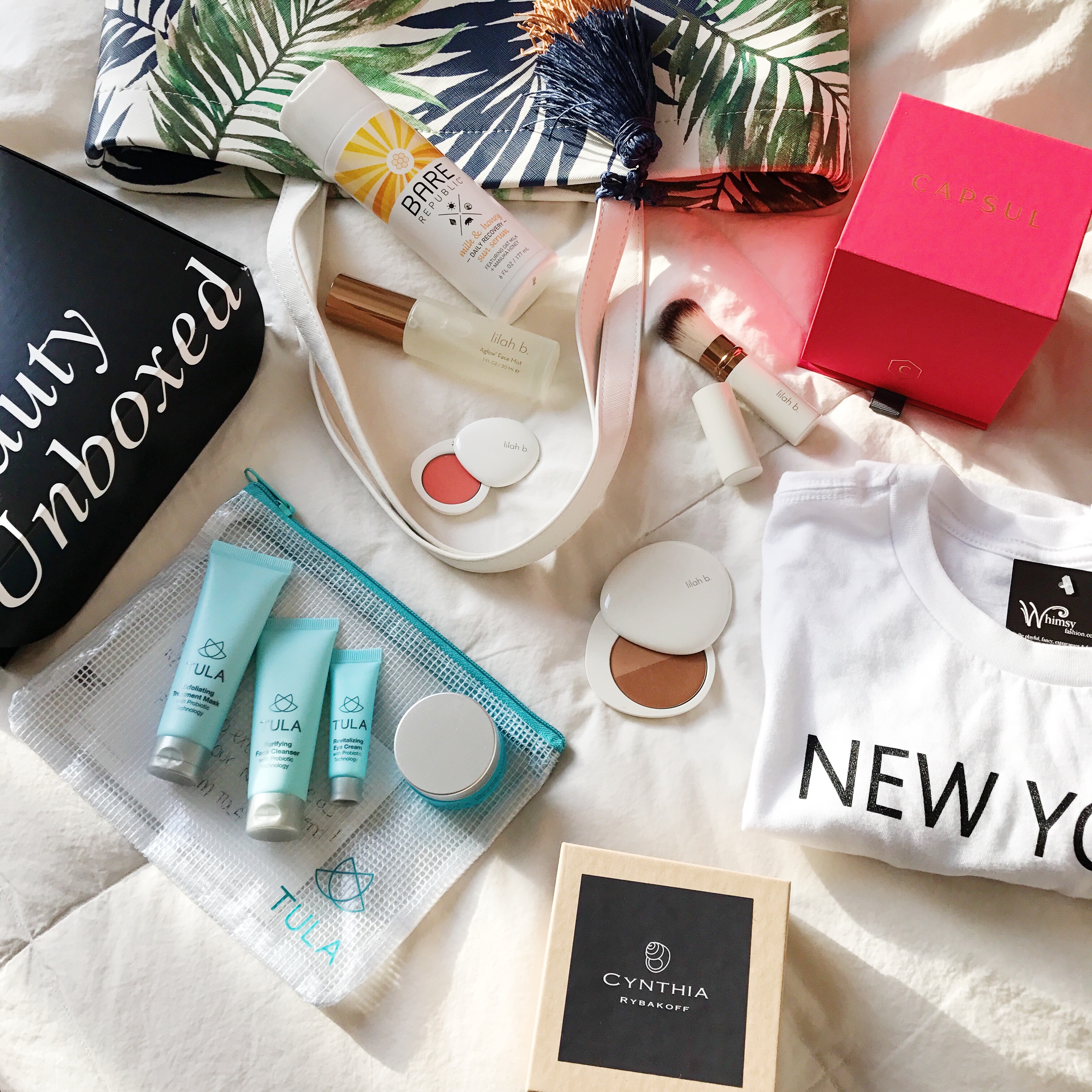 Whimsy Fashion gave us cute t-shirts that say NEW YORK > EVERYTHING.  I've been dying to shoot an entire look with mine, but the weather has NOT been cooperating! 🙁  Keep an eye out for it soon though! 😉  We were also gifted a variety of products from TULA Skincare— one of the BEST brands out there for all your skincare needs!  And who can resist the signature blue packaging?!  Beauty Unboxed sent us all goodie boxes, you can read about HERE and of course the amazing Cynthia Rybakoff also gifted us with her exquisite gems you can read about HERE.  As for make up, up and coming beauty brand Lilah B, sent us a wide assortment of their products.  I am OBSESSED with my lip tint, bronzer, and face mist!  And the packaging is so unique as they come in sleek little magnetic compacts you have to slide open.  Natural and organic beauty brands Bare Republic Naturals, Wen Hair Care, and COOLA also sent us goodies!  Everyone's favorites gift were the  block letter necklaces by Capsul Jewelry customized with our blog names!  (Insert all the heart eyes here!)  And last but not least, Deux Lux gave us cute tote bags!  I'm so in love with my palm print covered tote and plan on carrying it with me everywhere this summer— as soon as this rain finally decides to let up!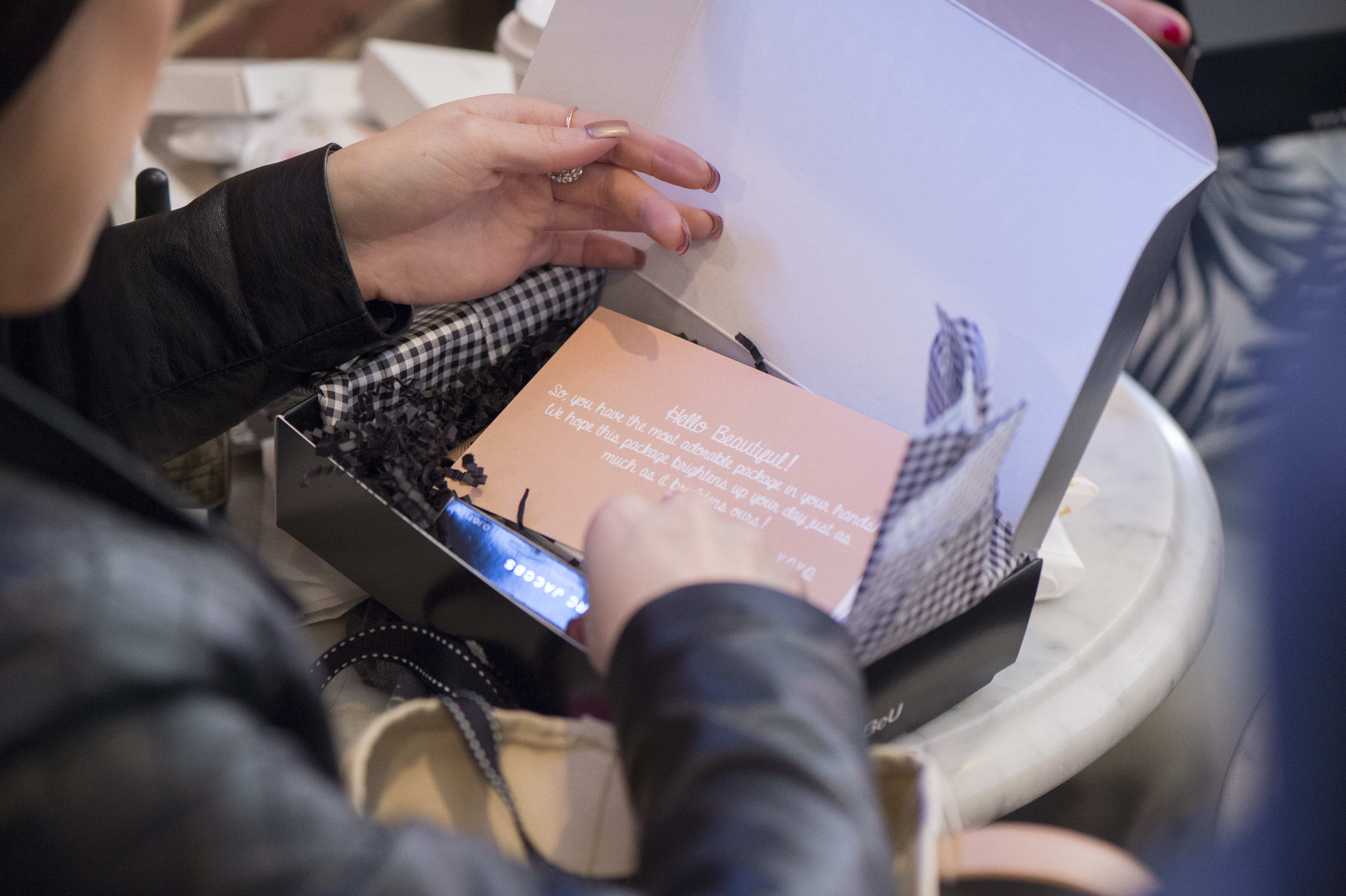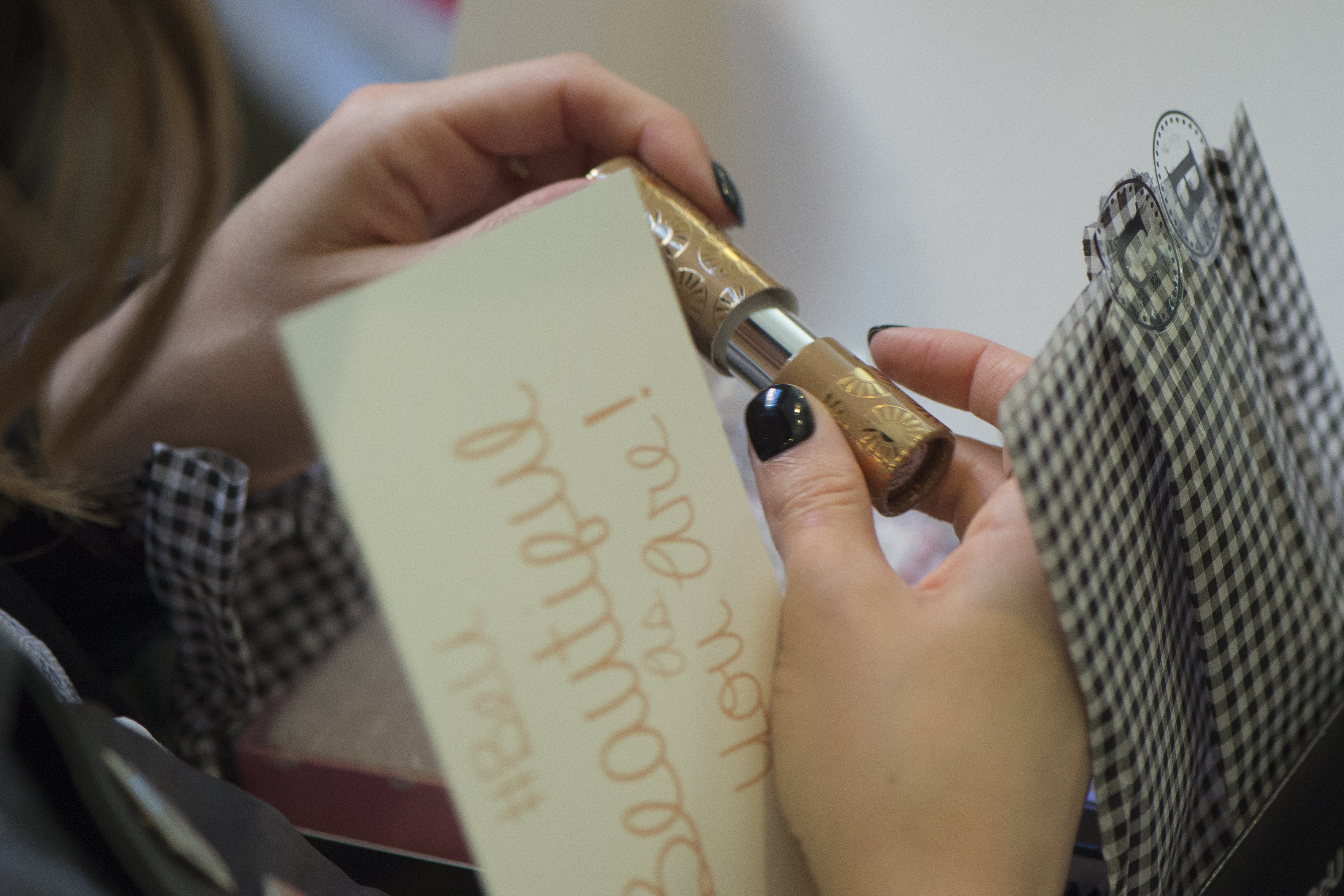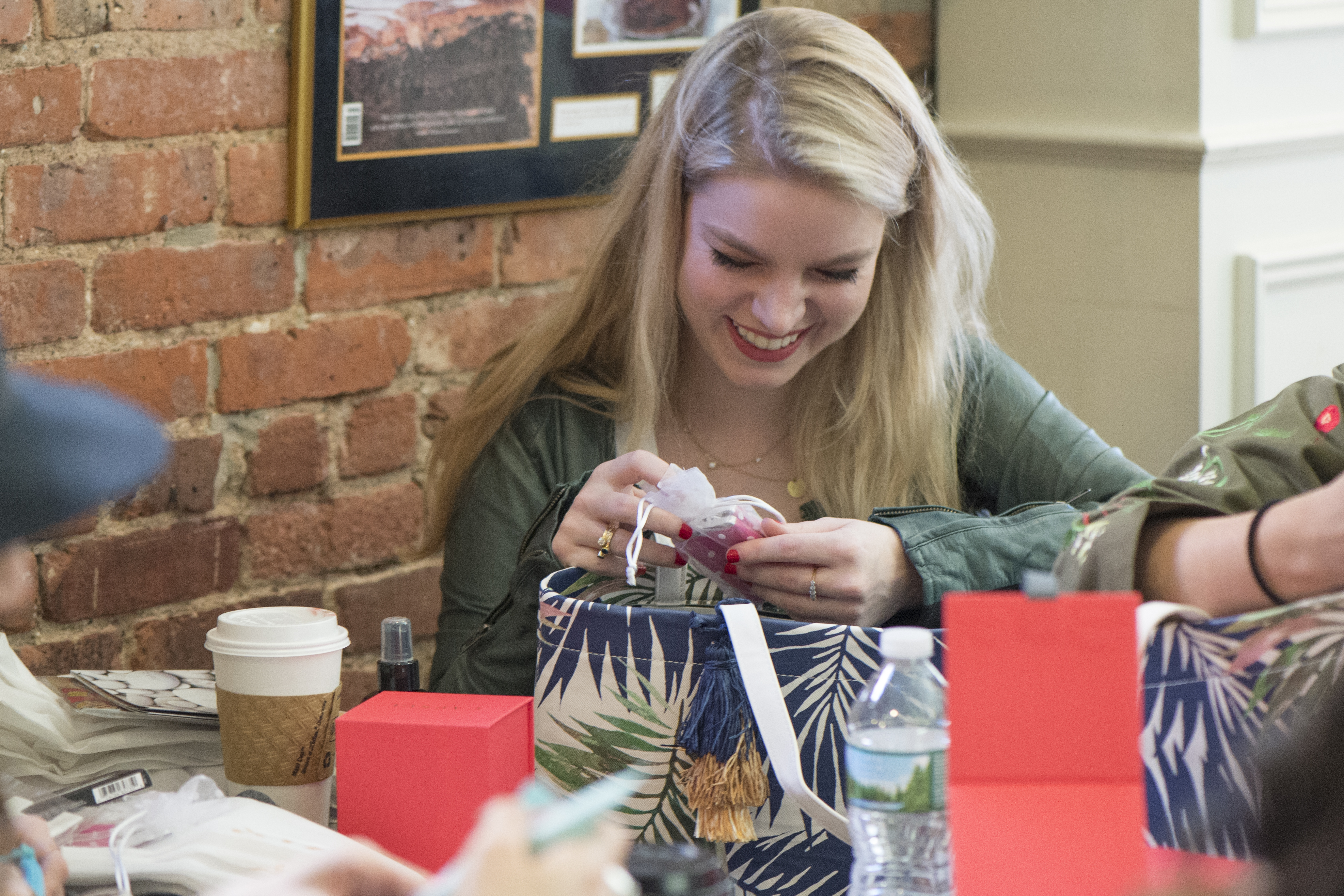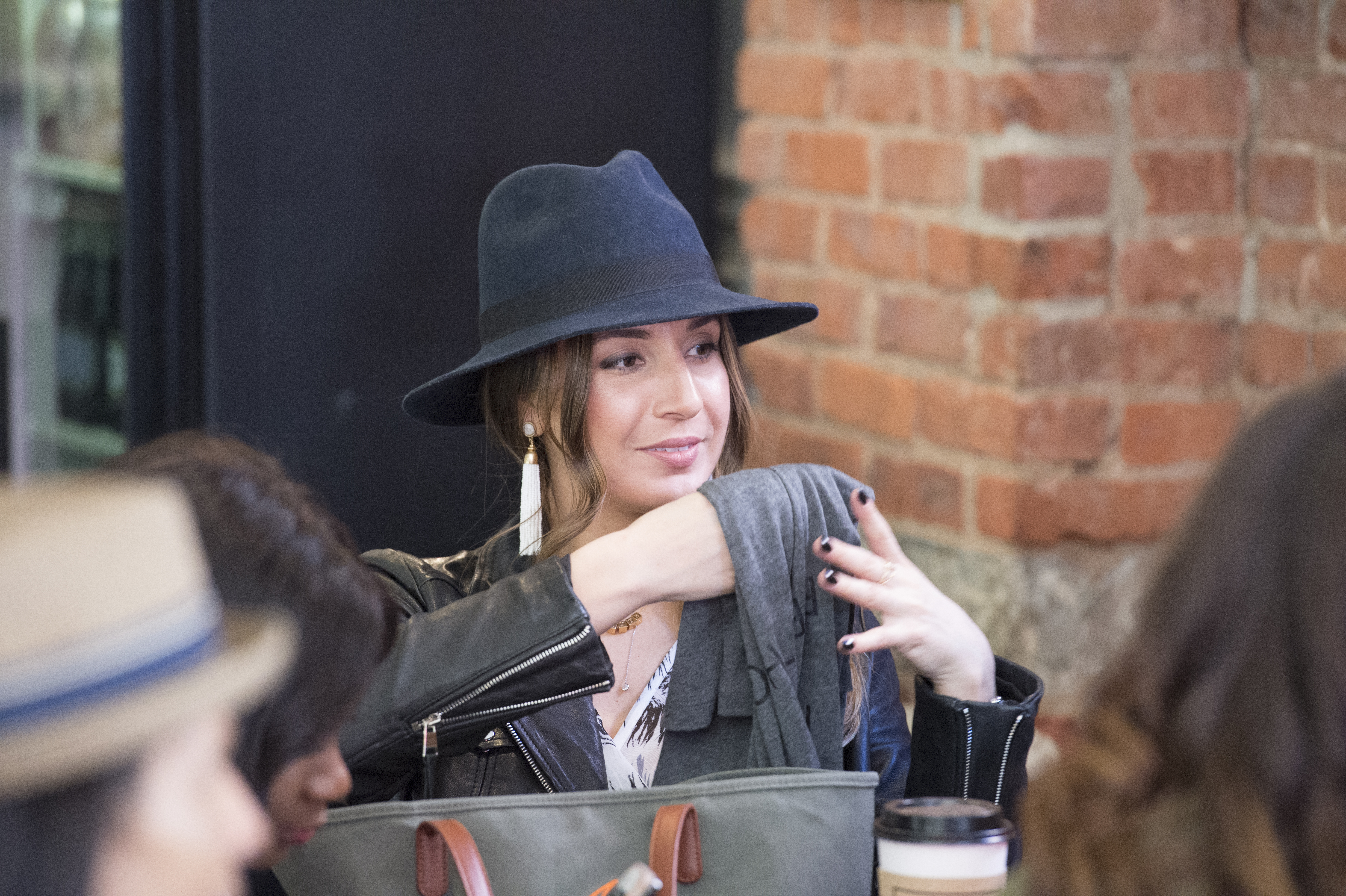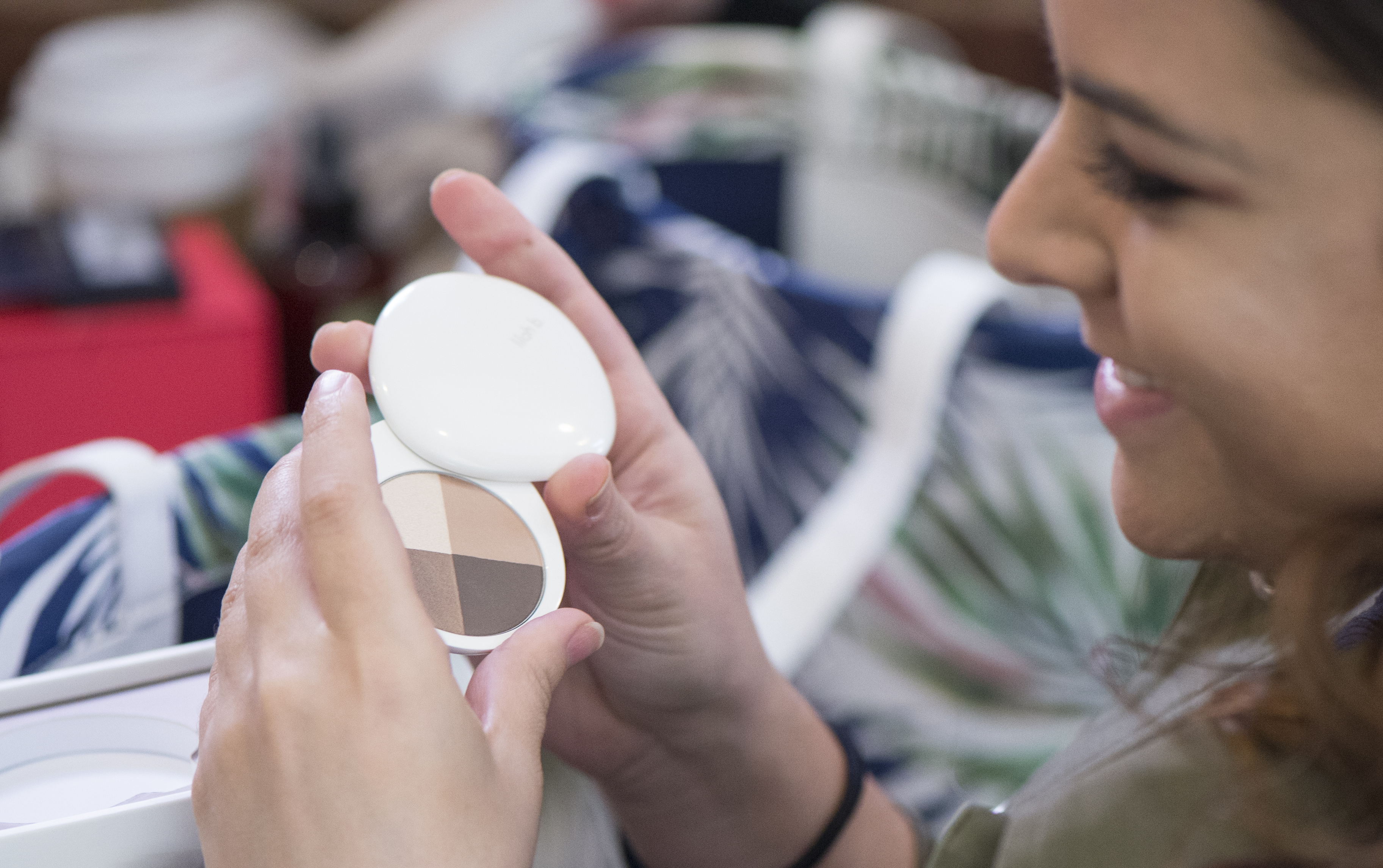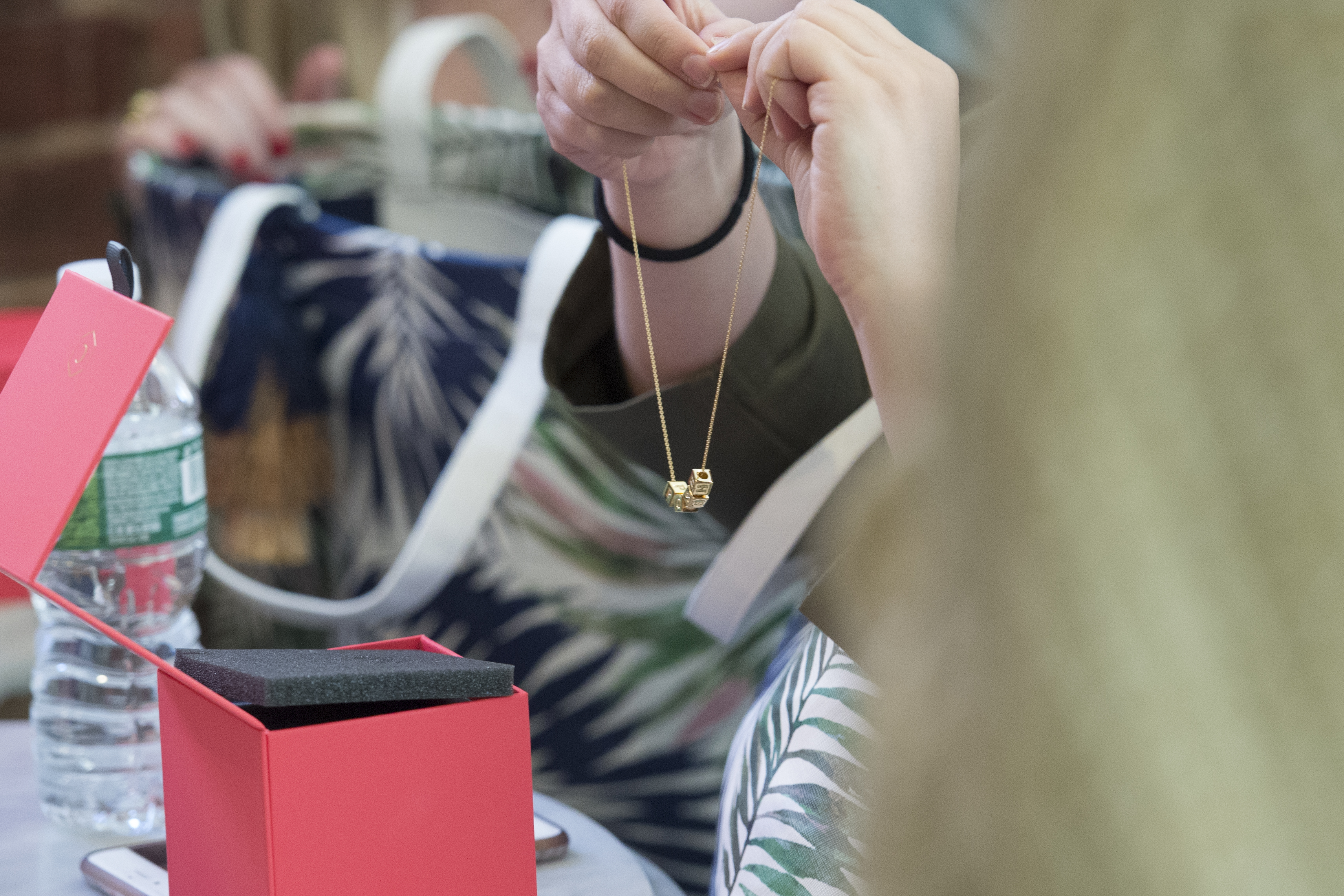 FITNESS
We had two totally awesome fitness classes booked that Saturday afternoon.  The first was Rumble Boxing, hosted through London Misher PR.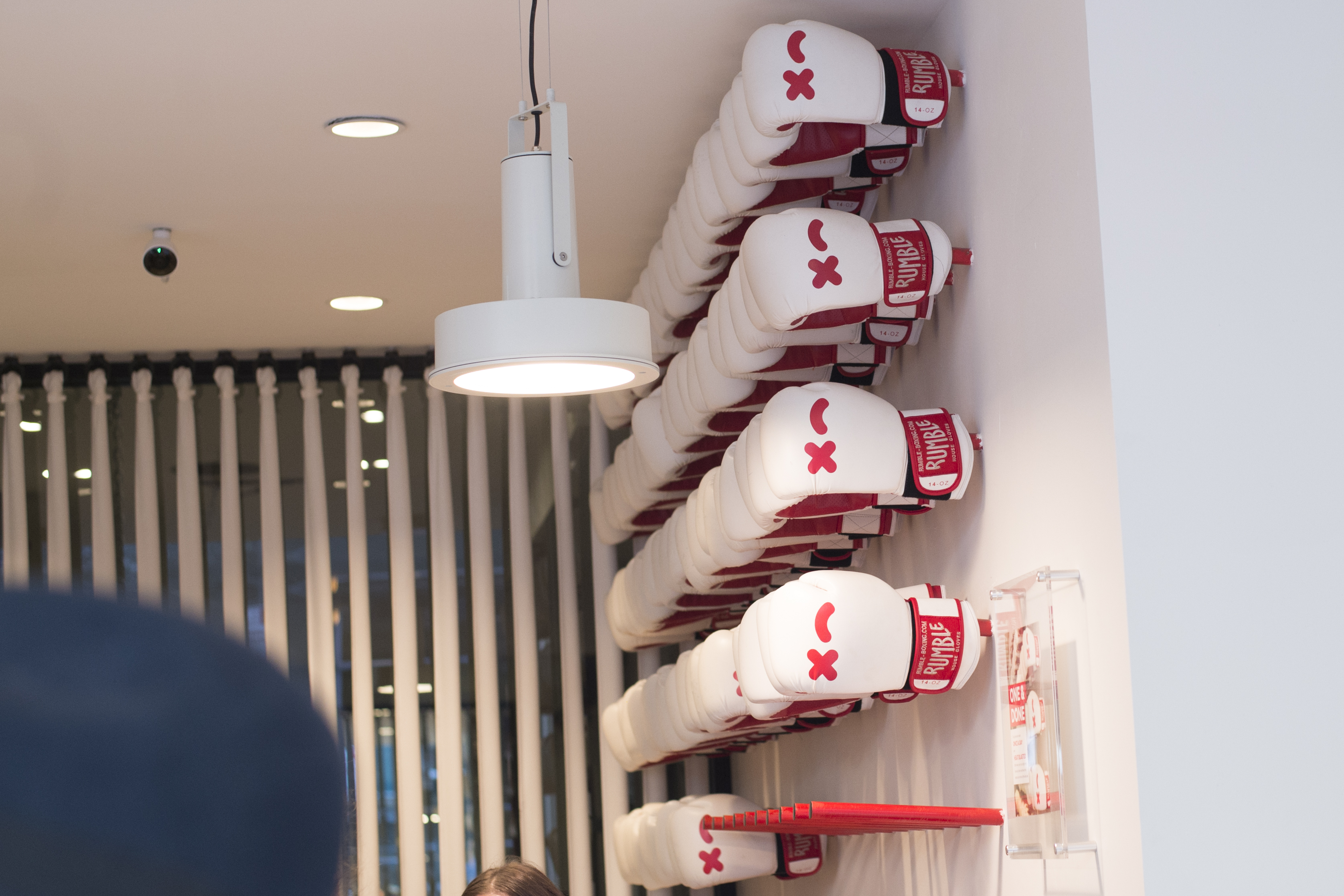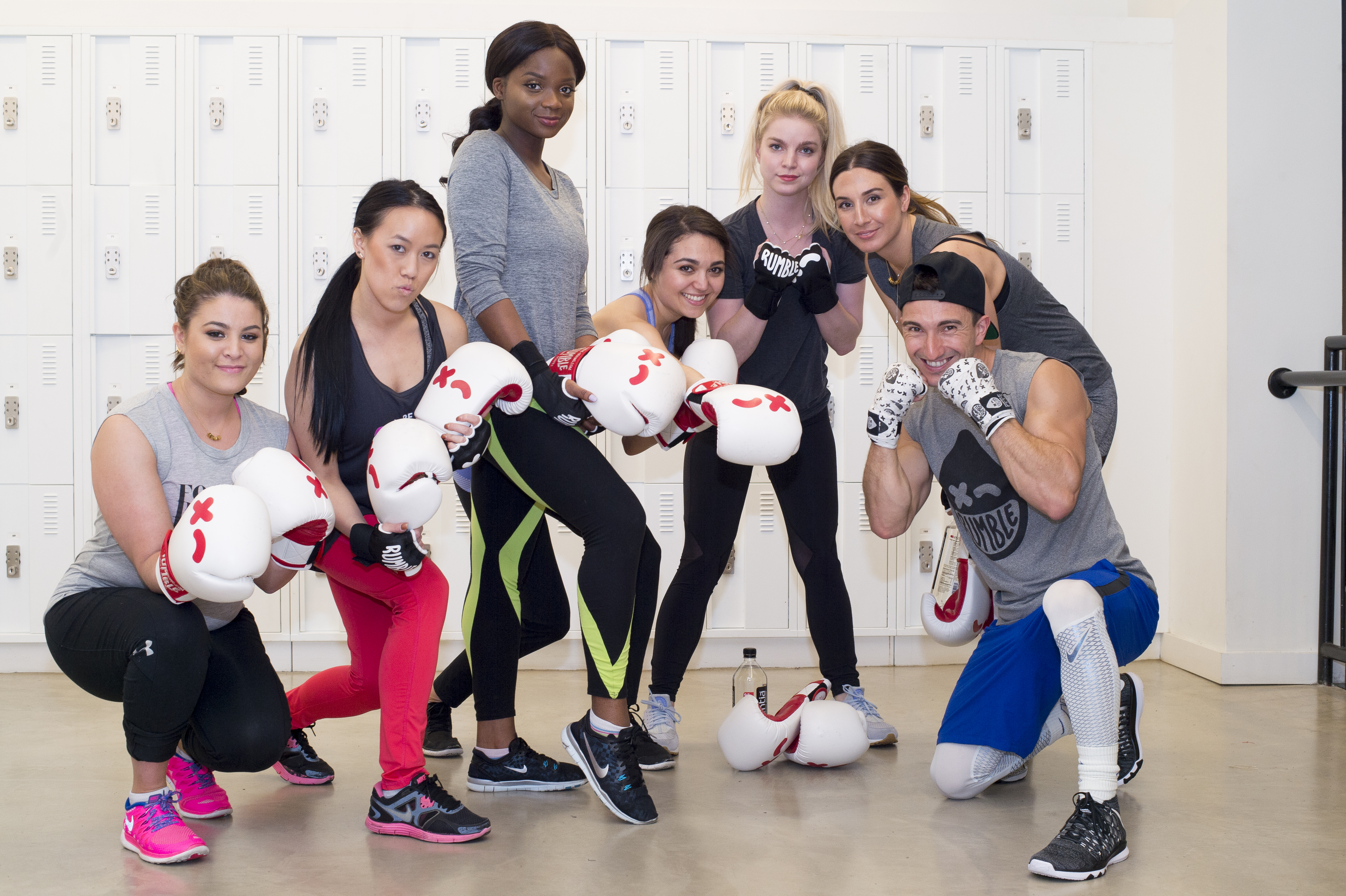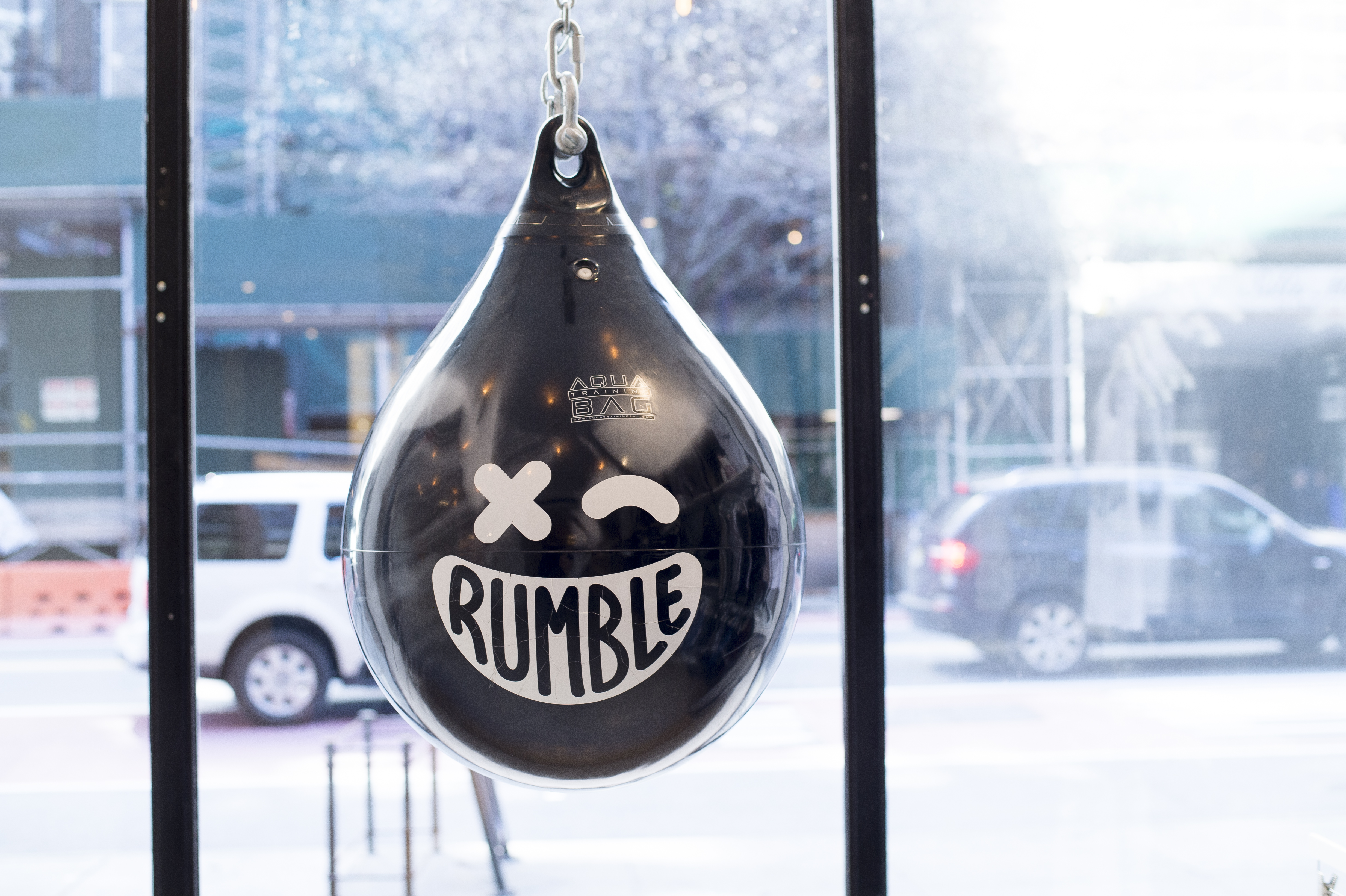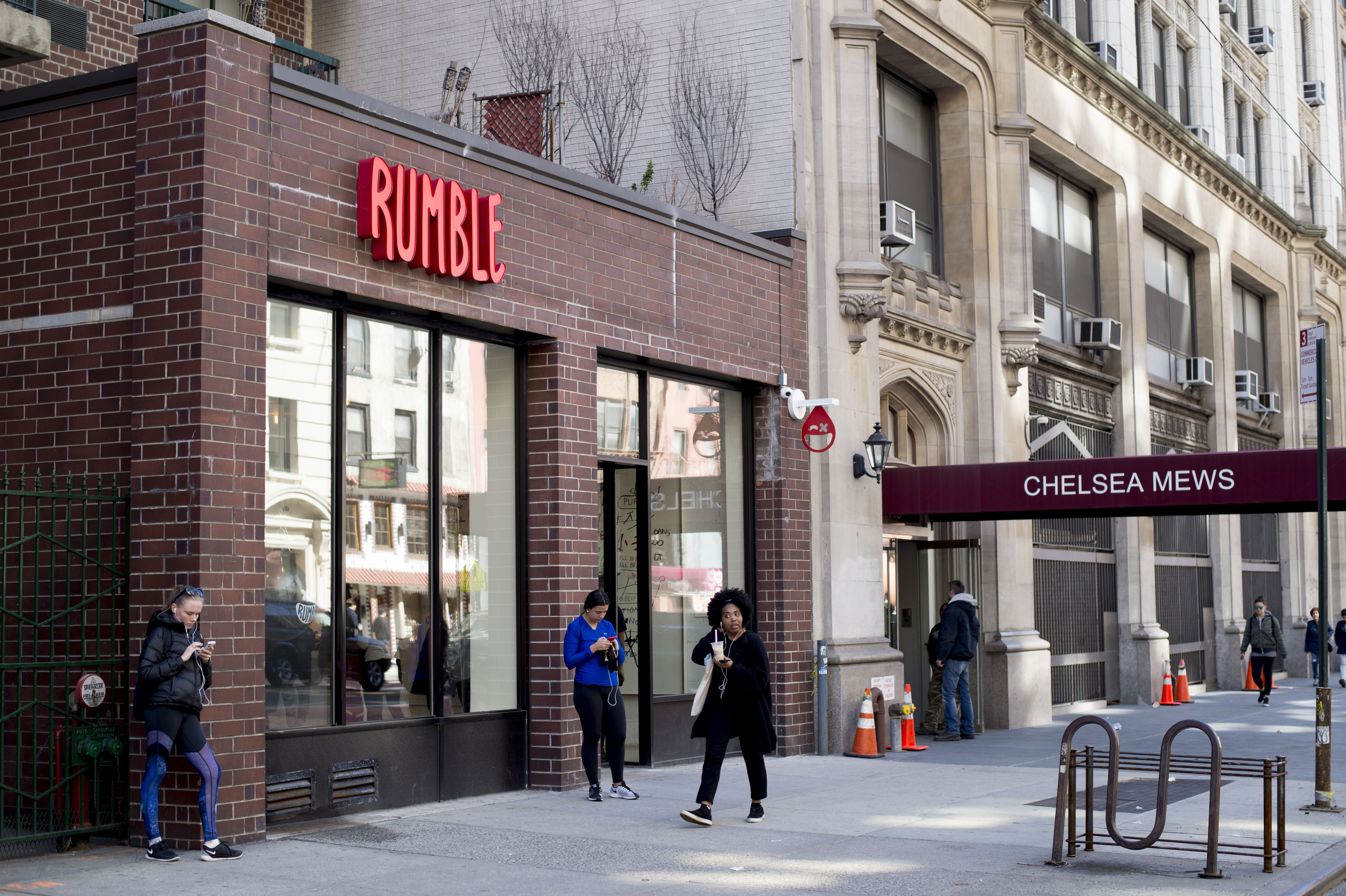 No lie… I was TERRIFIED!  If you follow on me on Instagram, you may have seen my video on my IG story, in the locker room freaking out!  We had given ourselves a little pep talk before heading in, but once we saw the JACKED girls and body building guys, we were so nervous!  Seriously, every girl looked like Michelle Lewin!  But we were really lucky the general manager, Andy, was there.  He is AWESOME!  Andy stuck with us throughout the entire class, and thanks to him my jabs and punches are in top form now! 😉  Photography wasn't allowed in the class itself, but if you're in New York I HIGHLY recommend it!  It's a big studio with two sections, floor and bag,  and you switch a total of four times between the two. The lights are off, the music is blasting (they play excellent hip-hop) and the trainer gets you  going.  It's like Soul Cycle, but boxing.
After boxing, we had a wonderful hot yoga class at Pure Yoga, through MONA Creative.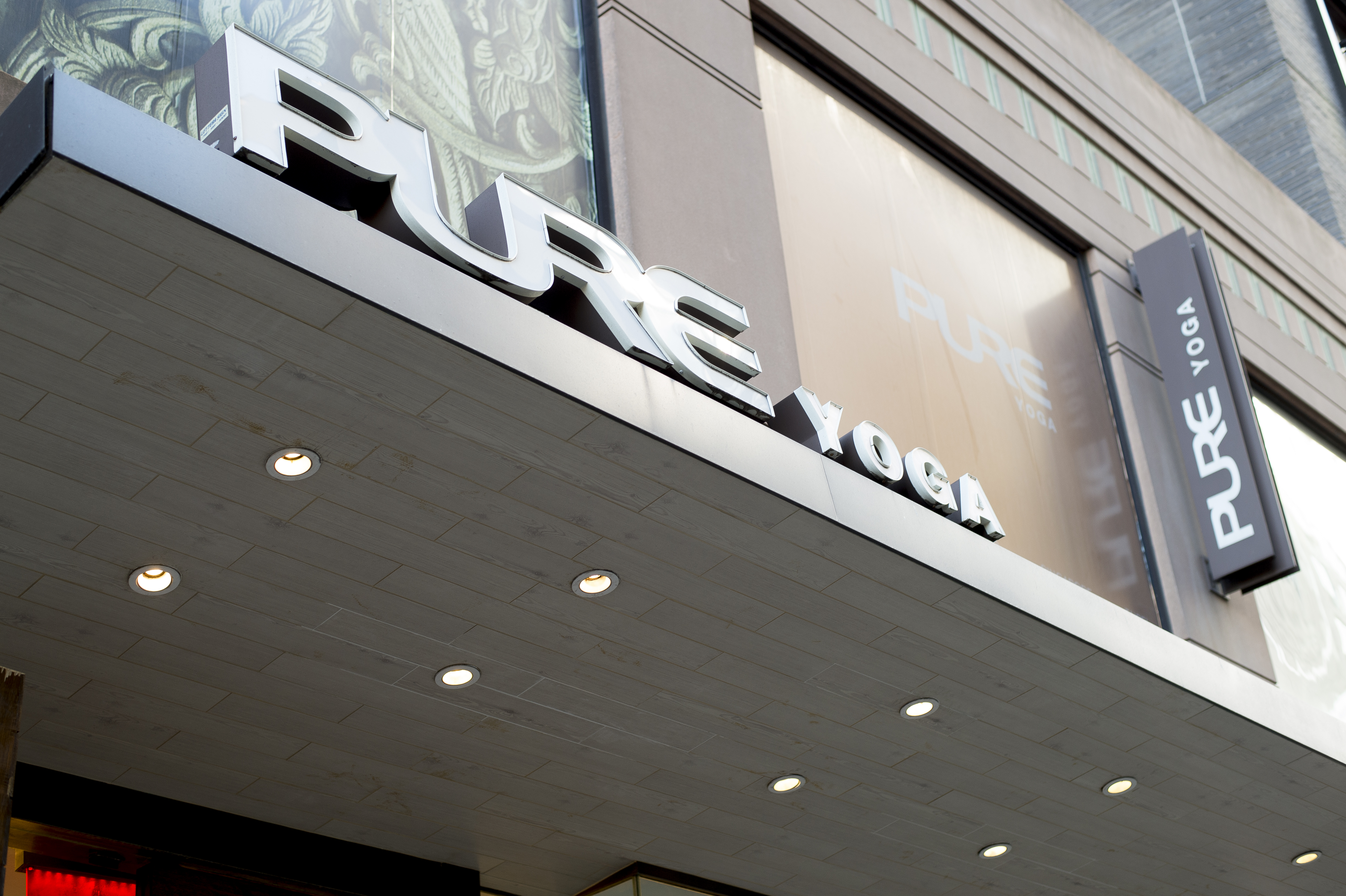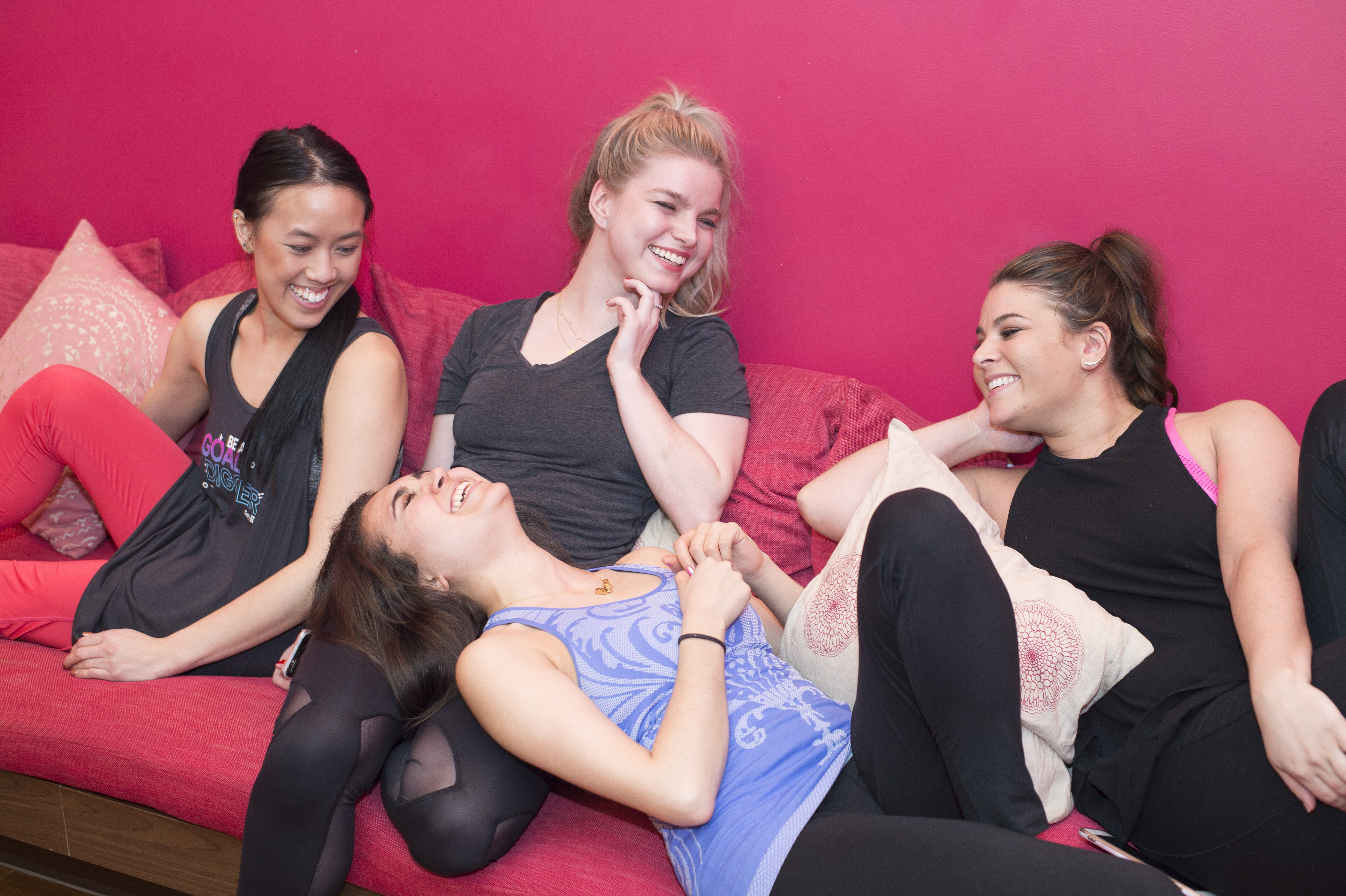 Pure Yoga is the NICEST yoga studio I have ever been to.  The facilities transport you to a retreat on an island!  There is no way for me to describe it except imagine the nicest, most luxurious, relaxing, clean, soothing, slice of paradise found in the middle of New York City!  And the class itself was exactly what we needed after the intense boxing!
FOOD
We had three wonderful meals over our weekend.  On Saturday had brunch at the ULTIMATE downtown hot spot, Oficina 1M.  Oficina is our boo!  We LOVE Oficina and they know it!  Individual Oficina post with so many amazing photos will be up later this week! 🙂
Our next two meals were again hosted by MONA Creative (they are the MVP!).  For dinner we went to the beautiful Cafe Clover in the west village.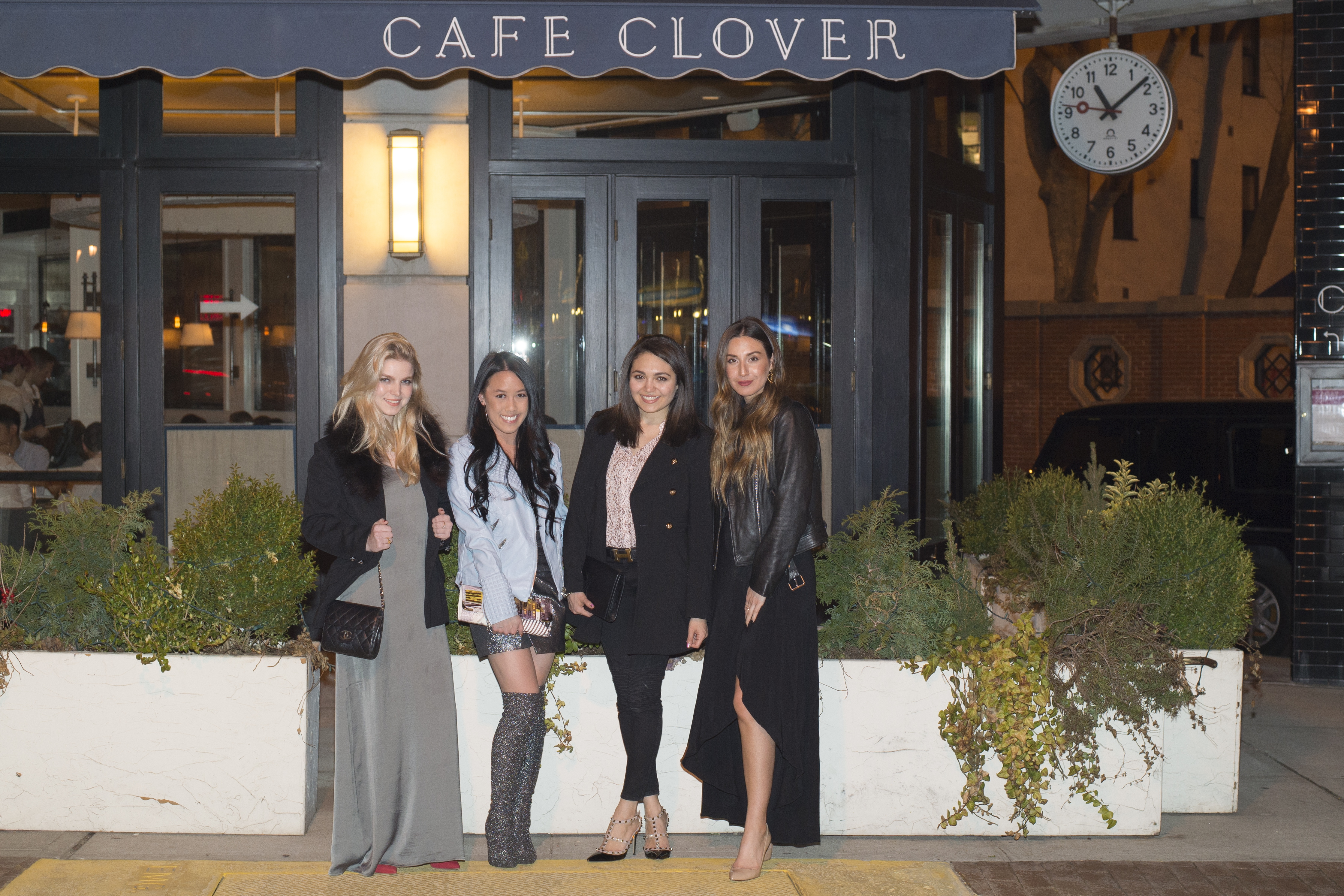 Unfortunately we couldn't take photos in there because the restaurant was dimly lit and packed and we didn't want to disturb the other guests!  I highly recommend coming here for intimate dinners or brunches.  It's very chic and the food is phenomenal!  I HIGHLY recommend the Teff Pappardelle!
Our final brunch on Sunday was at Tijuana Picnic on the Lower East Side.  Again, I have an individual post coming within the week for Tijuana, so stayed tuned! 🙂
BEAUTY
We had two beauty events over our fun filled weekend.  The first was at Credo Beauty, which you can read all about HERE, and the second at Dream Dry Salon that you can read about HERE!
NIGHTLIFE
One of our events was hosted by LastFirst, a bespoke match making company.  (I've written more about them before HERE!)  Julie, from LastFrist, conducted a fun activity for us at Bloomingdale's SoHo, where she partnered us off and had us put together the perfect first date night look.  In the end, Alyssa and Olivia won with their grey, blush, and black leather ensemble!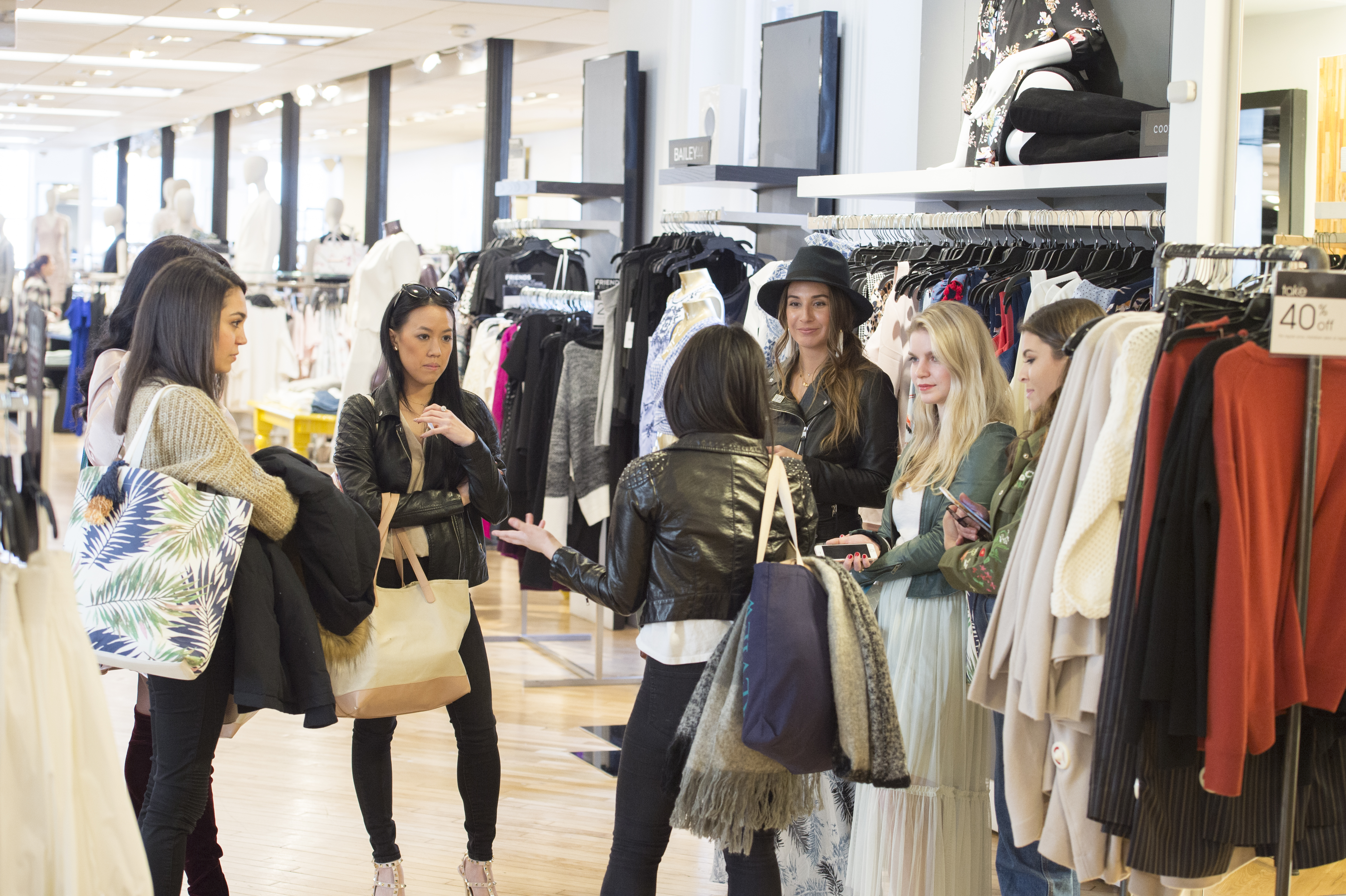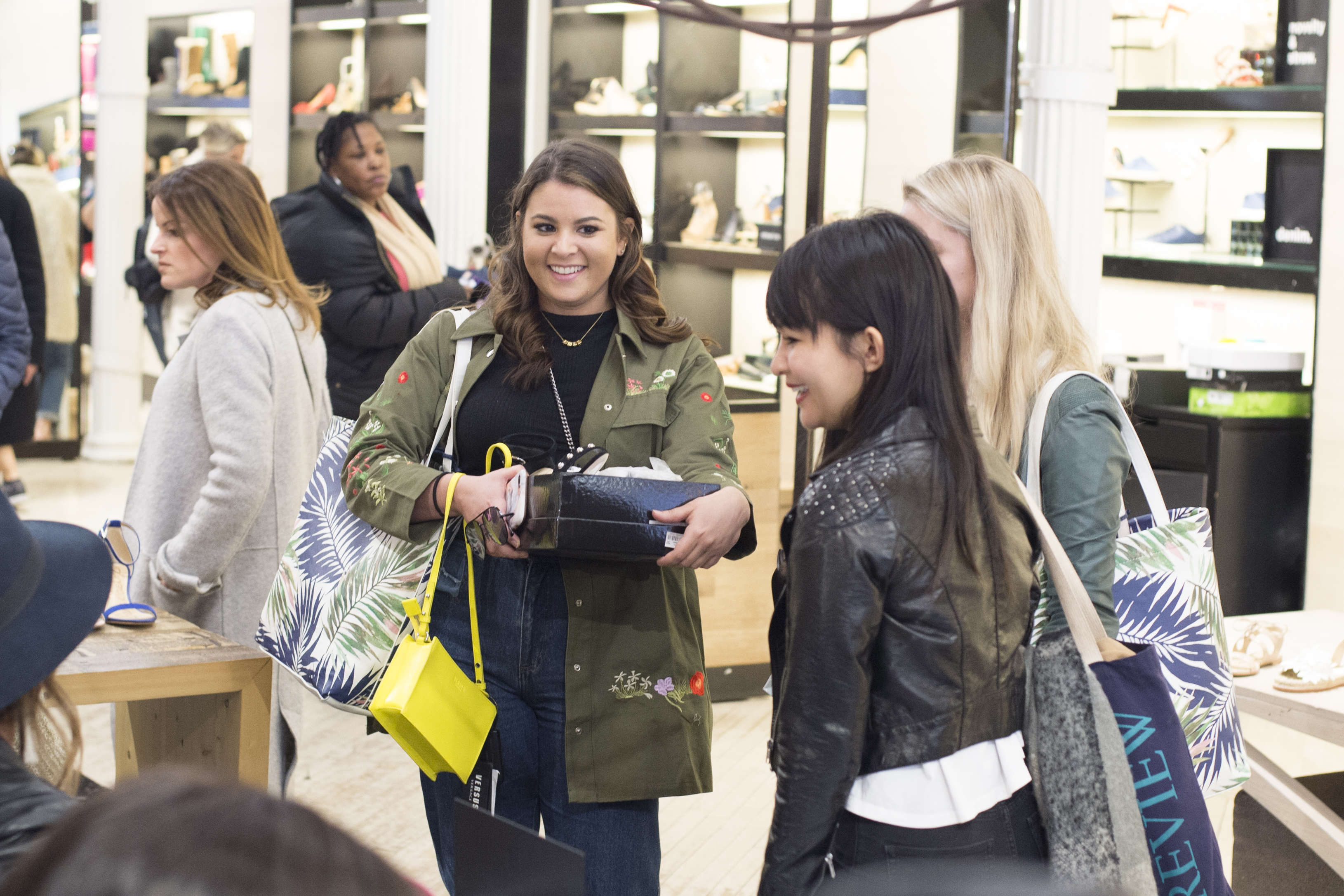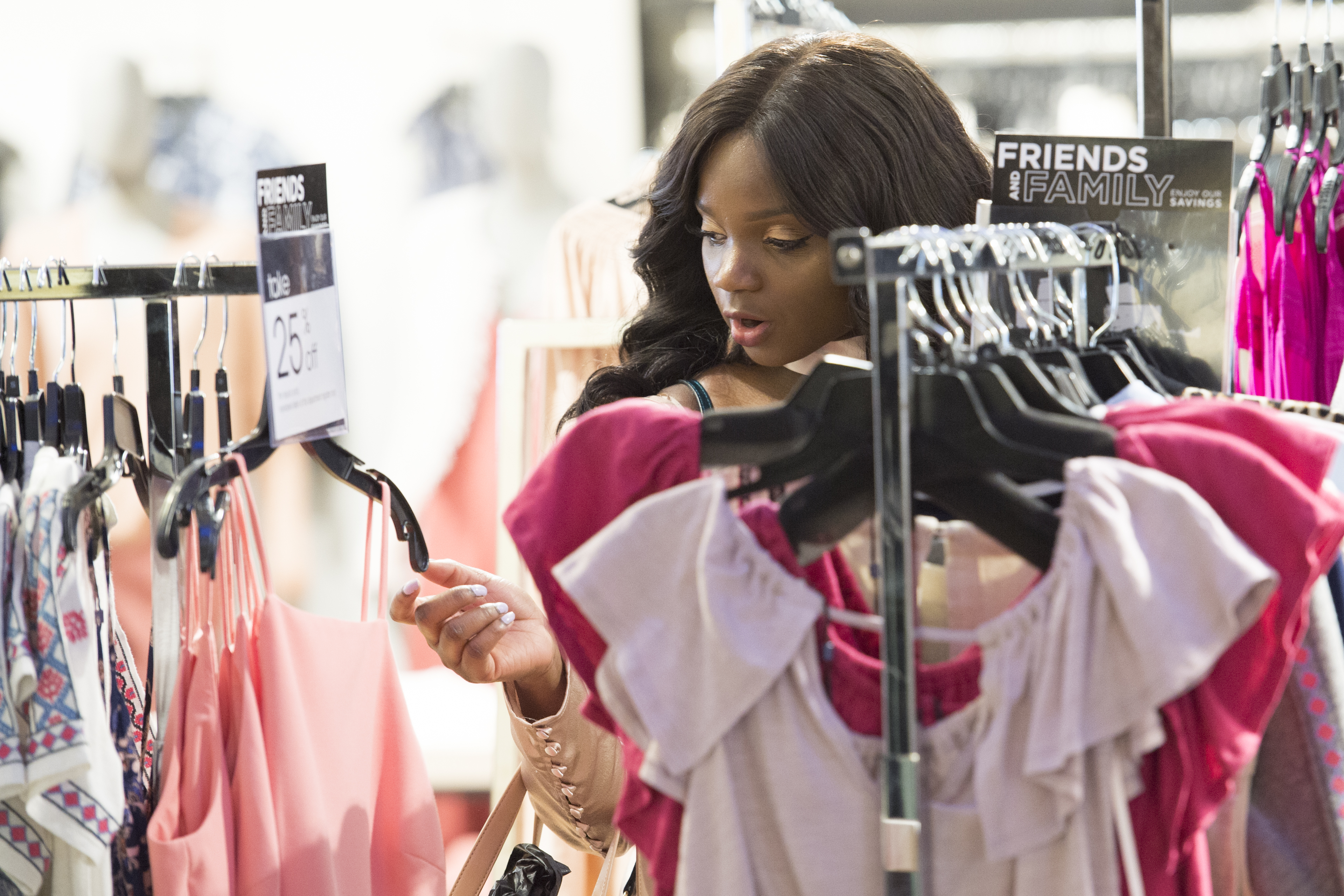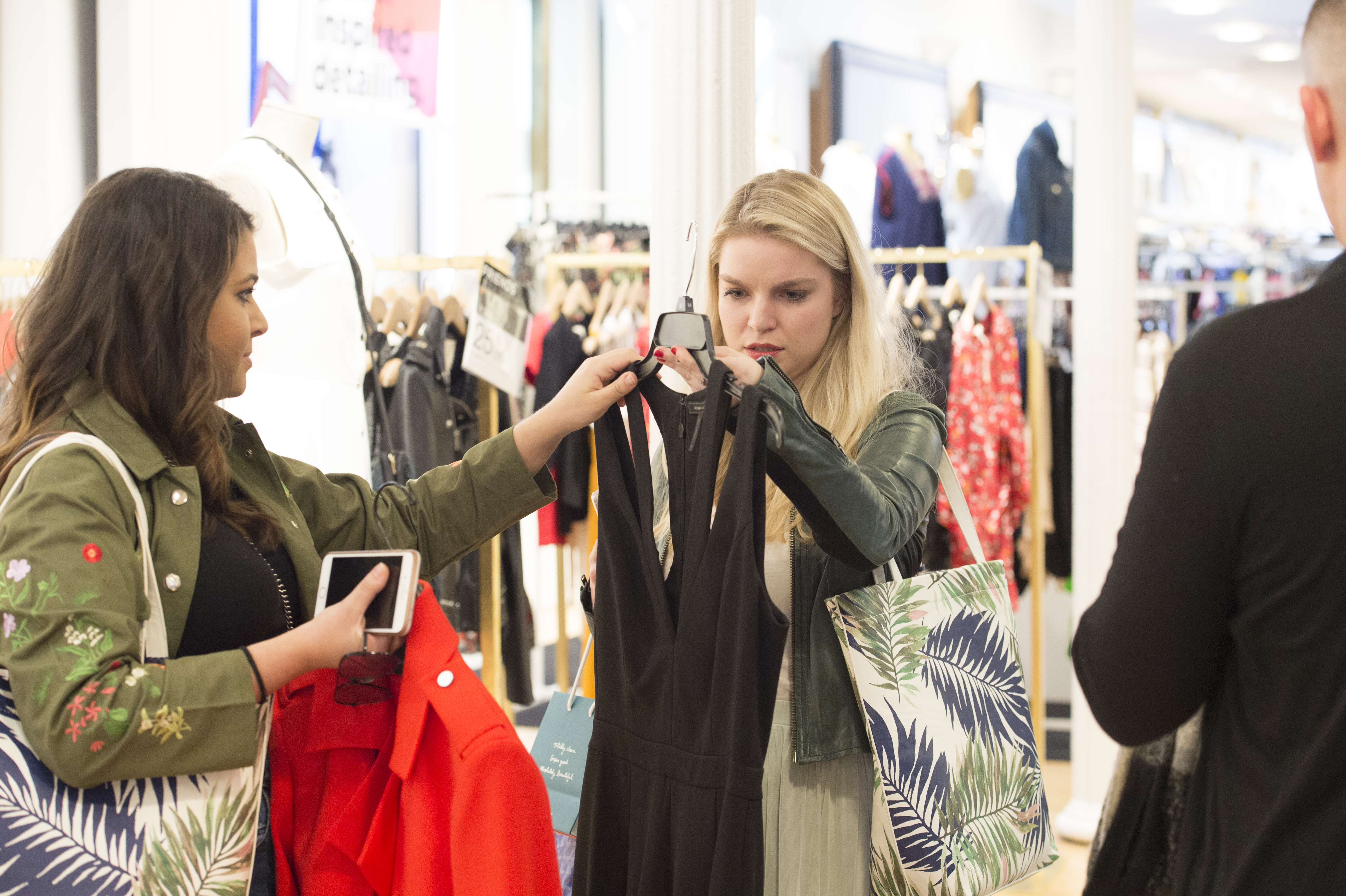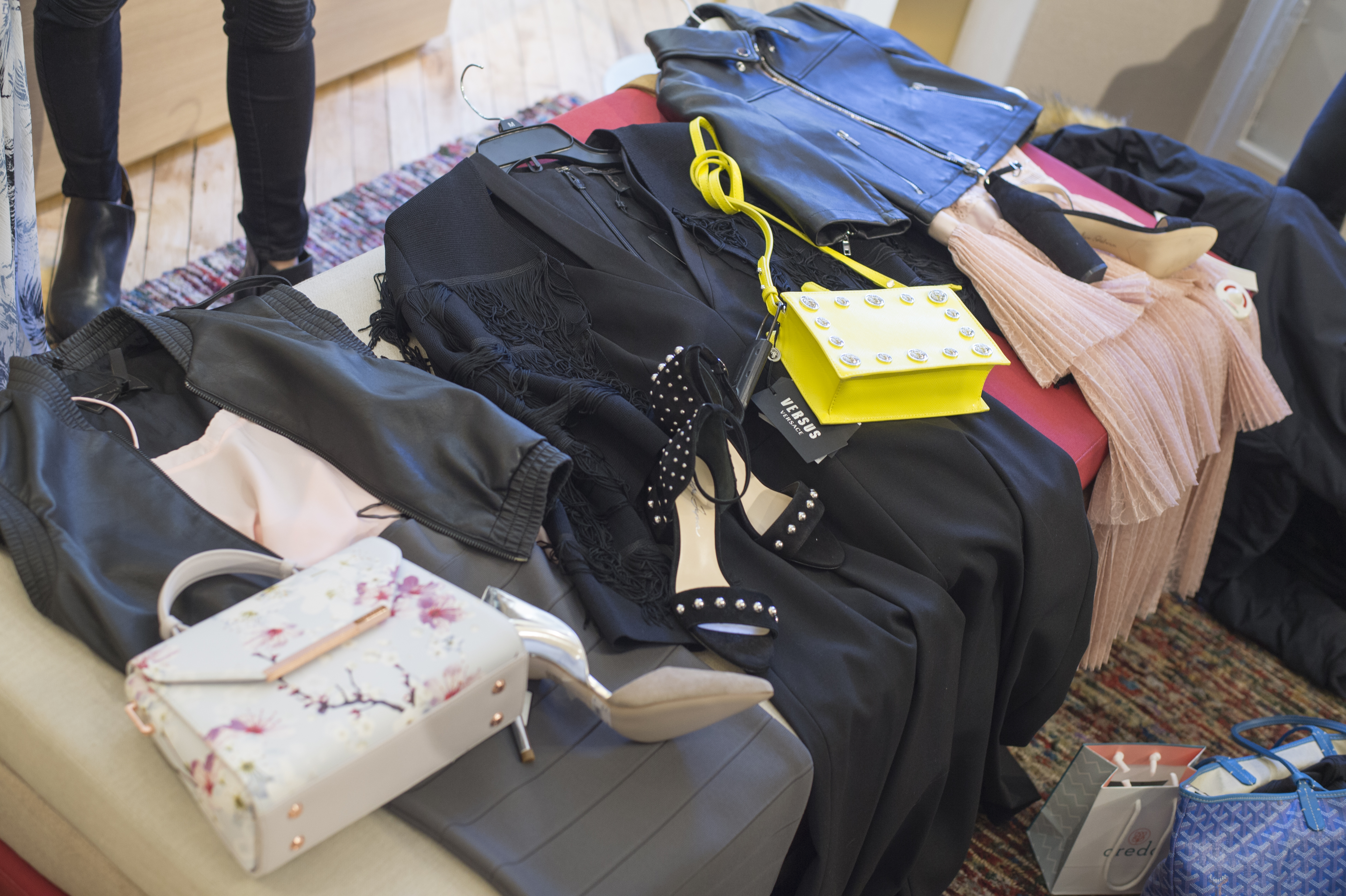 We were invited by MONA Creative Saturday night to one of my very favorite rooftops in New York, The Jimmy, again, hosted by the MVP's, MONA Creative!  They hooked it upppppp!  We had a blast dancing, and (not me, but everyone else) drinking, haha!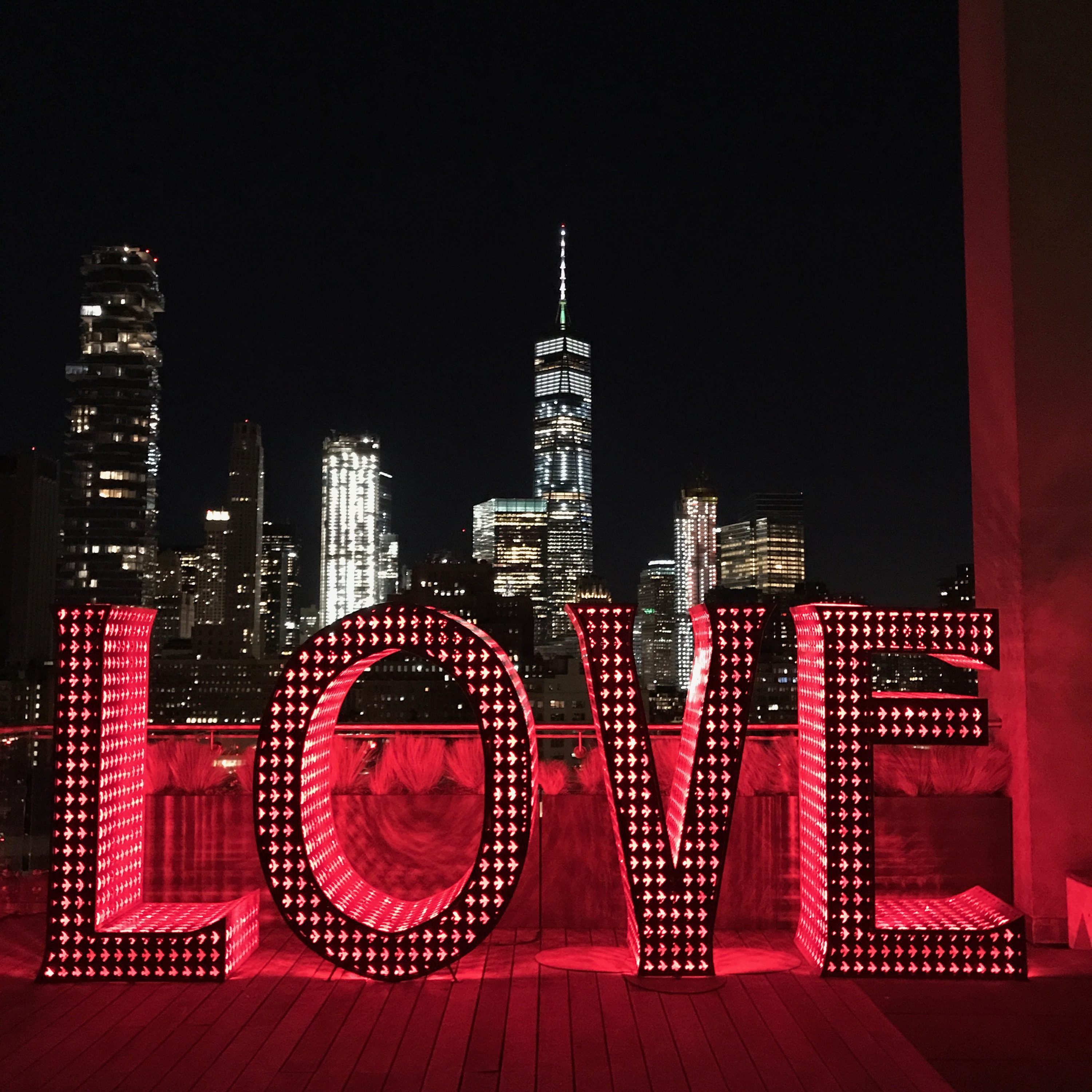 Thank you so much to everyone who made all this possible!  Be sure to  check out all the participating influencer's blogs! Savannah from The Savvier, Megan from Posh Du Jour, Alyssa from The Haute Brunette, Tarah-Lynn from Adorned in Armor, and Olivia from The Liv Style.  And MOST IMPORTANTLY, biggest shoutout to our photographers Dan and Chris from Dan Wagner Photo.
XoXo,