Why I'm Single & Romantic Coffee Dates
Hello lovelies!  I cannot believe the overwhelming response to my last style post about the date night look and my (nonexistent) love life!  I'm super flattered at the number of messages I got saying 'I really connected with this today.'  There was one in particular that really made me blush:
"You put yourself out there so honestly.  Your feelings about your current relationship status, how it compares with how you've always conceived of yourself and your future, the hint of insecurity or at least questioning while simultaneously being comfortable in your own skin and proud of who you are.  It was so refreshing to read, especially as someone who shares a similar mindset.  All of that struck a chord with me.  I hope you keep up this kind of writing: personal heartfelt, a little bit irreverent and mischievous.  It's so distinctive and so, so you."
I know I'm technically very open when it comes to life, style, and other blog related topics, but never really open up and share my own personal thoughts.  I never talk about religion, family, or politics online, and I sat and typed up about my current anxiety regarding my love life!?  (I might need to cut back listening to Drake a little…)  Like I said before, what's the point in being a public figure if I'm holding back? So I'm going to try this again…
Someone messaged me saying I opened her eyes and changed her views when it comes to meeting guys.  She's done making herself more 'available' and wants guys to prove themselves to her.  (All this revelation because of my old fashioned beliefs and hopeless romantic rant- haha!)
I get asked ALL. THE. TIME. "Why are you single?"  And I have NO IDEA how to answer that when put on the spot.  But when I reflect on it later here are my reasons:
Because I refuse to settle.  Sorry, I didn't meet my soulmate in high school, or college, or even graduate school.  And for those of you who have met your Mr. Rights early in life and settled down living the white picket fence dream, that is fantastic.  I can probably actually learn a thing or two from you.
Because I'm focusing on my career.  I don't want a job, I want a career where I can make a difference in the lives of others, but also rely on me, myself, and I financially.  I want the freedom to meet people, explore places, and impact lives my way, on my time.
Because I know what I DON'T want.  I didn't come to New York and put myself through graduate school to JUST come to New York and put myself through graduate school.  I'm just getting started. 😉
Some may argue here that I could go through school and build my empire with someone else…  Fair enough.  But I'm trying to be an Amal Clooney.  That doesn't mean I'm not open to meeting people in the mean time while I wait for my Prince Clooney (Bradley Cooper) to appear.  Coincidentally, as we set out to shoot this week, my photographer Amelia, sat me down at one of our favorite cafes near school and told me to pretend I'm on a date.  The results?
Here I am pretending to be deeply entranced by Date's conversation.  (Really thinking about food though.)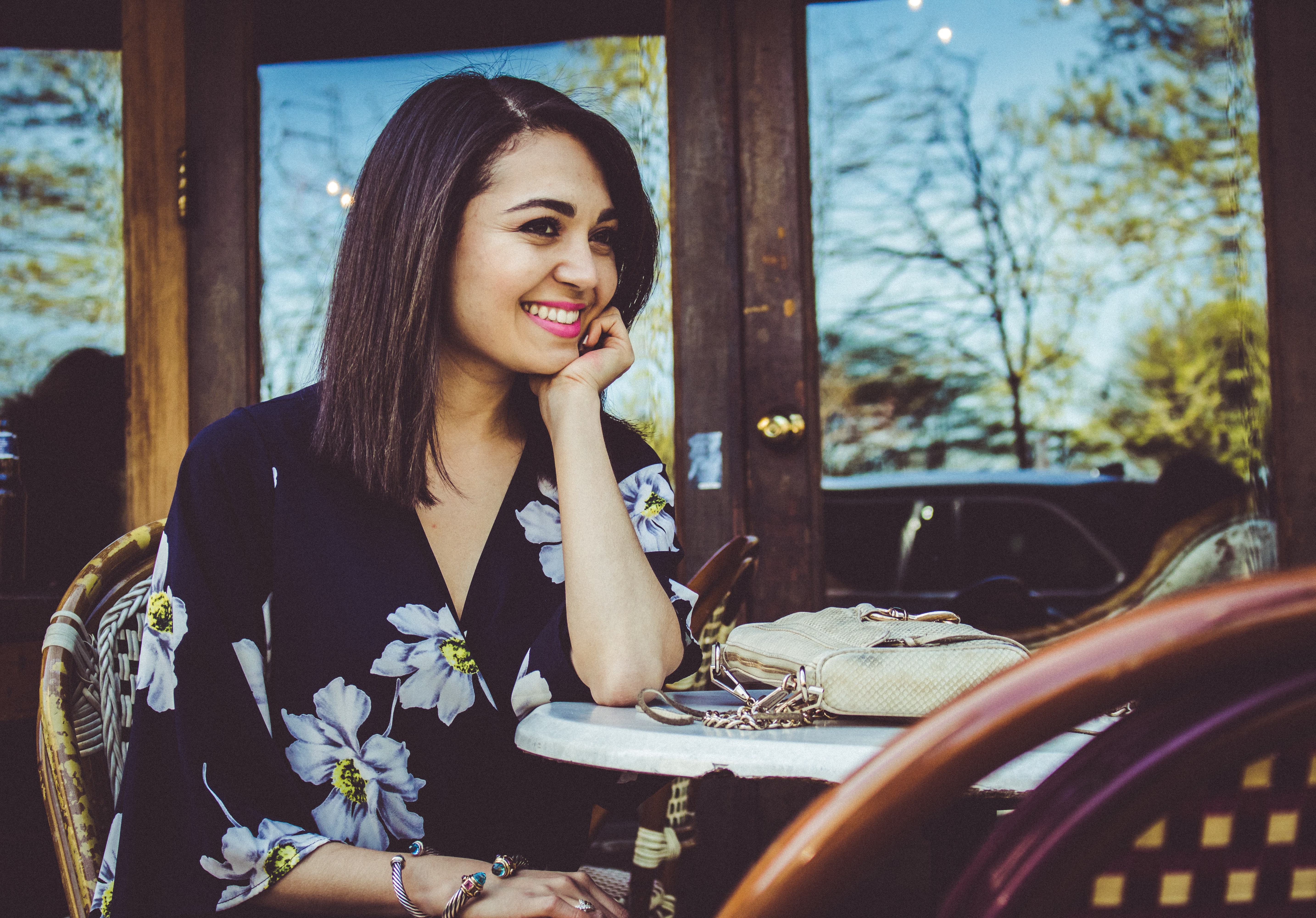 Oh look… Date managed to say something that made me smile.  (He must have said something to stimulate me intellectually.  My favorite.)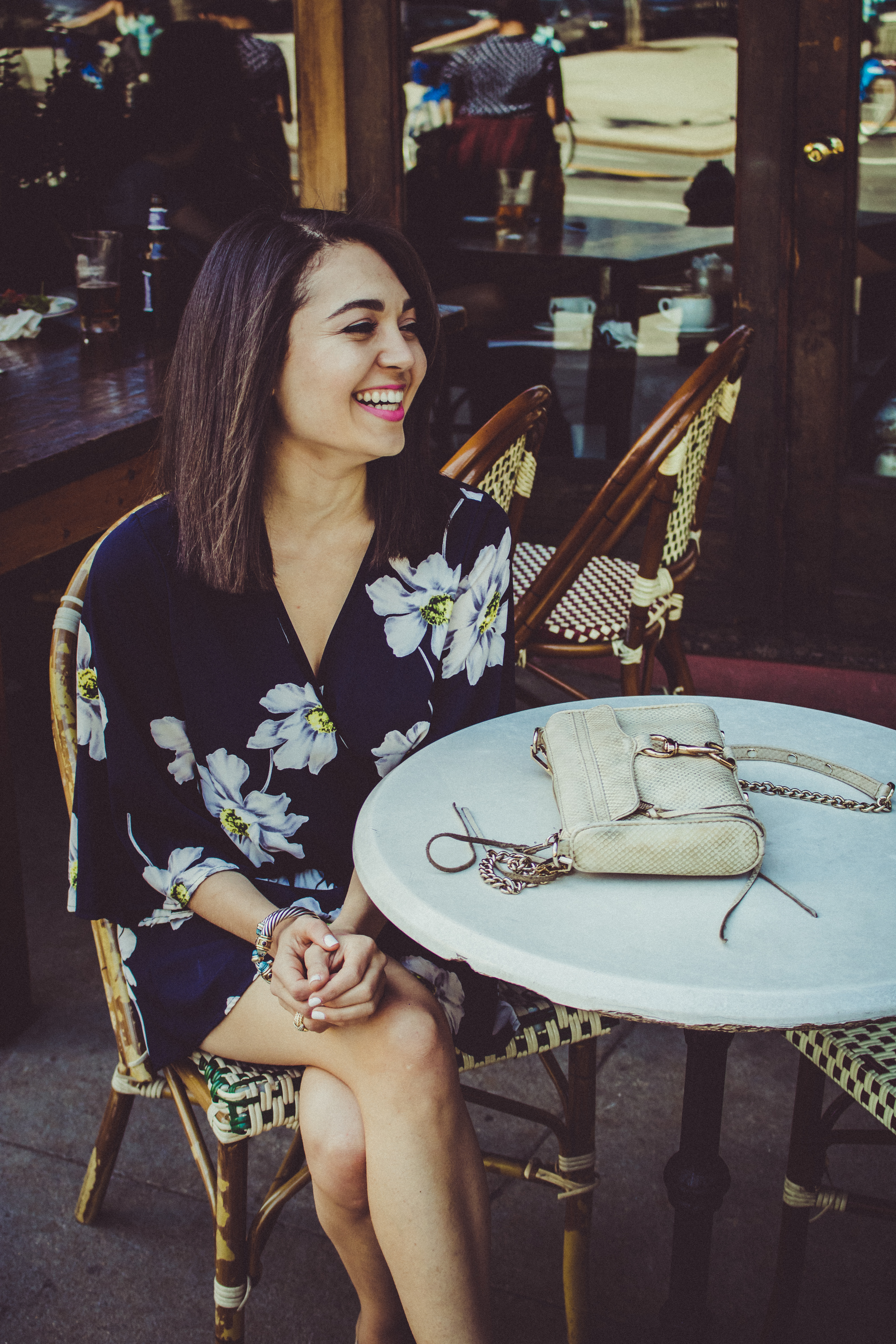 Whoa.  Date made me laugh.  Things must be going pretty well guys…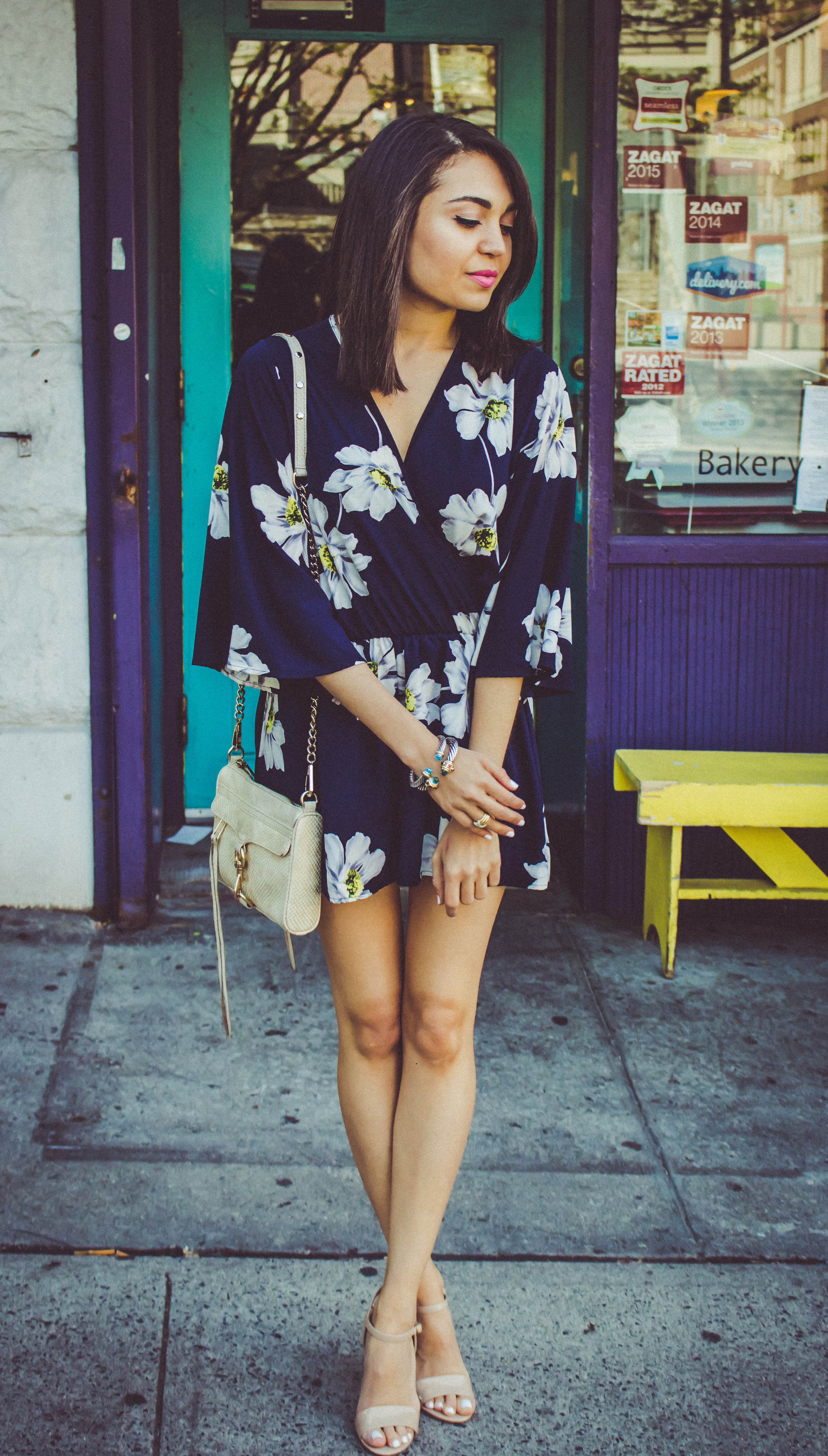 Outfit Details: Romper, Missguided, ASTR, Hinge, F21 // Bag, Rebecca Minkoff // Bracelets, David Yurman // Sandals, Steve Madden, Sam Edelman
A few notes on the styling… You may have noticed this playsuit in photos scattered on my social media; my friends have all borrowed it too!  It's sooo comfortable and I'm obsessed with the billowy cropped bell sleeves.  I styled it pretty casually with neutrals, but another way I would style this would be to add pops of pink with pink heels, a pink clutch, and pink lips.  I bought this romper at Necessary Clothing a few weeks back, but can't find the same one on their site, so I linked a ton of cute, similar ones here- check it out!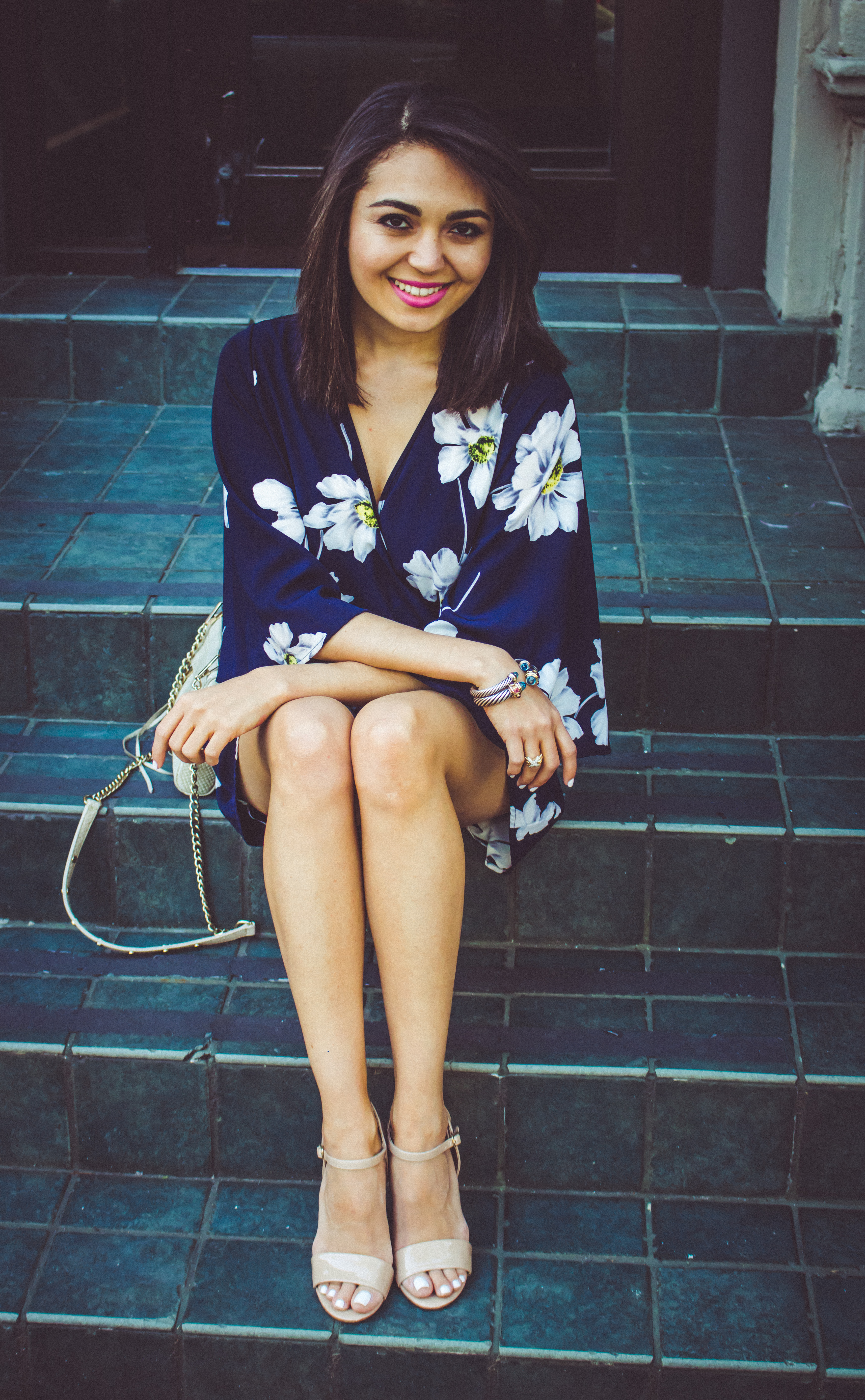 Circling back to this person and her revelation… you're young, beautiful, and single in New York City. Don't settle, focus on building your empire, and don't say yes to anything that will make you temporarily happy.  This goes out to all you wonderful people who sent me sweet messages and to anyone else who feels pressured into finding "the one."  You've inspired me to open up and I'm excited to continue writing about love.  I have a few ideas for upcoming posts, but please feel free to send me suggestions. :*
XoXo,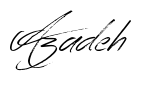 Photos C/O Amelia Edwards