Pesto Gouda Grilled Cheese
Do you ever crave a really good grilled cheese? I'm talking crunchy crust, oozing cheese, and absolute mouth-watering flavor? Same. Although I've significantly cut out both bread and dairy from my food intake this past year (mostly to help clear up my skin!) I do like to indulge in a gooey grilled cheese from time to time. With everything currently going on—you know, the pandemic, social distancing, self-quarantine—comfort food is very welcome in my house!
My favorite grilled cheese combo at the moment is smoked gouda and pesto. Just typing that out makes my mouth water. That's the other great thing about grilled cheeses—minimal ingredients, maximum flavor, and endless combinations!
I make my sandwiches in a pan, and after years of practice, I've finally figured out how to give it that quality 'grilled' texture and finish. The secret to a top-notch grilled cheese in a pan is BUTTER. That's what gives the bread that slightly charred, crunchy deliciousness. Another important factor are the ingredients. The better quality bread and cheese you opt for, the tastier the sandwich. I like to pick up a loaf sourdough from the bakery section of my grocery store or farmer's market, and I like SMOKED gouda, not regular.
Ingredients
Sourdough bread
Smoked gouda
Pesto (homemade or store bought because let's be real, the easier the better)
Butter
Instructions
Let butter sit out for a few minutes to soften up, making it easier to smear onto the bread.
Butter the outside of each slice of bread. The better the butter is smeared, the better your sandwich is 'grilled.'
Generously smear the inside of each slice with pesto.
Thinly slice some delicious cheese off your cheese block and layer onto one piece of bread. Don't be afraid to load up on the cheese! Sandwich the breads.
Add some butter to a pan, turn onto medium heat, and let it melt, then gently place your sandwich onto the pan.
After a few minutes, press down sandwich with a wide spatula then flip it over. If bread isn't golden/brown enough to your liking, repeating this process once again after a few minutes.
Plate your sandwich once bread is golden/brown to your liking and you can see cheese is melted on the edges.
Enjoy!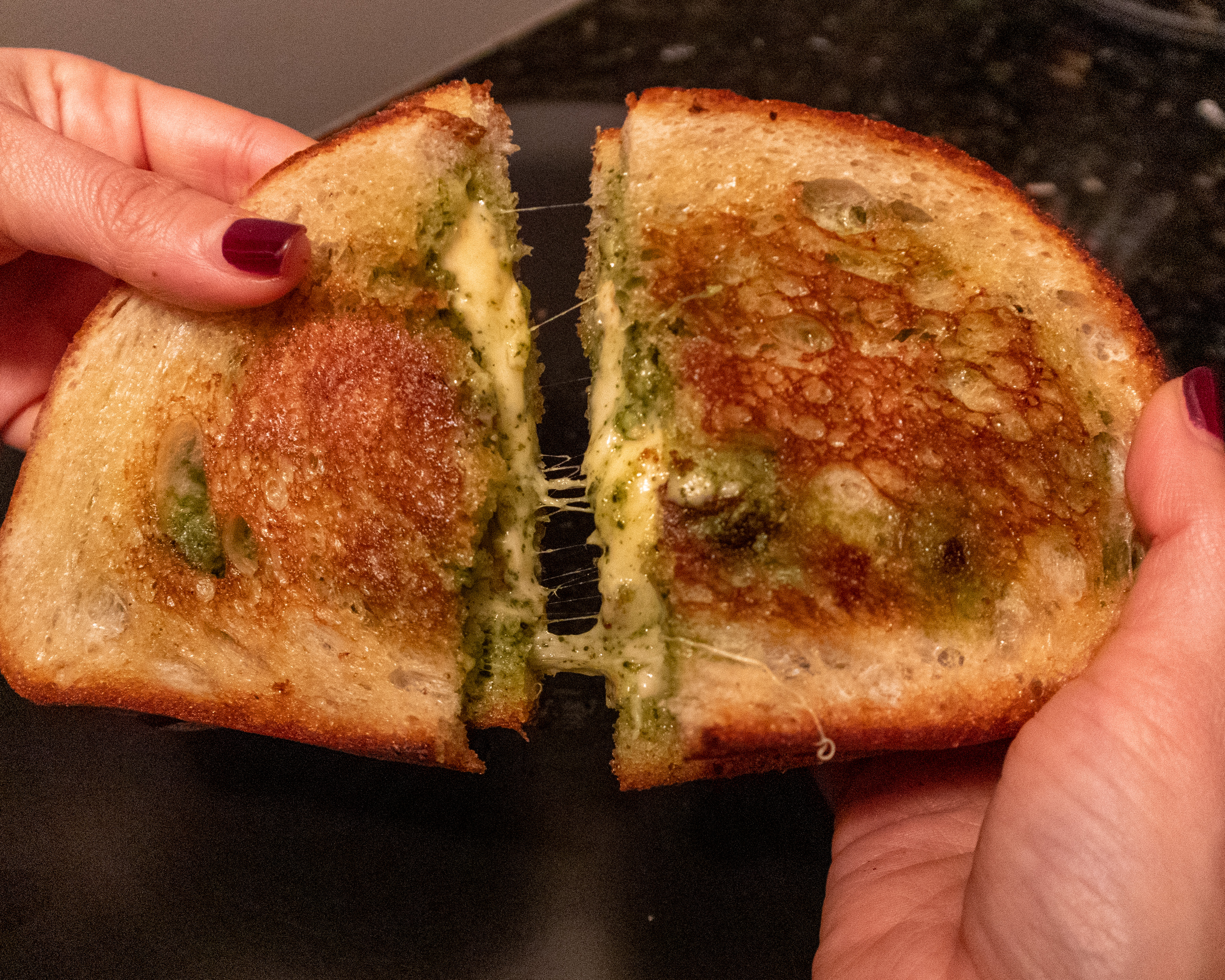 If you try this out, be sure to tag me and let me know how it turns out! Check out another favorite cheese related post HERE!
XoXo,