One of my go-to meals as of late has been spicy chicken taquitos. They're so easy to make and extremely delicious! Taquitos are a small, rolled up tortilla dish from Mexico. Technically what I make are considered flautas because I use flour tortillas, but from my understanding the terms have become interchangeable over the years.
I'm a fan of using simple ingredients to create an explosion of flavor, and these definitely do the trick. To counter the heat from the taquitos, I'll whip up an avocado crema on the side using yogurt, avocado, and fresh lime.
I try to also use as much clean ingredients as possible for the packaged items. I'm very particular with the tortilla I use and my absolute favorite are these Almond Flour tortilla by Siete. Be mindful when rolling them because they're thin and can tear easily! I change up my enchilada sauces, but right now I'm using this one. The great thing about these taquitos is that you can fill them however you like! I prefer spicy chicken, but if you want to do all veggies or a different meat, go for it!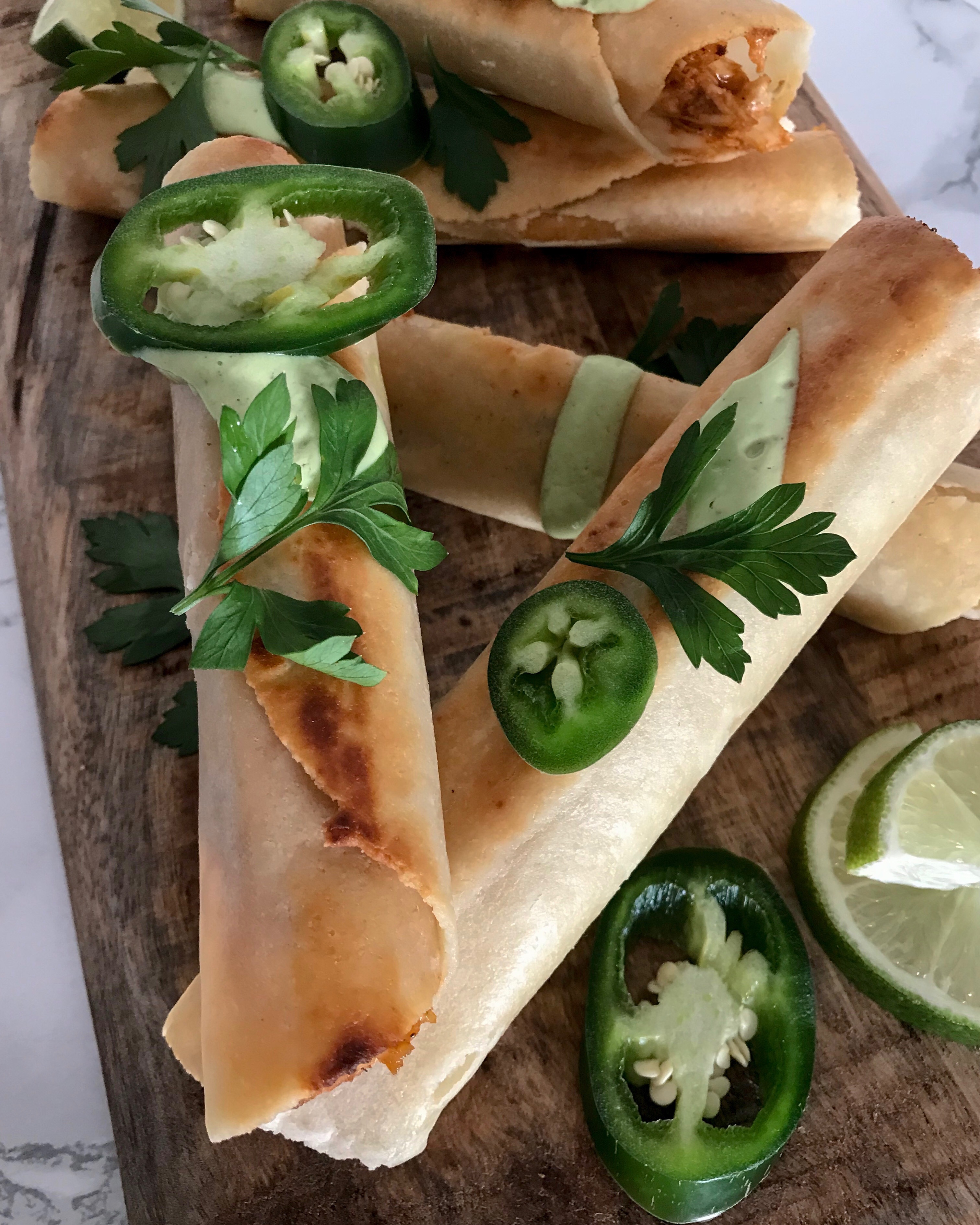 Filling Ingredients
Chicken
Cheese
Jalapeño
Enchilada Sauce
Cream Cheese (optional)
Salt, Pepper (& other preferred spices)
Tortilla
Filling Instructions
Cook your chicken as you prefer and shred it in a large mixing bowl. I like to boil thick chicken breasts and shred them after they're partially dried and cooled down. Boiling also leaves me with a tasty broth afterwards—yum! If you want to take the easier route, pick up a small, cooked rotisserie chicken at the grocery store and just do the shredding part yourself.
Dice your jalapeño and sautée them over olive oil in a small sauce pan for a few minutes. Be careful not to touch your eyes!
Add salt, pepper, and whatever preferred seasoning (garlic powder, paprika, cajun spice, etc.) to the shredded chicken. Pour in lots of enchilada sauce and the sautéed jalapeño and begin mixing it all together. I like to add a small amount of cream cheese for a creamier texture. (This is why I said partially cooled down before, so it all melts together!)
Scoop a little bit of your spicy chicken mixture onto one side of your tortilla and sprinkle on shredded cheese. Roll that baby up! If you want to get even better flavor and texture, heat the tortillas a little before filling and rolling. 😉
In a large pan, add just a little bit of olive oil and turn the stove onto medium. Place your rolled wraps onto the pan and use tongs to rotate them after underside browns a bit. I put up to three at once in the pan so as to not overcrowd it. You should hear some sizzling and popping! Plate taquitos once they're a golden brown on both sides. Garnish with cilantro and remaining jalapeño slices if you have any.
Crema Ingredients
Plain Chobani Yogurt
1 Large Avocado
1-2 Limes
Cilantro
Salt, Pepper
Crema Instructions
Add all your ingredients into a blender and blend until it's smooth and creamy. I like to use about 3/4 of an individual sized yogurt cup and end up using one and a half limes to get both the texture and tart flavor justtt right. Pour some where you can dip your taquitos into to balance off the spice!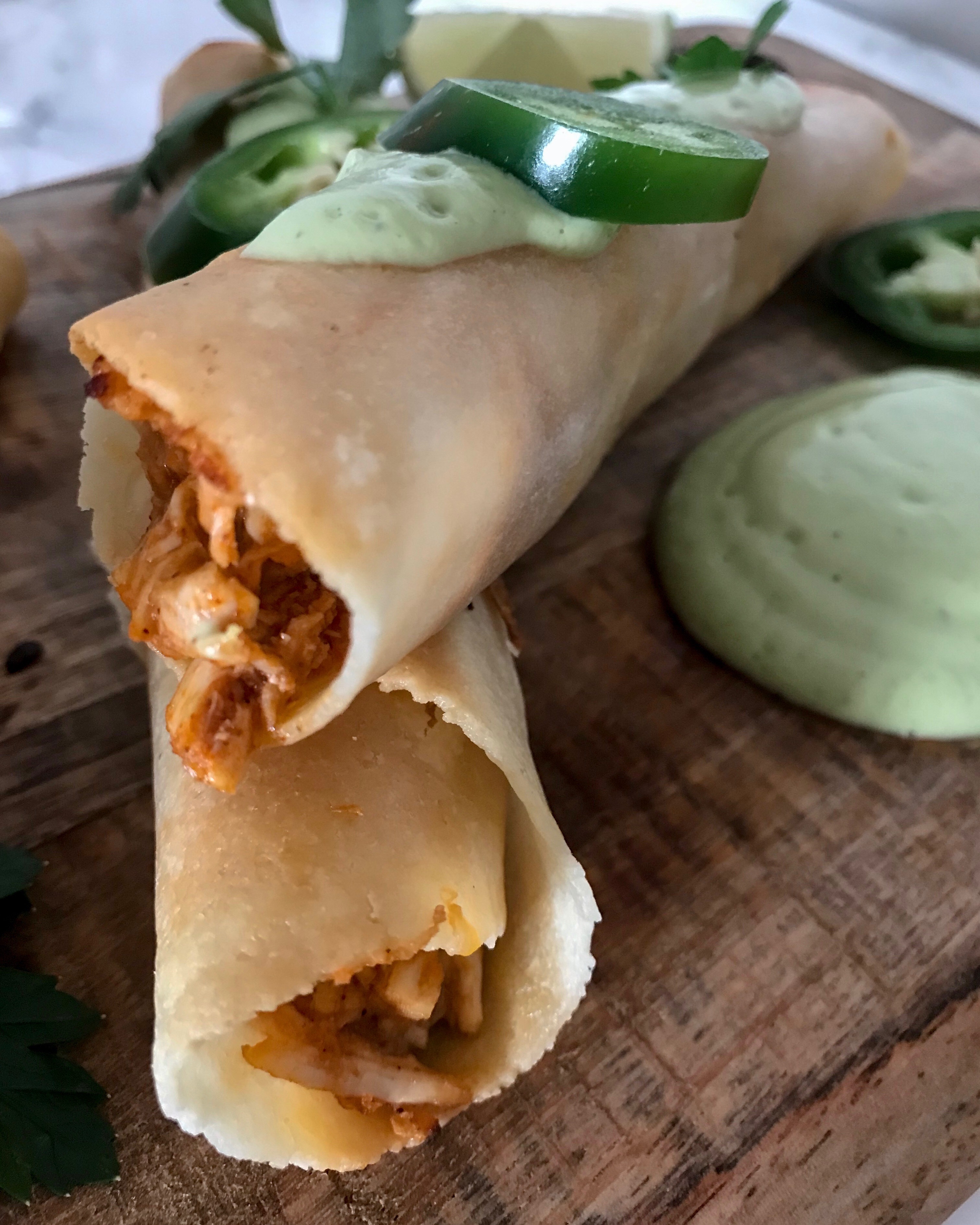 And there you have it! Enjoy your tasty taquitos! Looking for more recipes? Check out how to make the ultimate Mediterranean mezze platter HERE!
XoXo,