#WomensMarch and Furry Vests
Hi my loves!
This last week was a pretty tough one, wasn't it?  I'm going to ignore THAT on here, and instead talk about one of the most bad ass experiences of my life this past weekend— the #WomensMarch!
As a journalist, I cover politics quite frequently.  I don't really blend politics into AzArAm, but there is no way I can't not talk about this!  I have many young readers on here and it would be a shame for me not to go over my experience a little. 🙂
I marched right here in New York City next to thousands of beautiful nasty women, men, children, students, activists, citizens, and immigrants.  I overheard women talking about how they used to march back in the 60s and couldn't believe they were still doing so.  I saw people in wheelchairs.  I saw fathers pushing strollers.  I saw all religions, all beliefs, all races smiling at each other.  I read so many creative signs!  I felt angry and frustrated last week, but reassured when I saw the crowd, knowing they all felt the same way.  Probably the most profound moment for me was seeing a white, American woman in a stars and stripes hijab, march the entire thing holding her 2-year-old daughter.  I don't even know if this woman was actually Muslim or threw on a scarf for solidarity.  But she carried her child on her hip for all those hours.  Someday that girl is going to learn about the #WomensMarch in school, and her mother will say how she was there.  How she was apart of history.
And although this was not just a march for women, but for equal human rights for all people, I am not blind to the fact that many feel this was still exclusive to white women.  I can only hope that the momentum carries on going forward, and the same people who marched for higher wages and reproductive health will continue to rally for black lives, muslims lives, LGBTQ rights, and environmental issues.  If you are reading this, and you marched, think of the unity that you felt in that crowd.  (There is no way you didn't feel it!)  The entire world came together.  I mean, they even marched in ANTARCTICA!!!  That INCLUSIVENESS should always be felt.  If we were that accepting to march in such a diverse crowd, then we should be equally accepting in all parts of life.  We need to accept others and their issues, not degrade them.  Understand why others are upset.  Why their causes matter to them.  And then support them!
With that being said, I would like all of you to please check out EveryStylishGirl!  (After you read this, lol!)  My girl, Nana, (also my photographer here, hayoh!) has started this badass multimedia style platform that captures stories of stylish women— majority women of color!  As Nana says, "We inspire and uplift you women through the stories of major influencers."  Even my Persian sister Yara Shahidi has been featured!!!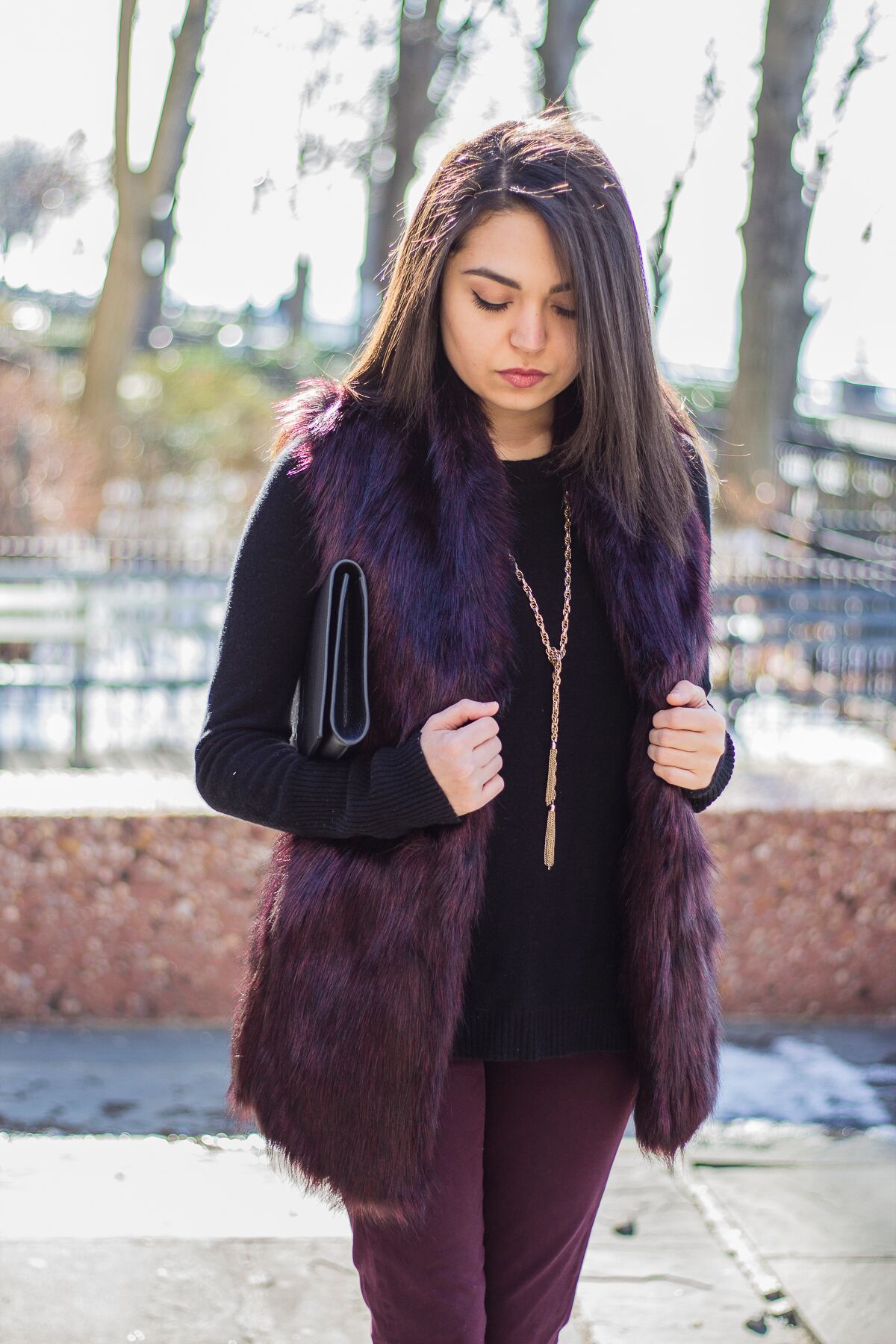 So how do you guys like this ~*lewk*~ ?  Can we talk about the crazy winds we've been getting?!  I had to keep holding my hair back, but you can see in some pictures, those baby hairs did NOT want to stay down.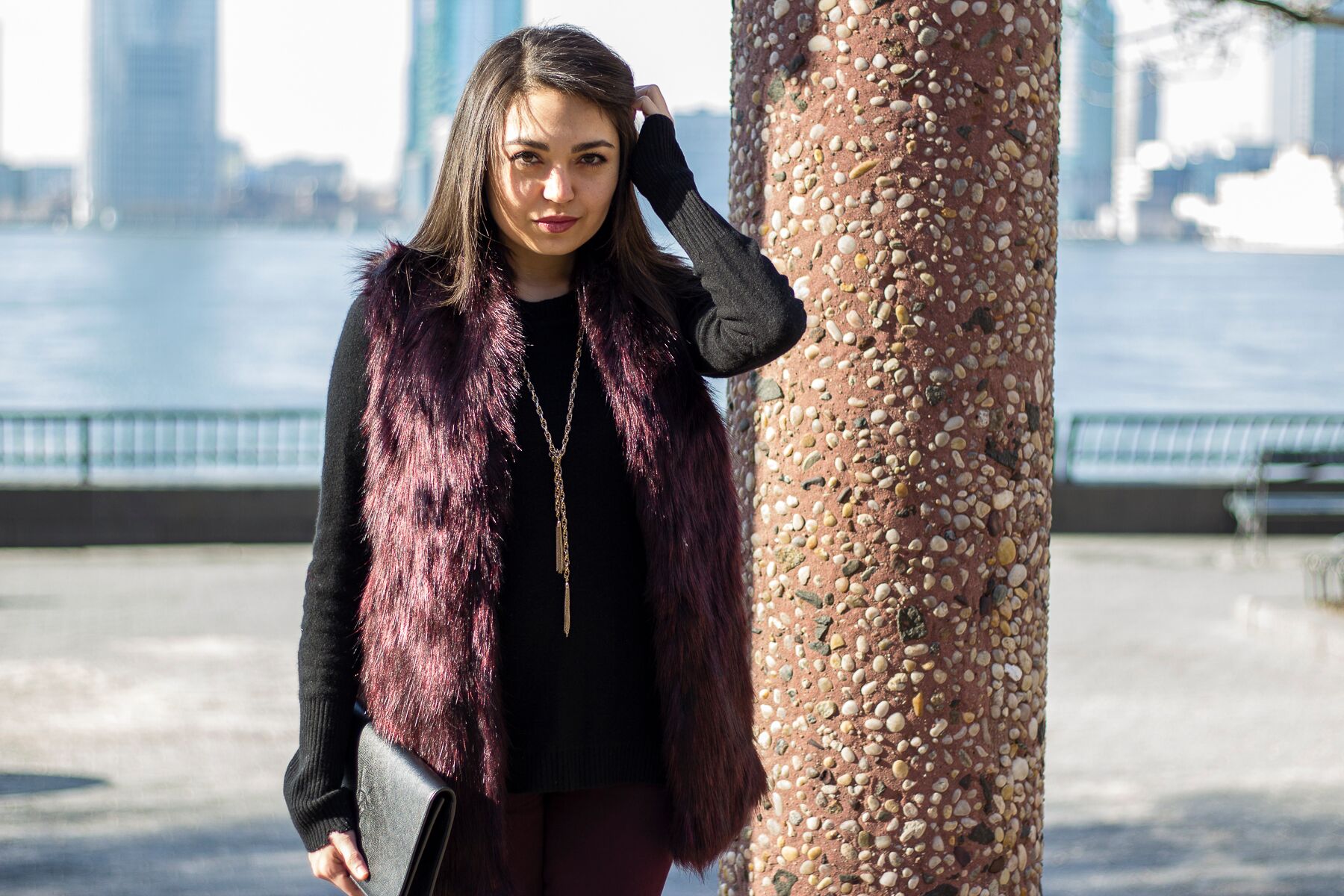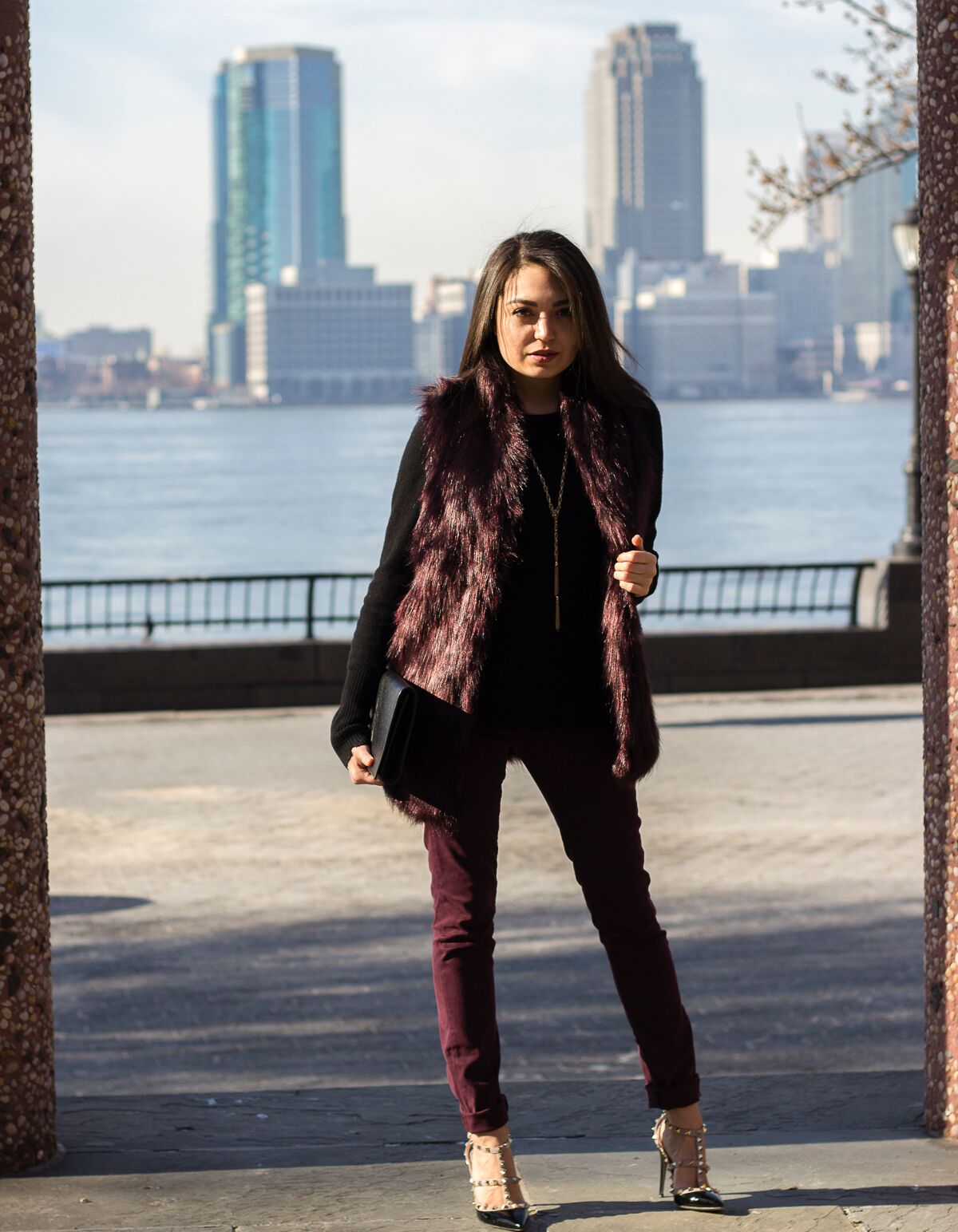 Want to know a secret?  This wine colored vest was a find from Forever 21!  It's luxuriously soft and surprisingly pretty warm!  I paired with matching colored jeans (shoutout to my shorties who have to always crop their jeans and are too lazy to get them tailored!!!) and my go to black cashmere sweater.  I threw on my rockstud pumps and to balance out the gold, a delicate necklace.  Lastly, a simple black clutch.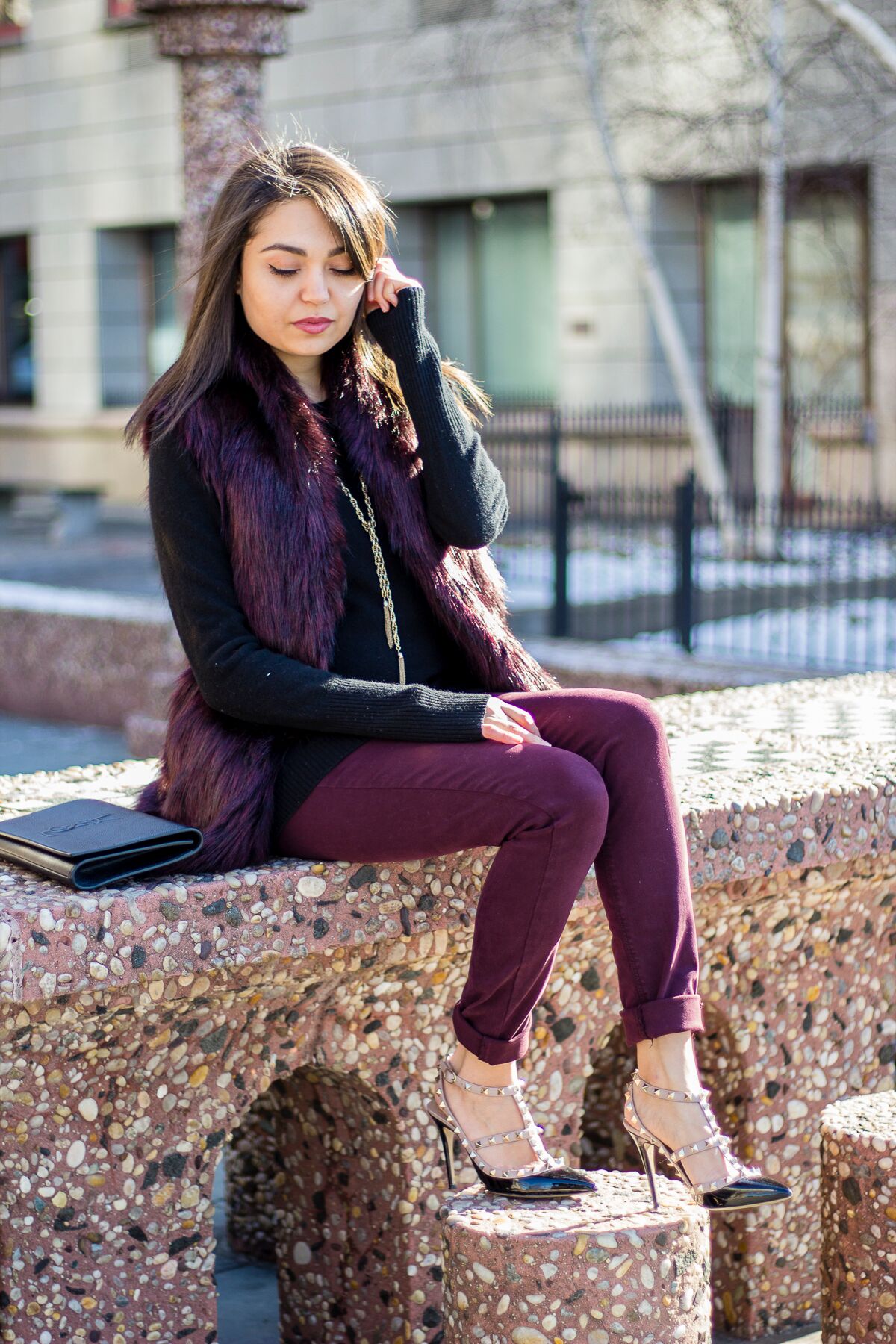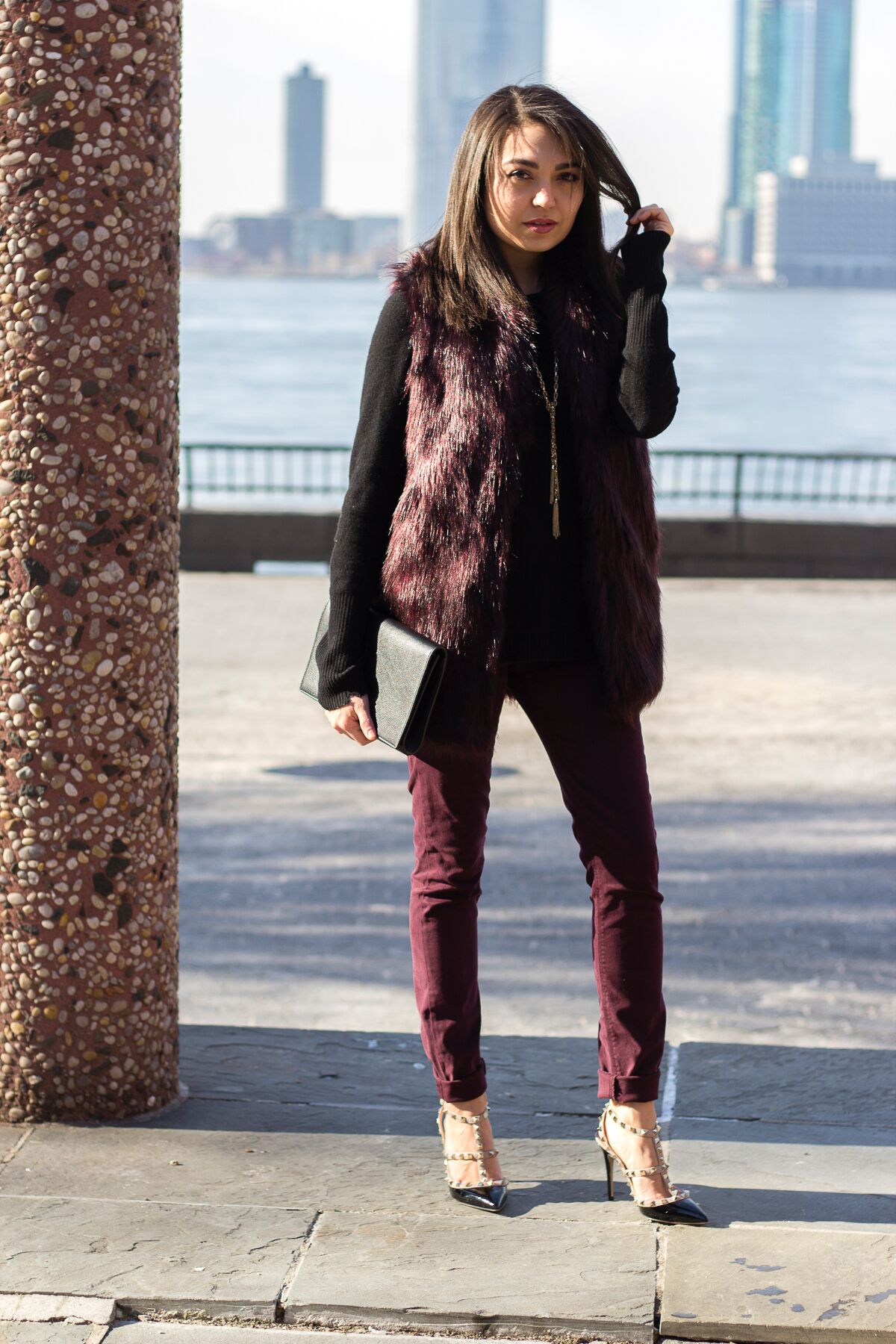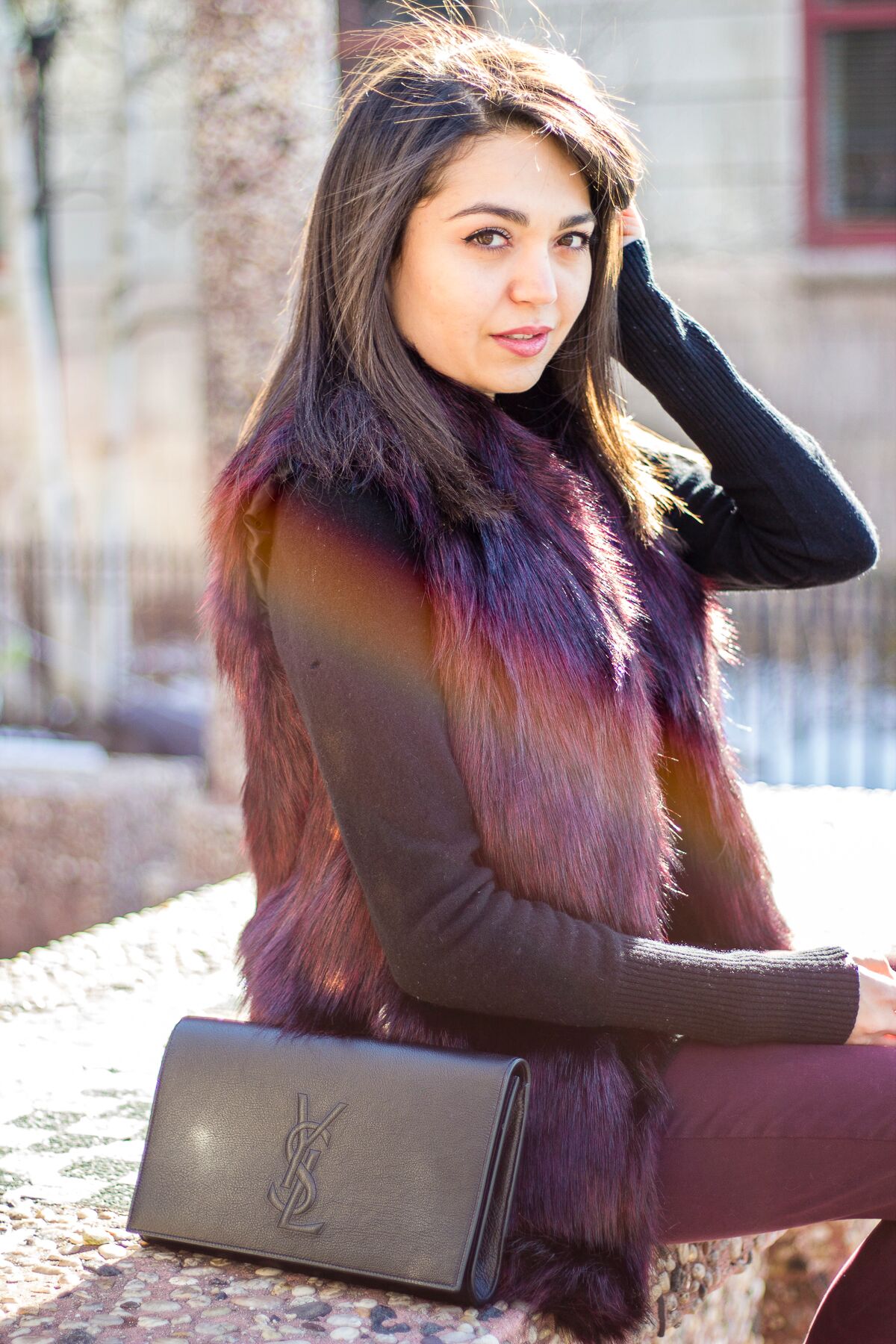 Shop my look below and stay tuned because I have some pretty exciting things coming soooooon!!  Wishing you all a fabulous week! :*
XoXo,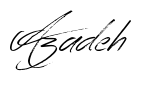 Photos C/O EveryStylishGirl