Azadeh's 12 Closet Essentials
By now you know I'm all about a conscious closet and that I like to curate it on a budget, so it was only a matter of time (and long overdue) I shared my closet essentials with you!
If you pay attention to my outfits, you'll notice I'm rotating the same few pieces—what I call elevated basics. As I've grown up, I've realized I rather have fewer, but more quality and versatile items. I stick to a neutral color palette that might seem boring at first, but the combinations are endless and always look put together. These are the staples, the must-haves, the wardrobe commandments… according to me!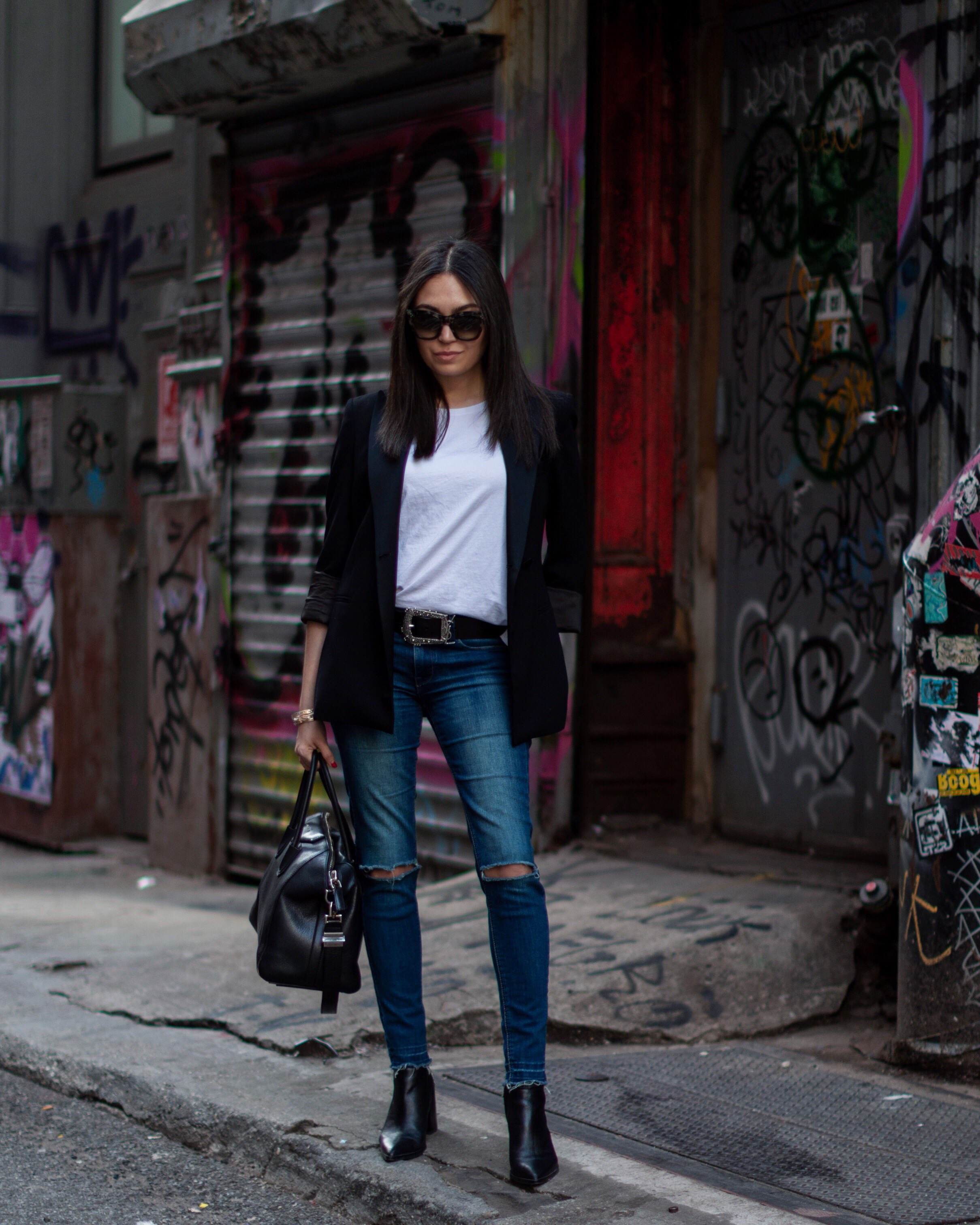 BLACK BLAZER
A structured, black blazer will forever be my number one wardrobe must-have. I wear blazers year round, with jeans in the winter and shorts in the summer. I'll wear blazer with dresses, jumpsuits, or sometimes an oversized one by itself belted like a dress. They'll always be in style—always!—and elevate a pair of jeans and t-shirt so much. Black is my favorite, but I also have white and nude colors. #BlazerGang for life!
CLASSIC BUTTON DOWNS
Invest in one quality white button down blouse and it'll last you for years. Another staple item that will never go out of style! After you have the perfect blouse in white, get one in black too. You can do so much with a simple, classic blouse. I even wear mine as skirts sometimes.
PLAIN T-SHIRTS
White, black, and gray. Then get the same three colors as cropped tees. And then finally get all three in tanks. Layer them, tie them up, tuck them in, or wear them loose. Endless variations.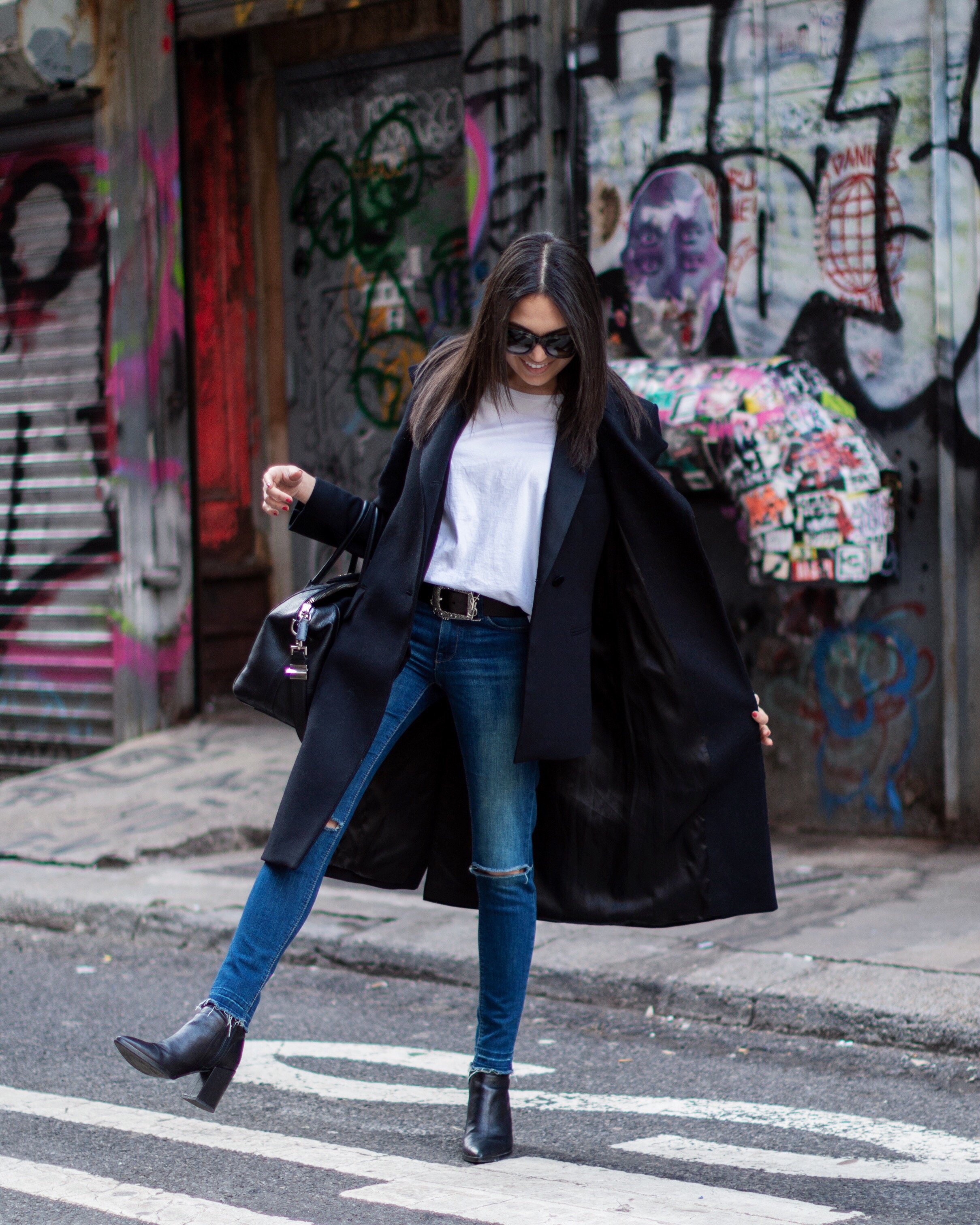 SEXY JEANS
I don't know when jeans aren't sexy to be honest… high waisted, skinny, flared… aaah I love a good pair of jeans! My favorite denim is from DL1961. They're sustainably made, ethically manufactured, and of excellent, durable quality. Have a pair of classic dark blue denim, a white for the summer, and a black for the winter and you're good to go!
LBD (& LWD)
Your closet isn't complete without a little black dress. Easy to dress up, dress down, and easily matches with kicks, flats, or heels. What do I love even more though? A little white dress in the summer.
HIGH WAISTED TROUSERS
Jeans are great, but sadly not suitable for all professional settings. Enter the high waisted trouser. These look good on everyone and will already match all the blazers and solid color t-shirts in your new and improved closet. 😉 I love wearing trousers with a stylish pair of sneakers.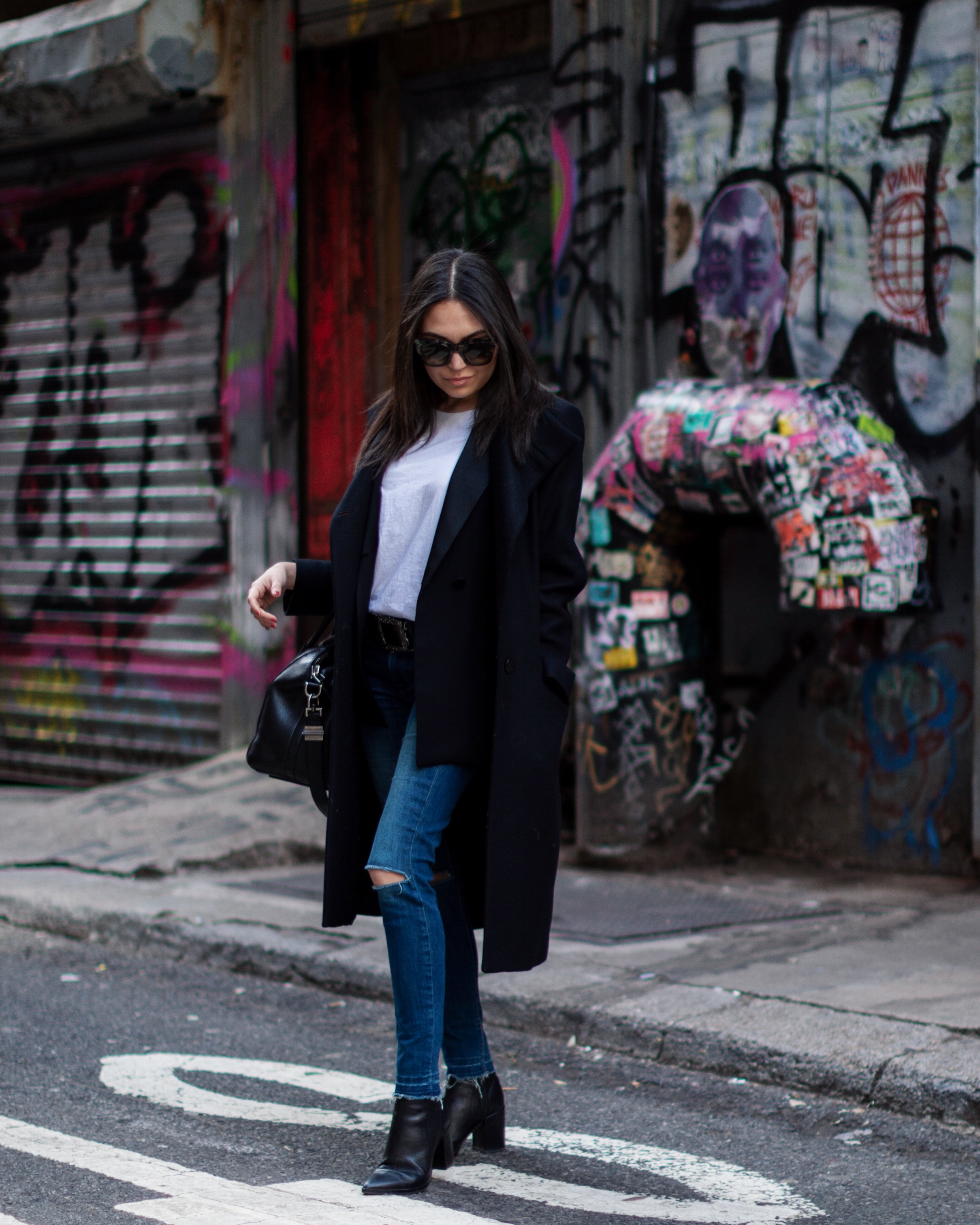 CHELSEA BOOTS
Speaking of shoes, a sturdy pair of flat boots is a must. My preference is Chelsea boots. They're comfortable, stylish, chic, and effortless. Some prefer combat boots, but I can't deal with all the laces so I prefer Chelsea boots.
SIGNATURE ACCESSORIES
Every fabulous fashionista has one. Anna Wintour has her haircut. Audrey Hepburn had her LBDs. Beyoncé has her sheer dresses. Blair Waldorf had her headbands. I don't leave the house without my watch or a pair of oversized sunglasses.
STATEMENT BELT
You have your jeans, a t-shirt tucked into them, and a blazer. Time to add a little oomph with a statement belt. Finish your look off with delicately layered jewelry. This is how you elevate the basics!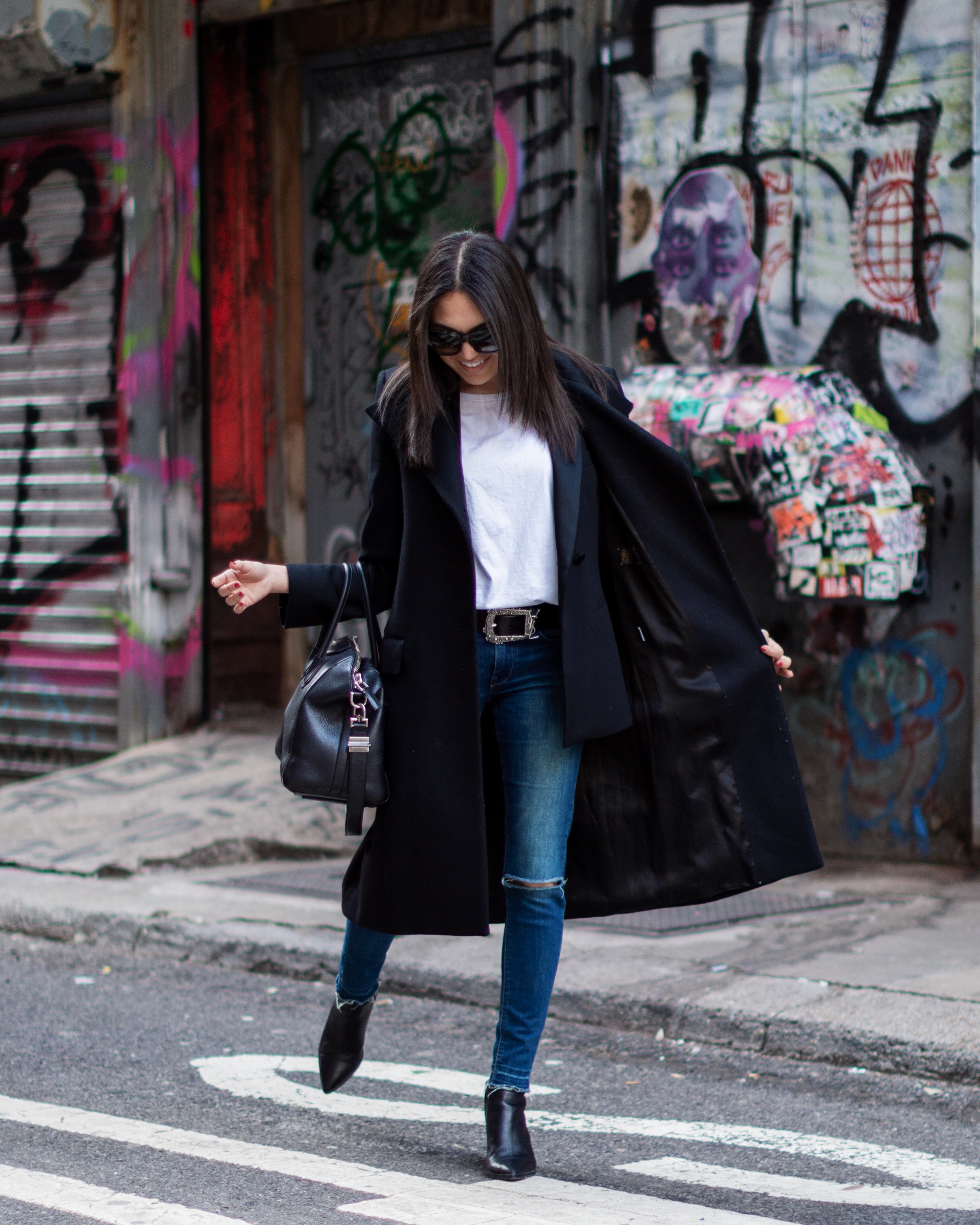 INVESTMENT BAGS
A quality black bag is timeless. It'll last you forever and match everything. I love saving up and investing in resale bags through The Real Real! Once you have your everyday bag, expand that collection with cross-bodies and clutches in a variety of neutral colors.
DESIGNER HEELS
This one may not be for everyone, but here is where the 'elevated' half of elevated basics comes in. I've always loved shoes and I love spoiling myself with a new pair of heels to dress up with. Other must-have shoes in wardrobe Azadeh include white kicks, strappy sandals, and classic loafers.
LEATHER JACKET
This is a lifetime investment and you know it. Sometimes even I take a break from blazers to rock a leather jacket. Another always-in-style classic. My favorite way to wear a leather jacket is thrown on my shoulders over a dress, the perfect feminine & edgy combo.
BONUS ESSENTIALS:
AUTUMN/WINTER ESSENTIALS
If you live somewhere with cold weather, you definitely need a long wool coat. Black or camel, or both. Don't forget a set of matching gloves, hat, and scarf to match! And of course, you'll need some warm, cozy sweaters. My favorites are solid color cashmere and thick, chunky knits.
SPRING/SUMMER ESSENTIALS
Shorts! Legs out season is my favorite season and I rarely cover my legs in warm weather. Time to trade in the jeans for some high-waisted shorts!
Now go forth and create your ultimate elevated basics closet! Let me know if you join #BlazerGang. 😉
XoXo,